freshidea - Fotolia
Data migration software coming for SAP CRM
At Sapphire Now, SAP unveiled C/4HANA, a suite of applications that brings together ERP and CRM. To make it easier to switch, migration tools can be added to the suite.
ORLANDO -- The goal of every major CRM vendor is to gain more of the market share and potentially capture customers from competitors. But doing that can prove difficult for a number of reasons, including organizations relying on legacy systems, challenges with data migration and the cost associated with migration.
Along with unveiling C/4HANA, SAP's new suite of applications that it says will provide that full 360-degree view of the customer, the company also told SearchCRM.com you can expect data migration software to help automate that migration process from SAP later this year.
In this Q&A from Sapphire Now, Giles House, EVP and chief product officer for SAP Customer Experience talks about the future of CRM within the SAP sphere, as well as what customers of CallidusCloud can expect from the product. SAP bought CallidusCloud earlier this year, putting the finishing touches on its C/4HANA suite. House was chief product officer and chief marketing officer for CallidusCloud before its acquisition by SAP.
Beyond tying together the front- and back-office processes of C/4HANA, SAP hopes that adding data migration software to the suite later this year will help persuade unhappy CRM customers to migrate.
After the CallidusCloud sale, can customers expect anything different with CallidusCloud? What should they look for? Has there been any concern from non-SAP customers?
Giles House: An obvious one is tighter integration with SAP -- Callidus was a great partner with SAP for many years and, more recently, the last couple years, SAP rolled it out internally. The biggest thing for those customers is, through us, a lot more investment in technology and innovation.
We'll still be open and talk with other CRMs, and the answer is absolutely. In the modern world, have to recognize there are sales departments making their people suffer in other systems. We have to make sure they get the best incentives and CPQ [configure price quote] platform on the market.
How do you convince potential customers that you're not lagging behind in CRM?
House: The intent, the acquisitions and the fact we've got these integrations in already two months after the sale closed starts to show progress and give people confidence. As we get through the rest of this year, you'll see a completely different conversation happening around SAP CRM and the product itself.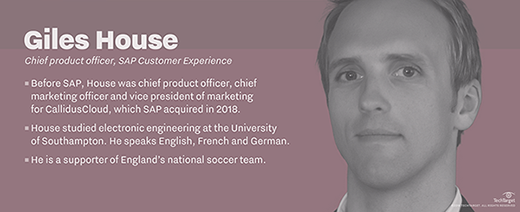 The reason why is simple: there's $1 billion-plus of churn in the CRM market and about $2 billion of resentment. Many companies want to get off their current, expensive CRM platform because it doesn't give them that 360-degree view, and every year the sales person comes knocking for a 10% increase in licensing fee.
There's been a desire to switch, but there hasn't been something good to switch to because the other propositions are that same patchwork quilt -- integrate it yourself, good luck on the analytics. Different for SAP is it will all be integrated and all will be running on the SAP Analytics Cloud and all running on the best cloud platform out there. Not a cloud platform that pays $1 billion to a legacy database vendor like Oracle.
There are software customers that would like to migrate, but data migration software is expensive and the process is challenging. How are you hoping to get them to actually commit to that migration?
[Data migration] can all be automated and that's another thing we're bringing out later this year is the automation of that migration.

Giles HouseSAP
House: I think number one is we have to lower that cost. There was a customer where they were quoted it would be eight figures to move. Under the covers, it's not that hard because what CRM is doing today for a lot of people is not that hard. CRM is a notepad on a database. 'Here's what's going on in the deal, here's an account of the customer.' It's not that hard if you think about it, but we need to help migrate that and automate that migration.
Do the data mapping, make it simple, create the new fields in the new systems and help update the workflows. That can all be automated and that's another thing we're bringing out later this year is the automation of that migration.
So automating that process from previous CRM systems to C/4HANA with data migration software will be part of the suite?
House: It has to be. We need to automate it -- whether that's using some of the automation technology that we already have at SAP or whether it's a whole new [data migration software] solution, we need to get the details of that ironed out, but it's doable and it will be done.
Dig Deeper on CRM tools and strategy