James Thew - Fotolia
C/4HANA suite gets qualified thumbs up at SAP Sapphire Now
SAP debuts its Salesforce challenger, C/4HANA, at Sapphire Now 2018. But users probably won't implement it soon, and questions remain about SAP's ability to redefine the CRM market.
ORLANDO, Fla. -- For the most part, SAP's new CRM suite, C/4HANA, drew positive reviews at SAP Sapphire Now. But...
Continue Reading This Article
Enjoy this article as well as all of our content, including E-Guides, news, tips and more.
the vendor may have work to do with the intelligence-enhanced CRM application to challenge Salesforce's dominance in the market.
On the opening day of SAP Sapphire Now 2018, the vendor took direct aim at Salesforce, with the announcement of C/4HANA -- a CRM platform that consolidates the cloud-based elements of SAP's existing CRM portfolio, including SAP Hybris; SAP Customer Data Cloud, which is largely from the Gigya acquisition; and SAP Sales Cloud, which is largely from the CallidusCloud acquisition.
The idea behind C/4HANA is to present a new paradigm for CRM that connects the CRM front end with the digital core ERP back end of S/4HANA, delivered on the SAP Cloud Platform. This offers an environment where companies can present a more holistic view of their customers, but one that relies on trusted master data from core ERP that can be processed by S/4HANA at speeds businesses need to keep ahead of the competition. This ability to present a holistic customer view at speed, and with trusted data, was "held back by legacy CRM," according to SAP CEO Bill McDermott in his opening keynote address.
"We have a new idea, a better idea, and the better idea always wins," McDermott said in a subsequent press conference.
Does SAP have the right idea and technology to challenge Salesforce for the CRM market? Some analysts gave the announcement a qualified thumbs-up, while some customers believe it's too early to tell if they are on board with C/4HANA.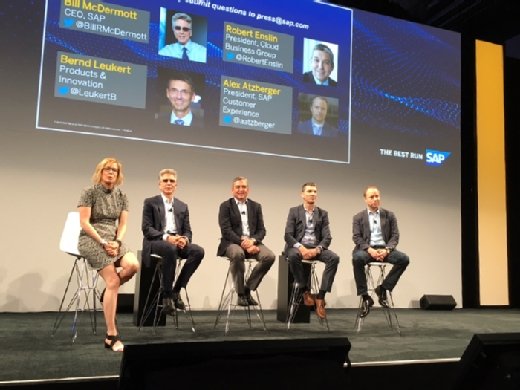 Taking a wait-and-see approach
SAP customer King's Hawaiian, a bakery and food products company, is implementing S/4HANA to replace a legacy ERP system, but it won't consider C/4HANA for a while, according to Luis Cupajita, CIO for the company, based in Torrance, Calif.
"I'm interested, but as a CIO, I'm always skeptical. I've seen tons of slideware in my life, and it's probably too early for us to take advantage of it. We have to mature not only internally as a company to see how that will work for us, but the technology needs to mature, and our platform needs to mature," Cupajita said. "I'm very much a proponent of crawl, walk, run. And any time we fail to follow that philosophy, we trip. We'll put it on the radar as, 'Here's an aspirational goal. Let's see where we and our partners land toward that goal to prepare ourselves to take advantage of that goal, but let's not jump the gun.'"
IMAX runs several SAP applications, including SAP ECC and SAP BI tools, across several North American facilities, but it's also not in a rush to implement C/4HANA, according to Shawn Rivers, senior director of business applications at the entertainment technology company, based in Mississauga, Ont.
"We have C4C [SAP Cloud for Customer], and it was interesting to see about C/4HANA [in the keynote]. But I'm going to have to digest that and go back to my execs and see where this will fall into our roadmap and what does it mean," Rivers said.
SAP faces Salesforce pressure
The pressure from Salesforce must have been intense for SAP to believe it needed to do something like this in the CRM market, according to Holger Mueller, vice president and principal analyst at Constellation Research. But having a distinct CRM application contradicts SAP's previous strategy of moving more to suites, he said.
It's good for the customers, because it gives them choice. But, basically, SAP just buried the S/4HANA suite proposition.

Holger Muellervice president and senior analyst, Constellation Research
"It's good for the customers, because it gives them choice. But, basically, SAP just buried the S/4HANA suite proposition," Mueller said. "They've changed their vision of what the suite is dramatically and fundamentally."
SAP went to the suite strategy in the past because customers told them it was too difficult to upgrade R/3 in pieces, Mueller continued. But now, they may have to plan for much more complexity.
However, C/4HANA appears to be exactly what SAP needs to build out the intelligent enterprise, according to Kelsey Mason, senior analyst at Technology Business Research in Hampton, N.H.
"In the way they showed it visually, S/4HANA wasn't at the center of things with the other applications around it -- they put HR, ERP and CRM in a line together -- which is exactly what needed to happen, as the applications shouldn't be more important than one another," Mason said. "They're still calling S/4 the core, which is fine, but their model represented a business much more. And ... they're tying it all together with intelligence and Leonardo in the center. And they have a real story around SAP Cloud Platform and how that ties in. I thought it was exactly what needed to happen since they launched Leonardo last year and really since S/4HANA came on the scene."
Salesforce is far ahead of where SAP is at this point, Mason said, but Salesforce may have to look at C/4HANA as a challenge to step up its game. Salesforce may have some sleepless nights, because SAP has a compelling story to tell with the back-office integration, which Salesforce needs now, in particular, because it got into B2B e-commerce with the acquisition of CloudCraze.
"They need fulfillment, they need inventory management and so on. So, will Salesforce start creeping back into the back office?" Mason said. "I don't know, but it's not a story that they can tell to their customers. And in a way, it's easier for SAP to go from back office to front than for Salesforce to go from front office to back."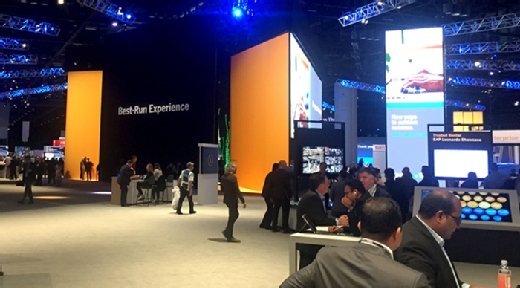 C/4HANA nothing new, but may redefine market
One of the more noteworthy things about the main announcement was, despite the hype, how unremarkable it was, according to Jon Reed, co-founder of Diginomica. He said C/4HANA offered nothing new, because it's primarily a rebranding of Hybris together with acquisitions like CallidusCloud and Gigya.
"What's interesting about C/4HANA for SAP is they recognized they can't abandon the market to Salesforce and the CRM category is only growing, but it's more than that," Reed said. "There's definitely a shift in all industries now, and you have to pay attention to customer relations in a different way and have to put that in the system."
SAP is trying to redefine the category, rather than chasing Salesforce from behind. This redefinition may mean the idea of differentiating between back office and front office is obsolete, according to Reed.
"It's a little silly to bash Salesforce as legacy CRM, but SAP does have a point to say that there is no back office anymore -- everything is one office and faces some type of customer, including employees, suppliers," Reed said. "Many SaaS companies have tried to relegate what SAP does to the back office to try to portray SAP as a legacy, so SAP is trying to turn that around. And with S/4HANA, that has a real-time view of all this 'back-office' data -- there really is no back office, because you're always serving some sort of customer with that data."
It appears like SAP is putting serious weight behind the effort to challenge Salesforce, Reed said. But it won't be easy.
"C/4HANA is their stake in the ground, and I think they have a long way to go to earn credibility and trust even amongst their own customers on this point," he said. "But they're taking the Hybris assets and the other things they've developed in the past, like C4C, and repacked it and put on a platform they can build on and raise the bar. And by calling it C/4HANA, they've challenged themselves internally to be a market leader in CRM."