Zoho CRM Plus gets AI boost, aims to connect departments
Zoho's new CRM release may help bring departments together, but it's unclear if the flood of AI tools and more data sharing will differentiate the vendor in the robust CRM market.
The second version of Zoho CRM Plus signals a move for the CRM software vendor toward customer experience and unifying disparate customer data for users.
Zoho initially released Zoho CRM Plus four years ago, and the product's latest upgrade, released Nov. 15, brings together sales, marketing and customer support to help customer data flow from one department to another and potentially reduce the problem of isolated data. Zoho also added more AI and analytics capabilities, as well as improved social media monitoring.
A possible differentiator for Zoho CRM Plus is that Zoho built all the applications in-house, rather than integrated by way of mergers or acquisitions.
"It's been one of the hallmarks of Zoho -- it's completely organic when it comes to how they built their apps and platform," said Brent Leary, a CRM and customer experience (CX) analyst. "Because all of their apps are built on the same underlying architecture, it makes it easier to put in the AI layer beneath it."
Zoho continues to try to make itself an attractive CRM platform for SMBs with its suite of applications and relatively low price tag, according to Leary. But unlike enterprise options such as Salesforce or Microsoft Dynamics 365, Zoho still lacks some of the functionality and integration larger organizations need, he said.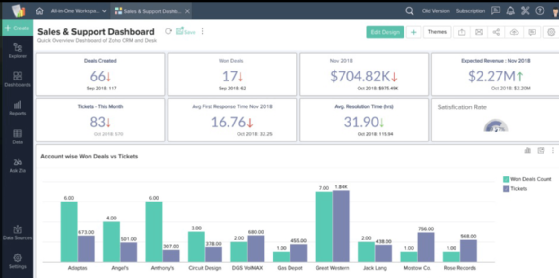 The move toward CX
Zoho's new release is part of a software industry move toward CX. And the trend toward experience management over relationship management is accelerating, according to Gartner. A 2017 Gartner survey showed that more than 66% of respondents said their companies compete on the basis of CX, and that percentage is expected to rise to 81% by 2019.
"It's very difficult to bring these integrations into the fold manually," said Taylor Backman, evangelist at Zoho. "By building this out natively, we see it as a next generation application and a chance to provide our users a customer experience platform."
Zoho is looking to improve its market standing with its Zoho CRM Plus. In Gartner's 2018 sales force automation report, Zoho was grouped with other niche players. Gartner noted that Zoho doesn't differentiate between needs of SMBs and larger enterprises, and that its sales execution needed improvement, with customers citing problems with contracting and pricing processes.
It's been one of the hallmarks of Zoho -- it's completely organic when it comes to how they built their apps and platform.

Brent LearyCRM and CX analyst
"There are still things Zoho needs to do to be more attractive to midmarket and enterprise companies," Leary said. "Bigger operations are looking for system integrations, application partnerships and professional services."
While there are advantages to Zoho CRM Plus and the vendor's other productivity apps being built on the same infrastructure, it's unlikely enterprises are willing to run their entire operation on a single platform and that integrations with third-party vendors are still needed, according to Leary.
Enhanced AI, social capabilities
Other features of the Zoho upgrade include a unified search application and unified configuration, which the company said would ease rollout to departments already using Zoho CRM.
Mirroring another market trend, Zoho is adding AI capabilities to Zoho CRM Plus with Zia, an intelligence assistant. Zoho previously integrated Zia into sales to help with Voice dialing and email sentiment, but now the vendor has introduced the AI assistant into marketing with lead quality rating, lead trend monitoring and lead anomaly detection, as well as support with ticket tracking, ticket sentiment -- the ability to understand customer emotion within service tickets -- and auto-tagging within support tickets.
Zoho also added Zia voice chatbot capabilities, supporting natural language and chat interactions, to its Zoho Desk customer service module. Zoho also said it enabled improved social media monitoring, so users can turn any social media post into a customer service ticket with Zoho Social.
Users can upgrade to Zoho CRM Plus at no extra cost. The cost of the CRM system is $60 per user, per month on a monthly basis, or $50 per user, per month with an annual contract.