Zoho adds new Zoho One features, management application
Zoho One customers can now make phone calls using Zoho's telephony platform, extend provisioning through custom apps and use the new application Orchestly to manage workflows.
Zoho has released its latest version of Zoho One, an operating system designed to run all aspects of a business within one platform. This generation has three new services, one new application and updates to several existing features.
Updates to Zoho One features include adding Zoho's telephony platform to Zoho One as well as single sign-on services, extending app management and provisioning capabilities. Businesses workflow management application Orchestly is another addition, as are improved Zoho Sign features and more support for users.
New application
Orchestly is the newest application added to Zoho One. It has a drag-and-drop interface in an effort to enable managers with no coding skills to define processes. Orchestly lets managers and admins automate and run their regular workflow, including cross-departmental tasks such as purchase approvals, content publishing, asset managing and onboarding.
According to Zoho One, the idea behind Orchestly is to create workflows and automation when processes involve more than one department.
New services
PhoneBridge: Zoho has added its telephony platform PhoneBridge to the operating system, which integrates more than 50 telephony vendors on one side, and several Zoho applications on the other side. PhoneBridge enables telephony in Zoho apps like CRM and Recruit. It also provides contextual information for all incoming calls and lets customers make calls from Zoho apps.
Single sign-on: Single sign-on was also added to Zoho One, which enables customers to integrate any third-party applications onto their Zoho account. It also supports about 50 third-party applications and is scalable for midsize to large businesses. Additionally, Zoho One admins can enforce YubiKey authentication as an added factor for security.
App management and provisioning: Zoho has extended provisioning to custom apps created through Zoho Creator, as well as to external apps available through Zoho Marketplace. They can be provisioned individually to users or as groups with custom criteria. There is also a new Admin Panel with dashboards and reports to enable admins to monitor user activity and app usage. Admins also get reports on user management, sign-in activity, app usage and account security.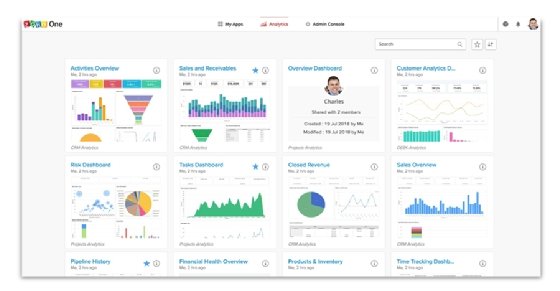 Service updates
Other improved Zoho One features include an additional level of verification in Zoho Sign by adopting blockchain-based timestamping through Ethereum. When documents are signed using Zoho Sign, an Ethereum transaction will happen in the background, and the hash of the signed document will be added to the transaction note, providing an additional digital signature.
Additional updates includes free concierge service, in which potential customers can speak with the Zoho team to see how the service could potentially benefit their business.
Zoho also added Jumpstart for Zoho One to help customers through their initial implementation. All customers are given support, but now enterprise customers can request premium support.