Sergej Khackimullin - Fotolia
Zendesk CRM moves beyond customer service into CX
Zendesk moves on from focusing solely on customer service by adding analytics, sales force automation and CRM capabilities, while also providing third-party integrations on AWS.
Zendesk is moving beyond being solely a customer service software vendor and is entering the more CX-focused CRM...
Continue Reading This Article
Enjoy this article as well as all of our content, including E-Guides, news, tips and more.
market.
With the industry shift toward unifying sales, marketing and service, a Zendesk CRM reflects that industry transition, but it's already a crowded market with many large players and dozens more filling important niches.
Zendesk is expecting its service background to bring it success across an entire organization, while providing flexibility and public cloud architecture. Zendesk unveiled these new applications and the AWS news at Relate, its annual conference on Nov. 12.
Zendesk also released Zendesk Sell, a sales force automation tool, and Zendesk Explore, a reporting tool. The addition of Zendesk applications that can work across an organization's business process is a common play for CX vendors, with CRM vendors like Salesforce and Oracle unveiling platform-wide applications this year.
"I think the pendulum has swung back and forth between buying the best of breed for each piece of CRM stack and going with a platform that has integrated pieces to the puzzle," said Brent Leary, a CRM and CX analyst at CRM Essentials. "You're seeing bigger companies like Salesforce, Oracle and SAP filling out missing pieces with acquisitions to offer a more cohesive platform. Zendesk is trying to do the same."
Zendesk acquired sales force automation vendor Base in September, rebranding it as Zendesk Sell to fill its SFA software gap.
Benefits of a public cloud
In addition to expanding products to sales and marketing, the Zendesk CRM system -- named Sunshine -- is also built on AWS, the public cloud architecture the San Francisco-based company said its users were looking for.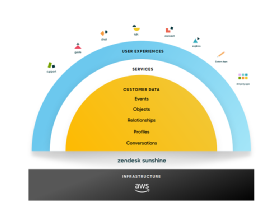 "The open cloud is the way modern developers think," said Sam Boonin, VP of product strategy at Zendesk. "We learn from our customers."
Zendesk was built on its own proprietary cloud, but two years ago began a migration over to AWS. By doing that, Zendesk expects it can attract companies that want the insights provided by a connected CRM without being beholden to a platform, like Salesforce or Microsoft Dynamics 365.
"The business demands of data and processes around CX need to flow freely through it, but most users don't want to do all of that in a platform," Boonin said. "Companies that use Sunshine can take advantage of elasticity and cost advantage of a public cloud."
Winning in this competitive environment is as much about giving customers the flexibility to create their own ways of working.

Nicole Franceanalyst, Constellation Research
By hosting Zendesk CRM on AWS, it makes it easier for other vendors to integrate their APIs with Zendesk, according to Nicole France, analyst at Constellation Research.
"Winning in this competitive environment is as much about giving customers the flexibility to create their own ways of working," France said.
One vendor that is interested in a more open Zendesk is product success software vendor Pendo, which partners with Zendesk and also uses the product in-house.
"For us, it's about injecting our data into more creative ways throughout [the Zendesk] platform," said Todd Olson, Pendo CEO and co-founder. "The news about Sunshine on the AWS cloud makes it easier to augment the platform."
A flexible CRM
Zendesk moving beyond exclusively customer service to being a vendor of sales, marketing and analytics software tools is a significant transition, analysts said.
"Zendesk's move into CRM is a clear and timely recognition that to succeed in the digital era, companies must build a comprehensive view of their customers across all of their interactions with them," France said.
But what Zendesk is trying to achieve with Sunshine is to create a CX platform with flexibility for its users to add other tools -- even if they compete with Zendesk's.
"We're hearing from our customers that they don't want another vendor-locked-in platform," Boonin said. "Part of being an open platform is about saying you don't need to use every element we offer to do your business. It's something you hear often from tech vendors, but we are trying to be more radically open."
This nexus between using one platform for everything and licensing third-party vendors is where the CX industry is headed, according to analysts. That's why Salesforce spent $6.5 billion on integration vendor MuleSoft and Zendesk migrated from its own cloud to AWS.
"Companies don't want to operate or can't operate by having just one vendor for everything," Leary said. "You may have mission-critical apps that you can't get off of but you like this other customer engagement stack -- you'll need those applications to talk to each other."
Customer pricing of Sunshine, Sell and Explore varies depending on other product subscriptions, business size and number of users.