Fotolia
Zendesk Sell apps marketplace extends Sunshine CRM platform
Zendesk's Sunshine CRM gets an apps marketplace built on its Sell sales force automation platform, adapted from the 2018 acquisition of FutureSimple's Base.
Zendesk added on Thursday a third-party apps marketplace to Sell, its bundle of sales force automation tools that run on Zendesk's Sunshine CRM platform.
The company hopes the marketplace attracts midmarket customers who need to build custom apps, while also providing its predominantly small-business customer base prefab tools to integrate with other cloud apps.
The marketplace initially offers Zendesk Sell apps, in beta, that connect Sunshine to numerous sales, marketing automation and content management tools. The list of initial apps includes Mailchimp, HubSpot, FreshBooks, Google Drive and Dropbox, among others. Zendesk has based the marketplace on the same app framework used in the company's customer-service suite, which currently offers more than 600 apps.
"It's a simple way and a safe way for customers to extend [Zendesk]," said Matt Price, Zendesk SVP and general manager. Customers can write apps and plug them into Sunshine or use prefab connectors in the Zendesk Sell marketplace.
Box among first Zendesk Sell apps
Zendesk Sell's toolbox arose from the company's 2018 acquisition of Base. Combined with the Sunshine CRM platform, released last year, Sell offers developers the flexibility needed for software integrations within the larger enterprises Zendesk actively courts.
Zendesk expects to attract more lucrative customers by opening its cloud to developers, a strategy embraced by its larger integrated CX application stack competitors, such as Oracle, Salesforce and SAP.
Whether that happens is yet to be seen. The prebuilt connectors debuting on the app marketplace show midmarket customers Zendesk is trying to make adoption of its CRM easier, Gartner analyst Tad Travis said.
"There are small and midsize companies [that] are more willing to change their sales technology provider," Travis said. "Switching costs are not particularly heavy in comparison to larger enterprises, so there is an opportunity to attract those customers."
Box, a file-sharing and content management provider, was among the first apps on the Zendesk platform because Box's relationship with Zendesk dates back to the companies' early startup days more than a decade ago, said Jeetu Patel, Box chief product officer. Also, the vendors need to support the customers they have in common.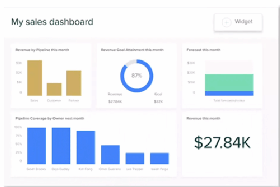 "As you move into the cloud, there's a whole ecosystem of vendors, and there's an [customer] expectation that we're all going to be grownups and work together and make sure that we deeply integrate with each other," Patel said.
Box supports sales content automation workflows between its cloud and many CRM systems, including Salesforce. Customers that use Box to automate repetitive tasks in their CRM workflows typically use it for securing and exchanging many types of documents, including proposals, contracts, RFPs, spec sheets and marketing content.
Gather, Sunshine Conversations also debut
Zendesk also released on Thursday Gather, a community site builder. Zendesk users can use Gather to create online forums for their customers to offer peer-to-peer help and add knowledge base help content to share.
Gather also enables Zendesk users to subdivide community sites along regional lines or by language, as well as to assign moderator permissions to give their most trusted customers the ability to flag, hide or edit posts on community sites.
Rounding out its CX platform, Zendesk added chat features, called Sunshine Conversations, to its CRM platform. It connects sales reps to customers via a multitude of social media, web, email and smartphone text channels.