Fotolia
Zendesk Sunshine CRM, social media upgrades released
Zendesk upgraded Sunshine CRM and Support platforms to manage digital customer conversations, and added e-commerce tools that enable agents to work through order and payment issues.
Customer service platform vendor Zendesk has extended its fledgling Sunshine CRM suite with support for more customer communication channels and further integrated it with its flagship Zendesk Support platform in hopes of appealing to sales teams.
The news follows Zendesk's decision to cancel its 2020 Relate user conference in Miami this week due to coronavirus safety issues.
Zendesk Sunshine, along with it the company's flagship Zendesk Support platform, shows customer conversations across SMS and social media messaging channels including WhatsApp, Facebook Messenger, Twitter, WeChat and Line. The unified dashboard also catalogs other customer interactions such as shopping cart activity and order tracking.
Also added to Zendesk Sunshine are connectors to applications such as Workato workflow automation and Qualtrics voice-of-the-customer applications, and to AWS services via EventBridge.
Zendesk Sunshine CRM, released in late 2018, has seen many feature enhancements and integrations with Zendesk Support in just a little over a year as it takes on competitors such as Freshworks and Zoho.
So far, most users are primarily Zendesk Support users, but Adrian McDermott, Zendesk President of Products, said new customers are also coming from companies that had used legacy CRMs or after a failed implementation of a larger CRM vendor's platform, which often cost more than Zendesk sales-and-service suite offerings priced from $89 to $149 per agent, per month. In comparison, Salesforce's unlimited sales and service package costs $325 per user, per month.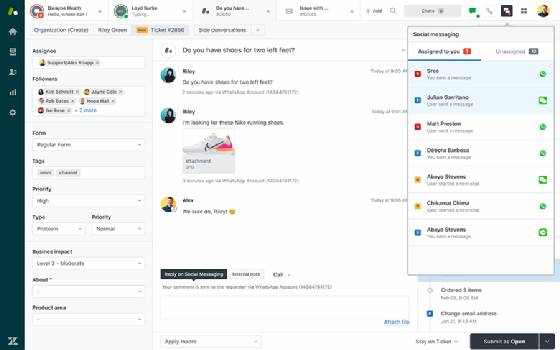 "Zendesk is making a lot of good moves to mature," said Forrester Research analyst Kate Leggett. She added that Zendesk's platform suits companies that need omnichannel capabilities for less-complex transactions.
What I see is a customer engagement suite that can support customers as they interact with a company.

Kate LeggettAnalyst, Forrester Research
"What I see is a customer engagement suite that can support customers as they interact with a company, as they understand the products they're purchasing, as they purchase a product, as they get onboarded and get customer support," Leggett said.
Agent experience drives new features
Unifying customer profiles in Zendesk and then integrating the platform with other applications and AWS cloud services can paint a more detailed, personalized picture of a customer record, McDermott said. It gives human agents using Zendesk more upfront knowledge about a customer than they had in previous versions of the platform, so they can more quickly solve their issues.
An AI-powered "answer bot" organizes answers to commonly asked customer questions, McDermott said. It can locate and sort knowledge from other departments, such as shipping or legal, and suggest answers to agents based on what worked in the past for similar issues. The idea is to reduce hold times by preventing agents from having to ask questions of someone outside their department.
"The human brain is an amazing pattern-matching mechanism, but it's no match for something that can read every single ticket, every single article, match those responses and understand them in real time," McDermott said.
CX from the service perspective
Customer experience (CX) tends to be driven by marketing in many organizations. But a growing minority of experts say it can be managed from the service side. Customer service teams, the argument goes, more fully tend to customer relationships and since they talk to customers every day, these teams have a more granular understanding of CX problems a company needs to address to drive more sales.
That's the idea behind the Zendesk Sunshine and Support platform features and integrations, McDermott said.
That might be the case for some organizations, but marketers shouldn't yet be too worried that service teams will take over CX duties anytime soon, Leggett said. Typically, two-thirds of interactions customers have with a company are with customer service, which also means that a third of interactions are not.
"So where does customer experience live? If it lives within customer service, it becomes a very tactical function and it may not touch other aspects of the customer journey," Leggett said.
She added that more organizations -- especially in the B2B realm -- rely on chief customer officers to manage post-purchase customer relationships and engagement, which goes beyond customer service by including marketing and other interactions.