phonlamaiphoto - stock.adobe.com
Zendesk CRM adds email automation features
The Zendesk Sell CRM platform adds email automation features for customer engagement as the pandemic cuts off sales rep users' access to in-person customer meetings.
The latest Zendesk CRM features allow sales reps to automate email sequences at points considered crucial to the sales cycle, such as after a prospective customer watches a webinar or other sales-related content.
The email automation features, called Email Cadences, are part of the Reach add-on to Zendesk Sell, the company's sales force automation toolbox released in late 2018 that integrates with its Sunshine CRM. Users of the Zendesk Sales Suite that includes Sunshine CRM, Sell SFA tools, chat and voice telephony get Reach for no additional cost; Reach can also be purchased as a paid add-on to Zendesk Sell for $27 per seat, per month.
The Zendesk CRM product team has worked to address how sales processes have changed during the pandemic, said Jon Aniano, Zendesk SVP of product. Sales teams cannot meet with customers in person to close deals. Their managers have to find other means to onboard sales reps and track their activity.
Reach Email Cadences give users finer control over messaging personalization at a larger scale, along with better consistency in the look and feel of their outreach efforts, said Forrester analyst Daniel Hong. The feature also improves sales rep productivity, because email outreach takes fewer steps to execute.
Zendesk Sell add-ons for voice and chat allow sales reps to work their leads lists in the era of social distancing, and Reach adds more granular control over how they send automated emails to get conversations started.
One early adopter of the new Zendesk Reach features said it provides basic functionality for sending automated email sequences to engage inbound leads.
"I had looked at other [sales engagement vendors], but I preferred not to have adopted a whole other technology," said Kyle Raymond, customer engagement manager of business development at Mailchimp, an early adopter of Zendesk's Reach email automation features.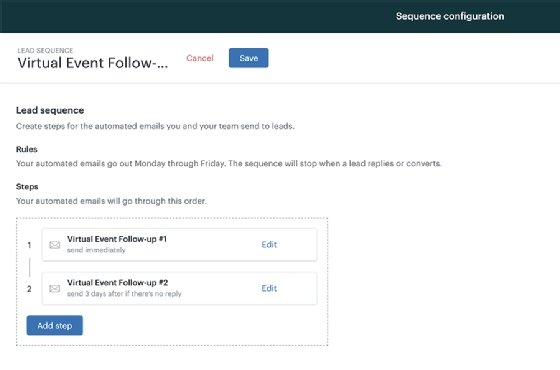 Features long in the making
The Zendesk Sell email tools have been a year in the works, Zendesk's Aniano said. COVID-19's disruption to business as usual, however, has driven interest in Zendesk CRM because it's less expensive and quicker to launch than larger competitors such as Salesforce. In fact, some Salesforce users added Zendesk CRM to support smaller sales teams when the pandemic forced them to work remotely.
"Companies who have been around awhile may have a technology stack that includes Salesforce, Oracle or some homegrown capabilities," Aniano said. "Even in the case where that other CRM might be in place, the companies aren't getting the agility they need out of those systems. So, they'll add Zendesk Sell into the mix."
Forrester's Hong said he sees situations where Zendesk's CRM can coexist in a technology stack with Salesforce, citing examples of rolling out the simpler Zendesk for a particular campaign or a department workflow that doesn't require a more complex Salesforce implementation -- and integrating Zendesk into their Salesforce instance.
The more interesting piece of Zendesk's CRM push, Hong said, is the integration between its popular, longstanding customer service platform and its much newer sales technology suite.
"There's not a lot of difference between the customer conversations that customer service agents and inside sales reps have," Hong said. "The capabilities that these roles use are similar, even though they're currently provided in separate applications ecosystems. Having the connective tissue between the two is a really good step for Zendesk."