Petya Petrova - Fotolia
Zendesk Support, Sunshine CRM expand data sharing, analytics
New Zendesk Explore Enterprise analytics and data visualization tools enable small and midsize users to create dashboards to share across organizations.
Zendesk expanded its Explore analytics and reporting dashboard tools to span the enterprise. Users can create dashboards to share across teams and departments for real-time reporting and visualizations.
Called Zendesk Explore Enterprise, the new feature set will be available first to Zendesk Support customer service platform users next week. Integrations with its emerging Zendesk Sell sales force automation suite are due later this year, and an integration for its Sunshine CRM platform in early 2021.
Analytics that yield at-a-glance departmental performance updates to managers and the C-suite are table-stakes features for enterprise data systems such as customer service and CRM platforms, said Forrester Research analyst Kate Leggett. But small and midmarket companies don't have the data scientists and development resources to create the measurement and analytics support to get those same insights.
With Zendesk Explore Enterprise and offerings from other vendors such as SugarCRM and Freshworks, some of those analytics capabilities are accessible to the midmarket.
"It's easy to be able to empower an enterprise with technology," Leggett said. "It's a lot harder to level the playing field [for the midmarket]. What Zendesk is doing is really focused on the user experience, the UI, the ease of integrating these products together and getting these insights that are easily shareable to aid decision-making."
It's easy to be able to empower an enterprise with technology. It's a lot harder to level the playing field [for the midmarket].

Kate LeggettAnalyst, Forrester Research
The features build upon Zendesk Explore analytics, first released in 2016. Explore Enterprise quickly creates dashboards in Zendesk Support that offer real-time visibility of contact center statistics with customer service and operations team leaders. Stats that can be shared include metrics such as how many agents are available at a given time, how many customers are queued with service calls and what channels are being served.
New customer service logistics in this pandemic year heighten the need for these features, said Jon Aniano, Zendesk SVP of product, CRM applications. A typical contact center has a big-screen dashboard hung on a wall that everyone could glance up at and see key metrics such as hold time or customers in queue. A new method of conveying that data is needed when the contact center bullpen is closed for social distancing.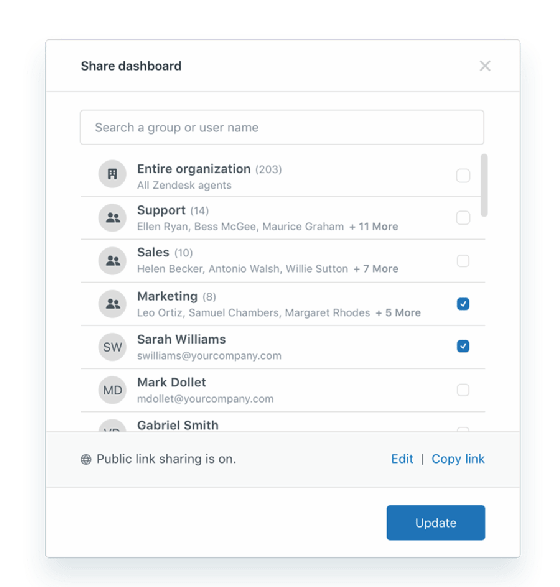 "Customers need to take that visibility into their operations, share it around the company and take action on that information," Aniano said. "The need for this is not necessarily new, but with all the things that we're dealing in the world -- everyone working remote, everybody on Zoom, Slack and other videoconferencing and messaging software -- the need for … real-time data has increased quite a bit."
Furthermore, Aniano said, in some service organizations, new players are involved in the customer experience who need to be accounted for in analytics systems and dashboards, such as drivers in ride-sharing platforms or increasingly popular food and grocery-delivery services. For those Zendesk Support users -- and later this year, Zendesk CRM users -- that employ third parties, Zendesk also released a feature called Multiparty Conversations, which brings all the parties together with a messaging tool.
Anyone who has tried to track down a driver who delivered the wrong food or grocery order through a DoorDash-type service but can't because third-party delivery service providers aren't part of the sales loop understands the problem Zendesk is addressing with the Multiparty Conversations feature.
Zendesk Explore Enterprise is priced at $29 per agent, per month.
Dig Deeper on Customer service and contact center