adam121 - Fotolia
RevOps strategy keeps B2B sales moving during pandemic
Revenue operations purports to orchestrate the technologies governing marketing and sales and measure their effectiveness. During the pandemic, the strategy is put to the test.
A revenue operations strategy promises to align marketing and sales technology in the leanest possible way. As the pandemic stems access to leads and remixes workflows while sales and marketing teams work remotely, companies are putting it to the test.
On the marketing side, the revenue operations -- or RevOps -- approach makes companies more agile in identifying the most effective channels and campaigns to fill the top of the sales funnel, and eliminating those whose investments aren't paying off.
On the sales side, it can clarify what data tools are needed to shunt marketing leads to the appropriate sales reps, clean up leads gathered by data marketing and inform sales enablement teams how to best help those reps. It also gives operations staff deep forecasting and retrospective analytics on what is -- and isn't -- working to generate sales and motivate sales reps.
"We wanted to have a very clear vision and measurement mechanism for our sales funnel, start to finish," said Franco Anzini, vice president of revenue operations at cybersecurity vendor Malwarebytes, which moved from siloed marketing and sales operations to a RevOps model about a year ago.
As the conferences Malwarebytes planned to attend for marketing purposes went digital due to the pandemic, "we've been more plugged in," Anzini said. "Marketing operations, sales operations and revenue operations were able to work much closely together than they would have."
While the company prepared to find digital outlets to replace canceled live shows, Malwarebytes' commercial business skyrocketed as companies needed to secure their employees' work-issued and personal devices as they moved from office to home environments. The RevOps approach, Anzini said, enabled Malwarebytes to navigate the changing market as marketing and sales teams kept in sync.
The volume of sales leads at Malwarebytes increased tenfold since state and local governments issued stay-at-home orders earlier this year, Anzini said. That required the company to lean heavily on lead-to-account matching tools from LeanData in the RevOps tech stack.
The tools add marketing leads to CRM systems, clean up the data, deduplicate them if they're already in the CRM, and route them to the right sales team members based on user rules. Engagio and Lane4 also produce lead-to-account matching tools.
Tech companies turn to RevOps
RevOps gained popularity over the last few years as companies -- especially cloud SaaS vendors --overbought marketing automation and sales tech and struggled to pare back martech redundancies and rein in budgets, said Craig Rosenberg, co-founder of Topo, a research and advisory firm acquired by Gartner last year. Other verticals such as healthcare are beginning to use similar strategies, Rosenberg said, but may call it something else for now.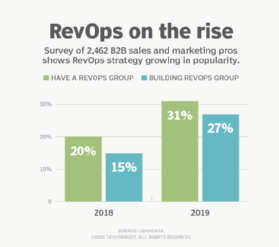 The idea behind RevOps is to operationalize marketing and sales tech under a chief revenue officer (CRO), who looks at end-to-end processes from top of funnel to post-sale follow-up, such as customer success tools. The CRO orchestrates the data flow between the two teams and judges each technology investment by its return.
COVID-19 has changed the technology mix: With marketing budgets cut, live events canceled and leads coming from different sources, RevOps is a model that can optimize what's left and uncover gaps in marketing and sales processes.
"RevOps allows you to look at things horizontally and be able to execute a go-to-market change -- or go to market at all -- across all the functions that are going to touch a customer," Rosenberg said. "If someone was lobbying for a change to revenue ops, this is the time to do it. Even the companies like Zoom who are doing well, they're doing so much business that they're changing, too."
If someone was lobbying for a change to revenue ops, this is the time to do it.

Craig RosenbergCo-founder, Topo
Changing economy, changing sales
Cloud vendors that sit in the RevOps tech stack have been forced to keep up with changing sales patterns to enable their users to close the opportunities that still remain during the COVID-19 economic slowdown. Heavy job losses continue to mount, according to the U.S. Bureau of Labor Statistics.
Companies that have large inside telesales departments have had to rethink how to support and motivate teams of younger salespeople who supervisors traditionally kept "under their thumbs" in the office setting, said Christopher Cabrera, CEO of cloud sales management suite Xactly. Now as whole teams are working remotely, those companies are looking to tools like Xactly to redesign incentives to keep sales teams productive.
"Overnight, all those organizations went from being totally captive, in-house -- you have this floor of people -- to they're all at home," Cabrera said. "We've had a lot of customers say to us, 'We need your help, we've never experienced this before, we need compensation to drive the behavior of these folks who typically aren't working at home.'"
Another trend Cabrera has seen: Users reconfiguring sales-team territories and adjusting sales quotas as layoffs mount and business slows down. While high-tech and manufacturing are holding their own, he said, financial services and retail users are seeing workforce reductions. RevOps tools such as sales planning tech will help companies hold on to what they have left so when the economy starts back up, they won't be starting from scratch, he said.
Sales leads data during the pandemic come from different sources, now that in-person meetings and live events have been shelved, said Evan Liang, CEO and co-founder of LeanData. He said LeanData users who have transitioned to RevOps have been become more agile, even though that isn't always easy because in some companies, "marketing and sales just don't like each other."
With a RevOps strategy in place, it becomes easier to update how companies do things like lead routing when the leads look different, as does the sales team.
"The routing process used to be something you'd set and forget," Liang said. Since the pandemic, "every week has been like a quarter, there's just so much change."