adam121 - Fotolia
Martech budgets slashed, more layoffs loom amid COVID-19
The COVID-19 economy has hit marketing jobs hard. As spending for advertising and martech stall, layoffs mount and still-employed marketers fear the worst.
In the COVID-19 economy, marketing budgets are being slashed and teams have been hit hard with layoffs. In-house marketing teams now must better utilize the technologies they already have, and measure campaign results more frequently and precisely.
In a March 27 Gartner survey, most of the 360 marketing executives who responded said they expect reductions in spending; 40% indicated that budgets would be cut by 15% or more, and 36% anticipated cuts in the 5%-15% range. Anecdotally, marketers told SearchCustomerExperience that travel, hospitality and live events companies have suffered layoffs.
Marketers are among the 26 million who filed for unemployment in a five-week period spanning March and April, when jobless claims hit record high levels.
Advertising and marketing vendors and recruiters have rallied around the suddenly jobless. A number of ad industry leaders created industry-specific job-matching resources.
Clearmob, a social media marketing platform that predicts returns on Facebook and Instagram advertising, launched a site this week that matches marketers with job opportunities. CEO Sophia Li tapped into her customer network to connect unemployed marketers directly to hiring managers and cut through the delays and red tape of traditional job sites and long applications.
Clearmob's m4marketer.com already has posts for jobs at Zendesk, Instacart, Intapp and a host of other Bay Area companies looking for marketing help. Ex-employees from large companies such as Facebook, Uber, Omnicom, Poshmark, Alibaba, Salesforce, Amazon and LinkedIn have signed up for the site, Li said.
"If you're a small company looking for help and you have a contracting role for one to three months, you can have access to people you wouldn't otherwise," said Li, who had planned to create a community site for social media marketers over the next two years, but accelerated the idea and turned it into a job matchmaking site in just a few weeks. "These people have seen a lot and are very creative."
Martech stacks pinched
Marketing budgets tend to represent about 10% of a company's revenue, and martech tends to consume about 26% of the marketing budget, said Gartner analyst Colin Reid.
The first cuts to marketing budgets, Reid said, typically hit advertising, followed by reductions in outside agency engagements. After that, in-house marketing is hit.
Marketing budget cuts often mean reductions in technology purchases, too, affecting investment in martech stacks, Reid said. As companies cut back on the number and size of campaigns, they also pull back on the cloud technologies that execute them. How much remains to be seen, as marketing plans tend to span more than the roughly six weeks so far since COVID-19 social-distancing orders grounded the global economy.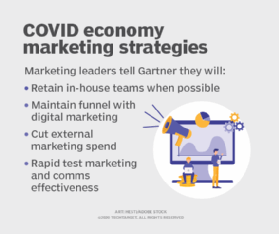 One way marketing teams can maneuver around shrinking technology budgets is better utilization of what they've already bought.
In a 2018 Gartner survey, 61% of marketers indicated their martech stacks were fully utilized. It fell to 58% in 2019. Reid said that represents an opportunity to more efficiently use the marketing budgets that are left.
This happens because many organizations implement a martech tool or platform to accomplish specific goals. Marketers tend to overlook deeper features and capabilities a platform might offer, such as analytics, advanced segmentation or personalized, targeted messaging content that can be triggered through connectors to other martech tools.
Our clients implement what they need at the moment... but there are expansive opportunities with full utilization.

Colin ReidAnalyst, Gartner
Figuring out how to utilize unused features, especially in sophisticated marketing engines from large vendors such as Adobe and Salesforce, can help a company squeeze more revenue from technology budgets.
"They have hundreds of features, hundreds of capabilities within them," Reid said, adding that vendor customer success teams will offer help for users to get up to speed. "Our clients implement what they need at the moment... but there are expansive opportunities with full utilization."
Before COVID-19, marketing plans typically covered six months up to two years, Reid said. With the economy and customer needs constantly shifting, that's already changing, according to survey research Gartner is assembling.
To respond, companies will more frequently measure and test the effectiveness of their marketing campaigns, more closely watch how martech drives revenue, and more quickly move away from what isn't working. What might have been a three-month effort will become a "two-week sprint," Reid said, as the COVID-19 economy forces marketing teams -- and the developers they work with -- to become more agile.