phonlamaiphoto - stock.adobe.com
Google Contact Center AI makes early inroads in industry
Prospective users are already interested in Google's recently unveiled Contact Center AI system, and Google partners are avidly trying to sell it. But some in industry urge caution
Early interest in the Google Contact Center AI system is already materializing, but some in the industry say enthusiasm...
Continue Reading This Article
Enjoy this article as well as all of our content, including E-Guides, news, tips and more.
about the tech giant's AI prowess should be tempered by caution and awareness of Google's own possible motives in targeting the data rich market.
Behind Google's push into contact centers with AI and natural language tools is that it can also reap the benefit of the masses of data that resides in contact center networks, said Ray Wang, principal analyst and founder of Constellation Research.
Wang noted that the volumes of big data in contact centers are ideal for a data-centric company like Google, while Google's advanced natural language processing capabilities make its technology useful for contact centers looking to reduce monotonous repetitive inputs for its agents.
"This is a natural spot for Google to be in," Wang said. "They see a lot of the contact center operations to be AI-driven and they can take advantage of it with natural language processing."
According to a Google spokesman, however, Google is only acting as a data processor for contact centers and will not retain the data or use it to train its models.
Available through contact center vendors
Google Contact Center AI includes three components: virtual agents, AI-powered assistants for human agents, and contact center analytics.
The new tools for Google Contact Center AI are built on Dialogflow, a suite of human-computer interaction technologies aimed at contact centers, such as sentiment analysis, automatic spelling correction and text-to-speech capabilities. The tools are aimed at helping developers without NLP or AI expertise build contact center voice functions.
Contact Center AI is integrated with the platforms of most major vendors of contact center platforms, including Vonage, Twilio, Mitel, Five9, Cisco, Upwire, RingCentral, Genesys and Appian.
Google Contact Center AI will be exclusively available through these vendors and several systems integrators, such as Deloitte and KPMG. Although Google unveiled the technology at its Google Cloud Next 2018 conference in July, it is not yet ready; various components are in alpha and beta stages.
Google has been touting Ticketmaster as a beta user of Dialogflow, a central component of Contact Center AI. Google also says American Financing has been using Contact Center AI to route calls as part of its Vonage platform.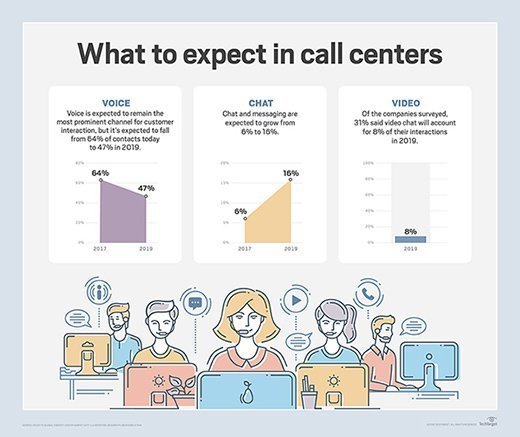 Call centers interested
Beyond beta users, potential customers have already expressed interest in the new contact center technology.
One is Canada Suicide Prevention Service, a Genesys customer that handles thousands of high-stress calls a week.
It's about providing the right set of AI capabilities to our customers and to give them AI choice.

Chris ConnollyVP of product marketing, Genesys
The organization's CTO, Roberta Fox, said she is considering using Google Contact Center AI. She said she hopes the system can help volunteer call respondents with surfacing post-call materials and recommendations, giving respondents time to readjust and get in the right frame of mind for the next tense phone call or chat message string.
"What we really want to see and are interested to see what Google can do, is help with the post-call wrap up," Fox said. "You want a good responder experience and we think the AI will help with that. From our discussions with Genesys and Google, it's leading us to believe we can do that."
Critical distance
But others in the industry are assuming a more distanced attitude toward Google's much-hyped and long-anticipated foray into the call center market. Some of the buzz around Google Call Center AI is based on the assumption that it incorporates Google's well-regarded Duplex voice recognition technology; at this time, the system does not use Duplex.
And Google's splashy introduction of Contact Center AI somewhat overshadowed that other AI vendors like AWS and Microsoft have already been selling chatbots and other AI tools to call centers.
"There's a lot of enthusiasm in the supplier community for AI and, in this case, Google," said Brad Cleveland, senior advisor to the International Customer Management Institute, an industry group. "But most of those deeply immersed in contact center operations sense that there's a fundamental misunderstanding of the complexities being handled today.
"I think the reality will be somewhere in the middle -- AI is pretty amazing, but don't start cutting contact center staffing budgets just yet," Cleveland added.
Call center vendors energized by Google entry
Meanwhile, Google's partners in the call center market are hoping that by offering Google Contact Center AI, they can give customers variety in AI tools, with Google's AI capabilities often working with vendors' own AI-ready call center and CRM platforms.
"A lot of customers are looking for a unified experience from a platform perspective and for efficiency for customers, agents and managers," said Medhat Galal, VP of product solutions at Appian. "We released native AI capabilities in April, but we saw an opportunity to streamline the experience with the customer even further with Google."
Appian's approach of having its own native AI capabilities work next to Google Contact Center AI appears to be the strategy of other contact center vendors as well.
"We see it as providing the customer choice and to connect the dots between the technologies that compose a customer experience," said Chris Connolly, VP of product marketing at Genesys. "It's about providing the right set of AI capabilities to our customers and to give them AI choice. There's different AI for different purposes and we need to surface those in one clear platform."
The features that Google Contact Center AI include, with an emphasis on virtual agents and chat, are in line with how customers choose to interact.
Industry fast adopting AI
According to a 2017 Deloitte study, chat and messaging are expected to grow from 6% of inquiries in 2017 to 16% in 2019.
And while voice chat will still remain paramount, it's expected to drop from 64% of the interactions to 47%. Canada Suicide Prevention Service, for example, is already seeing this transition; of the roughly 15,000 contacts since November 2017, 62% have been text and chat.
While the connection between AI and contact centers is clear, wholesale adoption of AI still appears some years away. According to Gartner, by 2022 70% of customer interactions will involve an emerging technology such as machine learning, up from 15% in 2018.
And those who are trying to become early adopters tend to be in a trial-and-error period with chatbots or virtual assistants. According to the same Gartner study, 40% of virtual assistant applications launched in 2018 will be abandoned by 2020.
But bots aren't replacing humans yet
"Virtual agents are a delightful customer experience if they work, but we're not at a point of general-purpose AI yet," Connolly said. "They handle one problem very well, but there will be moments of frustration or emotion where a human needs to be in the picture. Blending AI with human experience is where we'll succeed."
For a place like the Canada Suicide Prevention Service, allowing chatbots or AI to take control of calls with distraught people isn't ideal, but Fox nevertheless said she sees a place for more robust functions like those in Google Contact Center AI.
"We don't want to have bots replace people, but rather enhance the responder experience to not focus on technology and focus only on suicide prevention support," Fox said. "Anything we can do to streamline keystrokes is good."
Pricing information for Google Contact Center AI depends on the contact center vendor, according to the Google spokesman. Customers buy the product through their vendor, which sets its own pricing.