Gajus - Fotolia
LogMeIn launches CCaaS platform to complement GoToConnect
LogMeIn releases GoToConnect call center as a service features during a high-demand period for supporting remote customer service work amid COVID-19 stay-at-home orders.
LogMeIn today released GoToConnect Support Center, a native contact center as a service option for users of GoToConnect, its suite of calling, messaging and videoconferencing apps.
The LogMeIn contact center as a service (CCaaS) package allows agents to sign in and out of call queues with one click and shows hold times and caller ID on its dashboard. For supervisors, it measures agent effectiveness and shows agent availability to assign call queues and monitor agent calls. For IT admins and contact center supervisors alike, LogMeIn added a cost dashboard to the admin view of the CCaaS suite to clearly denote costs as they add agents to the teams fielding calls.
Larger GoToConnect customers integrate it with poplar cloud CRM and customer service applications. Those from Salesforce, Zendesk and Zoho are the most common, said Alan Winters, Senior Product Manager for GoToConnect Support Center.
CCaaS tools have been around for decades, but they have improved in recent years with more sophisticated features and AI support, said Nancy Jamison, an analyst at Frost & Sullivan. In the past month, demand for CCaaS tools has spiked due to COVID-19 stay-at-home guidelines, which forced most call centers into remote work.
Jamison said the LogMeIn CCaaS will appeal to small and midsize businesses already using GoToConnect applications in their workflows. Many companies have spun up ad hoc call centers in the last month, she said. LogMeIn's CCaaS can help users deal with changing workflows amid remote work and give them ability to track calls and effective problem-solving as they serve customers -- whomever those customers might be.
"There's a huge market, whether they're small contact centers or informal contact centers," Jamison said. "There's times, for business continuity, where you're going to need a group of people who are fielding calls and taking chats. Like now, or during a hurricane, or fire -- or something seasonal. The perfect example is how your HR department becomes a contact center during open enrollment [for health insurance]."
LogMeIn developed GoToConnect Support Center over about two years. That the long-planned release came during the surge of remote work related to mitigating the spread of COVID-19 was a coincidence, LogMeIn's Winters said. It started as a tool to address customer demand for analytics around communications, he said, but when his team saw who would use it -- and for what -- it became obvious they were building a CCaaS suite.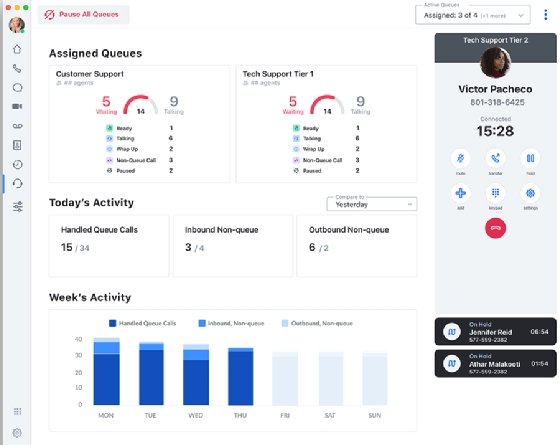 The potential users increased exponentially as the release date approached. Even contact centers that didn't traditionally allow agents to work from home had to accommodate it, while giving managers the ability to route a typically increasing volume of calls and monitor workflows.
"All of a sudden, we've gone from colocated to hyper-distributed," Winters said.
LogMeIn built its CCaaS out of technology from Jive Communications, which it acquired in late 2018 and began integrating into GoToConnect soon after. LogMeIn itself was acquired by Francisco Partners and Evergreen Coast Capital Corporation for $4.3 billion in December 2019. The company soft-launched GoToConnect Support Center in December, prior to today's public release, and some early adopters have begun using it.
GoToConnect Support Center CCaaS is currently available in the U.S., the U.K., Germany, Ireland, Australia, Brazil and Mexico, with broader international availability planned for the coming months. It costs $29.95 per agent, per month, in addition to the cost of GoToConnect.