tiero - Fotolia
Salesforce Live web series offers tips for uncertain times
Salesforce execs and celebrity speakers deliver advice to help customers rewrite the sales and marketing playbook while working from home during the COVID-19 pandemic.
A new weekly series of Salesforce Live streaming events titled "Leading Through Change" aims to help users navigate the challenges of getting sales and marketing work done from home during the COVID-19 pandemic, as well as how to show empathy for their own customers during the economic downturn.
Analyst firms such as Forrester Research and Gartner hosted a webinar on business continuity in light of the pandemic, Microsoft posted a webinar for admins suddenly dealing with remote workforces, and numerous industry associations and universities posted webinars with content giving businesses direction for sudden switches from retail to online commerce. The Salesforce Live series appears to be the first direct vendor outreach to CRM and marketing automation cloud users.
The videos capture some of the live Dreamforce-style vibe -- complete with celebrity speakers and popular musicians -- for users who still want to connect to that scene while sheltering in place. Salesforce has been forced to cancel live events and port them to streaming video.
"Let's face it, everyone's desperate for inspiration, something that's uplifting and feels productive," said Nicole France, Constellation Research analyst. "Salesforce has created a culture of its own for its users, admins, proponents and fans. These events create a sense of knowledge and capability as well as something that's fun and entertaining."
The first event, broadcast live from the homes of the participants, included Salesforce executives, television journalist Soledad O'Brien and singer Sheryl Crow. Salesforce CMO Stephanie Buscemi and O'Brien fielded customer questions about appropriate actions to maintain business during the economic shutdown while maintaining empathy.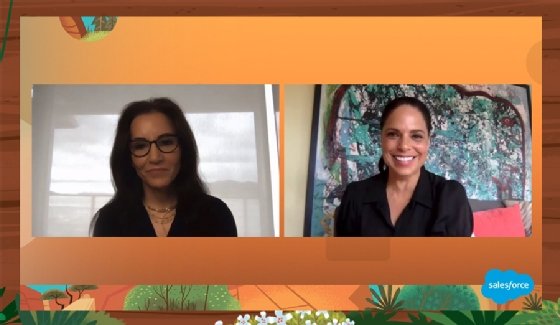 Empathy for customers makes the experience
Sales reps need to maintain sympathy for customers more than ever, and to be sensitive not only to the customer's plight but their own state of minds, O'Brien said. It's better to put off a call than make it when you are overwhelmed with your own anxieties.
That said, O'Brien pointed out that everyone's becoming a videoconferencing expert, and she's seeing relationships being built and maintained with face-to-face video calls in ways they weren't before the pandemic. Video will probably be used more heavily after the crisis is over, now that businesses and their customers have been forced to get comfortable with telecommuting tools.
It's not business as usual for sales and marketing outreach, both Buscemi and O'Brien said. Putting extra time and effort into customer service during this time of crisis will pay off for businesses now and will be remembered later as Salesforce users help keep their own customers afloat with novel means.
"If you don't have something in your offering that can help [your customers] right now continue their growth, keep their businesses running or take care of their employees -- then step out of the way," Buscemi said.
O'Brien cited the example of a lighting company representative patiently taking hours to help her set up and wire a home studio, something she'd never done herself. Buscemi said Salesforce engineers and other employees have taken shifts as agents at Salesforce users' call centers.
We are all tired of getting emails from companies we've forgotten we'd ever done business with, saying they're 'in it with us.'

Nicole FranceAnalyst, Constellation Research
"When you have this opportunity to help people in a moment of crisis and need, they don't just like you, they love you because you've gone above and beyond," O'Brien said. "If you're trying to just sell something to somebody, it's a weird time and it's not particularly helpful."
Constellation's France echoed those ideas, adding that businesses can endear themselves to customers not by automating sales and marketing messages but by talking to customers one-on-one, listening to them, and showing empathy for what they're going through. After that, applying critical thinking skills to meet their needs during tough economic times can create a deeper customer relationship.
"We are all tired of getting emails from companies we've forgotten we'd ever done business with, saying they're 'in it with us,'" France said. "It's about understanding what customers want to hear, what they need, and adapting to that. And also recognizing that you may or may not have something that's relevant to say."
Salesforce Live "Leading Through Change" events are available here.