Booz Allen releases Modzy AI platform and marketplace
Booz Allen Hamilton introduced an AI platform and marketplace made for uploading, deploying and managing AI models across a scalable environment.
Booz Allen Hamilton, the IT consulting firm and digital services vendor, based in McLean, Va., released Modzy, a new AI platform and marketplace featuring prebuilt AI models for quick deployment.
Modzy, introduced Nov. 4, is Booz Allen's first foray into the AI software platform market and is aimed in large part at the government market.
It "may solve a significant challenge in operationalizing AI," said Adelaide O'Brien, research director of government digital transformation strategies at IDC.
Prebuilt models
"Many [government] agencies are currently investigating a range of artificial intelligence technologies and machine learning solutions," O'Brien said. "However, these solutions take time and skilled resources to develop."
Government AI deployments typically use custom-built AI models that are expensive, experimental and time-intensive, she said.
Modzy, however, features a group of prebuilt models that developers can pick from in a straightforward interface. Models are easily searchable, and contain extensive text and images in its descriptions on what it does and how to deploy it.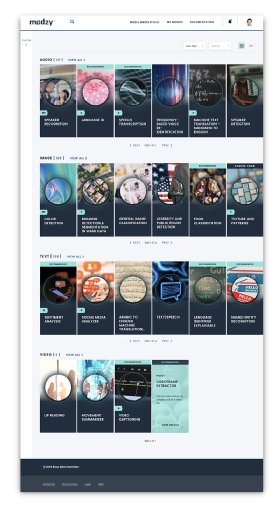 That includes performance metrics for each of the models against standard data sets, as well as information about the scenarios in which the model performs well and ones in which it has weaknesses. Descriptions also detail the training data sets used for each model, and examples of what its inputs and outputs look like. All of the information aims at making the model more explainable.
The platform contains both AI models prebuilt by Booz Allen, as well as prebuilt models from third-party vendors that users can buy at a premium. It contains a number of tools to build or tweak models, as well as tools to integrate them into existing workflows, such as accessible copy and paste codes for API connections, said Josh Elliot, director of AI at Booz Allen.
"We're really trying to meet the needs of data scientists ... as well as software developers," Elliot said. "We really hope this becomes connective tissue between data scientists and developers."
Booz Allen's new platform is one of several platforms for prebuilt AI models on the market, including Microsoft's AI Builder, which recently got a major update.
Model management
Modzy also acts as a model management platform, enabling organizations to secure, manage and deploy their own AI models across it.
It will contain tools to help defend against adversarial AI attacks, as well as tools to help filter out suspicious data coming in, Elliot said.
[Modzy] may solve a significant challenge in operationalizing AI.

Adelaide O'BrienResearch director, IDC
IDC, O'Brien said, considers this two-part approach the first of its kind.
"First a multi-tenant cloud AI platform with governance, adversarial defense, and continuous checking and monitoring built into to the operations model, and second, Modzy provides a marketplace of open AI [and] ML algorithms [and] models where in addition to Booz Allen, other third-party AI software vendors can sell and operate their models," O'Brien said. "Modzy may become the leading edge of how AI and ML models are sold, deployed and operated in the future."
Dig Deeper on Artificial intelligence platforms