Infosys applied AI launch follows IT consulting AI releases
Infosys launched a new offering to help enterprises find and apply AI use cases at scale. The release is part of a wave of similar products from other big systems integrators.
IT services and systems integration giant Infosys launched Infosys applied AI, an offering to help enterprises adopt AI at scale.
The offering, revealed Nov. 10, comes as enterprises look to adopt AI more than ever before, in part due to rapid advances in AI technology.
"We're at a point where we can identify what [AI] techniques need to be applied to what types of data to answer key questions that will provide precision decision," said R "Ray" Wang, founder of Constellation Research.
Integrated offering
Using Infosys applied AI, an integrated mix of AI services and technology, enterprises can access, deploy and contextualize services from the firm's applied AI cloud.
The Infosys applied AI cloud uses Infosys's hybrid cloud services, as well as an AI store with pre-curated models and datasets, including a catalog of AI models, datasets for training models and codes for AI services. The catalog includes open source software and services, as well as products from a consortium of AI startups and established technology vendors.
The system also includes a platform to experiment with AI projects and scale them to enterprise-scale deployments.
Infosys applied AI is an end-to-end process, said Ravi Kumar, president of the multinational firm based in Bangalore, India.
"A full stack provider is what will help clients embrace [AI] better," he said.
With AI investments expected to increase dramatically over the next year, enterprises are looking for trusted partners to wade through a sea of different technology, vendors, and programming techniques, Wang said.
The applied AI offering helps by simplifying development and deployment of AI technologies and enabling clients to focus on their business strategy, Wang said.
Similar approaches
Infosys' launch follows similar offerings by other big IT consulting firms.
Late last year, Booz Allen Hamilton, the IT consulting firm and digital services vendor, released Modzy, an AI platform and marketplace featuring prebuilt AI models for quick deployment.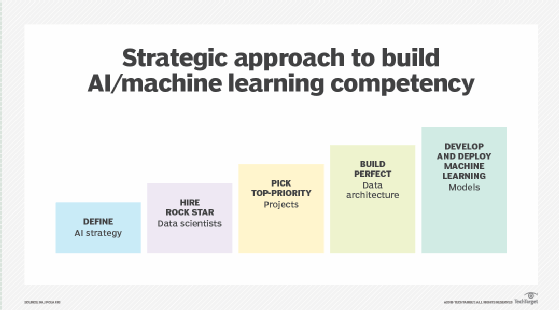 It was the firm's first foray into the AI market and was aimed at government clients.
Earlier this year, professional services firm Deloitte launched the Deloitte AI Institute, a center that focuses on AI development and collaborates with AI vendors, researchers, investors, innovators and academics to help clients connect to different players in the AI ecosystem.
We're at a point where we can in identify what [AI] techniques need to be applied to what types of data.

R 'Ray' WangFounder, Constellation Research
The institute offering enables clients to focus on business problems and applications, while getting them connected to useful AI technologies and research, said Beena Ammanath, executive director of the Deloitte AI Institute.
As AI technologies keep maturing, it's likely that that IT services providers and vendors will come up with more services meant to connect different AI players.
"The battle today is more about choosing the right strategy, executing on that strategy, and identifying the richest pools of data to bring into your AI strategy," Wang said.