Fotolia
Cognitive automation helps processes run on their own
Merck Healthcare has implemented cognitive automation technology from Aera Technology to drive a digital transformation of its supply chain operations.
Enterprises are increasingly automating processes, and now cognitive automation platforms are taking things several steps further.
Robotic process automation (RPA) automates rote tasks, providing improved efficiency and reducing errors, but the technology is fairly limited in scope. Along with automating processes, cognitive automation adds intelligence to processes, and through technology like machine learning, enables the systems to learn and understand how organizations operate.
Once they have learned how processes operate, cognitive automation platforms can offer real-time insights and recommendations on actions to take.
The scale, complexity and pace at which decisions must be made is forcing companies to rethink their organizational models and the systems that support them in fundamental ways, said Frederic Laluyaux, president and CEO of Aera Technology, a maker of cognitive automation software based in Mountain View, Calif.
"We're moving from an era of people doing the work, supported by computers and data platforms and so on, to the era of machines doing the work, guided by people," Laluyaux said.
The self-driving enterprise
Aera Technology has developed a cognitive automation platform that it has dubbed the "self-driving enterprise," a concept Laluyaux likens to a self-driving car.
"In the case of the car, you're digitizing the operating system of the car; in the case of the enterprise, you're digitizing part of the organization's operating system," he said. "The 'brain' sits on top of the transactional systems; it's connected outside and in, real time and always on."
Much like the self-driving car's operating system knows the entire operations of a self-driving car, the Aera cognitive automation platform knows an organization's operations and can make decisions or recommendations on actions for certain processes.
"This is a digital brain that understands how your business works, makes real-time recommendations, predicts business outcomes and can act autonomously," Laluyaux said.
At Merck Healthcare, the pharmaceutical division of Merck Group has made strides to becoming a self-driving enterprise based on the Aera cognitive automation platform.
Merck Healthcare implemented the cognitive automation platform four years ago as a central part of digitizing and modernizing its existing legacy systems, said Alessandro De Luca, CIO at Merck Healthcare.
Like most large enterprises, Merck Healthcare has a complex landscape of systems that includes several instances of ERPs (SAP ECC, SAP S/4HANA, Oracle), supply chain planning and execution (Blue Yonder, formerly JDA Software), and other systems like MES (manufacturing execution systems).
"We started working with Aera four years ago on their scripting capabilities, but we were looking for a sort of end-to-end dashboard across the supply chain," De Luca said. "The system would be put on top of all the different ERPs and planning systems, collecting data from all the different sources and displaying them in one UI."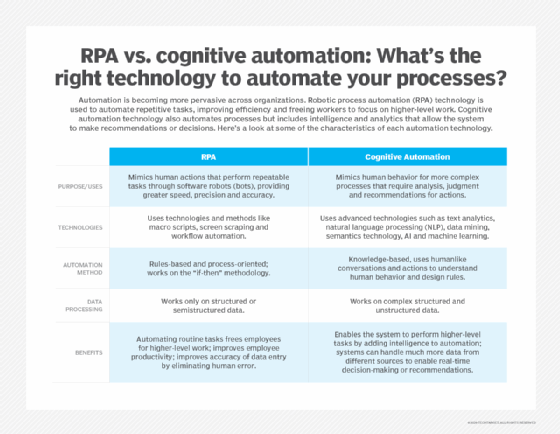 From predictive to prescriptive
Merck Healthcare's modernization efforts have moved from automating processes through scripting to using the machine learning to become predictive and improve forecast and supply accuracy, according to De Luca. Now the goal is to move from predictive to prescriptive, where the system would make recommendations based on the data it collects and analyzes from the various systems.
"Fundamentally, it's a set of AI-based skills in which they prescribe to planners what to do based on the demand system," De Luca said. "You collect demand data, analyzing all the different SKUs, and then prescribe which type of supply solution they should then implement in Blue Yonder."
Merck Healthcare looked at several systems to help with its modernization efforts, including Kenexis, Blue Yonder, Anaplan and SAP IBP (Integrated Business Planning) for Supply Chain, but selected Aera because it could be tailored to meet its specific requirements, according to De Luca.
"Another organization might just want a standard system like Kenexis that you put across a standard SAP infrastructure, for example, but because we are smaller and more diverse and with a more complex legacy infrastructure, we needed a tailor-made solution," De Luca said. "There is no right or wrong answer, it's just a question of matching the solution and your business processes."
Cognitive automation market will grow big
The market for cognitive automation platforms is just developing, but the potential for growth is huge, said R "Ray" Wang, founder and principal analyst at Constellation Research.
"This is part of a bigger trend toward truly autonomous enterprises -- whether it's ERP, CRM or supply chain; everyone's asking how much automation can they do to run their transactional systems," Wang said. "Existing transactional systems are just not up for this, so this is why a company like Aera exists. People may think they can make this happen with RPA, but that's not good enough at this point."
The artificial intelligence in Aera's platform makes it very different from what RPA can offer.
"Their technology crawls the systems to understand the processes and starts figuring out what to suggest, what people use and what's going on," Wang said. "It's a layer of intelligence on top of a layer of process to help figure out what to suggest for a next best action."
Aera Technology is one of the early players in a market for cognitive automation technology that Wang estimates will be worth $10 billion in 10 years. Although there are few other firms that are taking Aera's approach, there are other methods, including Infosys and its Live Enterprise Suite offering, as well as Celonis with process mining approach, a method for mapping, analyzing and improving processes.
It's a layer of intelligence on top of a layer of process to help figure out what to suggest for a next best action.

R 'Ray' WangFounder, Constellation Research
"Other folks have been trying to do it through BPM, workflow and RPA, but that really isn't the same," Wang said.
Although the payoff promises to be very big in terms of cost savings, process improvements and even security enhancements, companies should not expect to see results immediately after implementing cognitive automation technology, Wang said.
The systems need time to gather data, find patterns and learn processes. And employees will need time to build trust in the decision-making capabilities of the systems.
"It's not a panacea. You may put the systems in and it's going take you two or three years to train these systems, you augment the machine with the human and identify what all the nuances are and you augment the human with the machine so that you can make faster decisions," he said. "It will take a few years to learn the system, but it's going to accelerate the process and it will go from incremental to exponential differences. But you have to train these systems, they don't work on their own."