Getty Images
6 cognitive automation use cases in the enterprise
Businesses are increasingly adopting cognitive automation as the next level in process automation. These six use cases show how the technology is making its mark in the enterprise.
Cognitive automation tools are relatively new, but experts say they offer a substantial upgrade over earlier generations of automation software. Now, IT leaders are looking to expand the range of cognitive automation use cases they support in the enterprise.
"Cognitive automation is not just a different name for intelligent automation and hyper-automation," said Amardeep Modi, practice director at Everest Group, a technology analysis firm. "Cognitive automation refers to automation of judgment- or knowledge-based tasks or processes using AI."
What is cognitive automation
Cognitive automation is an extension of existing robotic process automation (RPA) technology. Machine learning enables bots to remember the best ways of completing tasks, while technology like optical character recognition increases the data formats with which bots can interact. Cognitive automation adds a layer of AI to RPA software to enhance the ability of RPA bots to complete tasks that require more knowledge and reasoning.
These tasks can range from answering complex customer queries to extracting pertinent information from document scans. Some examples of mature cognitive automation use cases include intelligent document processing and intelligent virtual agents.
In contrast, Modi sees intelligent automation as the automation of more rote tasks and processes by combining RPA and AI. These are complemented by other technologies such as analytics, process orchestration, BPM, and process mining to support intelligent automation initiatives. Meanwhile, hyper-automation is an approach in which enterprises try to rapidly automate as many processes as possible. This could involve the use of a variety of tools such as RPA, AI, process mining, business process management and analytics, Modi said.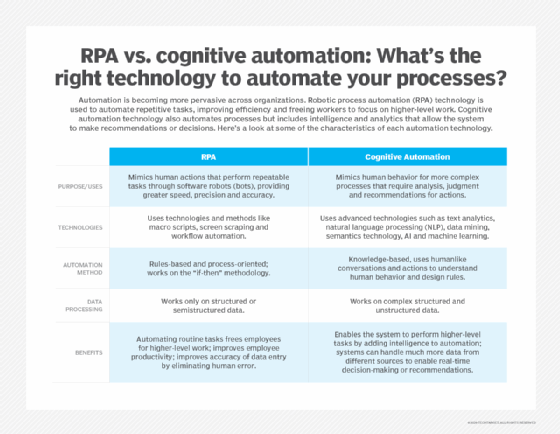 Here are six cognitive automation use cases now being deployed.
Use case 1: Retail measurement
One of the big challenges in the retail industry is harmonizing data from different stores. Modi said cognitive automation is helping retailers to improve their data collection process so they can create better analytics and AI applications. For example, a global performance management company that provides a comprehensive understanding of what consumers watch and buy, which Modi worked with, faced challenges in product categorization involving harmonizing product information from global to local SKUs. They had close to 40 different products across various markets that had different definitions and constituents
"The whole process of categorization was carried out manually by a human workforce and was prone to errors and inefficiencies," Modi said.
The company implemented a cognitive automation application based on established global standards to automate categorization at the local level. The incoming data from retailers and vendors, which consisted of multiple formats such as text and images, are now processed using cognitive automation capabilities. The local datasets are matched with global standards to create a new set of clean, structured data. This approach led to 98.5% accuracy in product categorization and reduced manual efforts by 80%.
Use case 2: Accounting
Accounting departments can also benefit from the use of cognitive automation, said Kapil Kalokhe, senior director of business advisory services at Saggezza, a global IT consultancy. For example, accounts payable teams can automate the invoicing process by programming the software bot to receive invoice information -- from an email or PDF file, for example -- and enter it into the company's accounting system. In this example, the software bot mimics the human role of opening the email, extracting the information from the invoice and copying the information into the company's accounting system.
By enabling the software bot to handle this common manual task, the accounting team can spend more time analyzing vendor payments and possibly identifying areas to improve the company's cash flow.
Not every manual, repetitive process is able to be automated. The software bot follows specific rules and logic.
"If a process includes variables, such as subjective decisions, it may pose challenges to successful automation," Kalokhe said.
Use case 3: Attended automation
Another important use case is attended automation bots that have the intelligence to guide agents in real time.
"The next-best action recommendations these bots provide enhances service experience for end customers, sets agents up for success and boosts ROI and revenues for the organization," said Oded Karev, vice president of advanced automation solutions at NICE, a workforce engagement management company.
For example, an attended bot can bring up relevant data on an agent's screen at the optimal moment in a live customer interaction to help the agent upsell the customer to a specific product.
Karev said it's important to develop a clear ownership strategy with various stakeholders agreeing on the project goals and tactics. For example, if there is a new business opportunity on the table, both the marketing and operations teams should align on its scope. They should also agree on whether the cognitive automation tool should empower agents to focus more on proactively upselling or speeding up average handling time.
Use case 4: Improving customer journeys
Cognitive automation has a place in most technologies built in the cloud, said John Samuel, executive vice president at CGS, an applications, enterprise learning and business process outsourcing company. His company has been working with enterprises to evaluate how they can use cognitive automation to improve the customer journey in areas like security, analytics, self-service troubleshooting and shopping assistance.
"The biggest challenge is data, access to data and figuring out where to get started," Samuel said. All cloud platform providers have made many of the applications for weaving together machine learning, big data and AI easily accessible. Getting started with them is another story.
Use case 5: Intelligent document processing
"We see a lot of use cases involving scanned documents that have to be manually processed one by one," said Sebastian Schrötel, vice president of machine learning and intelligent robotic process automation at SAP.
Processors must retype the text or use standalone optical character recognition tools to copy and paste information from a PDF file into the system for further processing. Cognitive automation uses technologies like OCR to enable automation so the processor can supervise and take decisions based on extracted and persisted information.
"The ability to handle unstructured data makes intelligent automation a great tool to handle some of the most mission-critical business functions more efficiently and without human error," said Prince Kohli, CTO of Automation Anywhere. He sees cognitive automation improving other areas like healthcare, where providers must handle millions of forms of all shapes and sizes. Employee time would be better spent caring for people rather than tending to processes and paperwork.
Use case 6: Employee onboarding
Employee onboarding is another example of a complex, multistep, manual process that requires a lot of HR bandwidth and can be streamlined with cognitive automation.
"This is especially important now in the wake of the COVID-19 pandemic," Kohli said. Not all companies are downsizing; some companies, such as Walmart, CVS and Dollar General, are hiring to fill the demands of the new normal."
Cognitive automation tools such as employee onboarding bots can help by taking care of many required tasks in a fast, efficient, predictable and error-free manner. This can include automatically creating computer credentials and Slack logins, enrolling new hires into trainings based on their department and scheduling recurring meetings with their managers all before they sit at their desk for the first time.
Know your processes
Cognitive automation may also play a role in automatically inventorying complex business processes.
"One of the biggest challenges for organizations that have embarked on automation initiatives and want to expand their automation and digitalization footprint is knowing what their processes are," Kohli said.
Automating time-intensive or complex processes requires developing a clear understanding of every step along the way to completing a task whether it be completing an invoice, patient care in hospitals, ordering supplies or onboarding an employee.
"The problem is that people, when asked to explain a process from end to end, will often group steps or fail to identify a step altogether," Kohli said. To solve this problem vendors, including Celonis, Automation Anywhere, UiPath, NICE and Kryon, are developing automated process discovery tools.
Dig Deeper on Digital transformation