Dmitry Nikolaev - stock.adobe.co
Microsoft AI Builder brings machine learning to PowerApps
Microsoft AI Builder empowers nonprogrammers to incorporate AI as they build applications using low-code/no-code platforms.
Microsoft's AI Builder artificial intelligence platform, now in preview, enables nonprogrammers -- as well as professional developers -- to easily add AI to the projects they are working on to create more intelligent applications.
Microsoft's low-code, no-code Power Platform consists of PowerApps, Power BI and Flow. PowerApps enables developers to create mobile and web apps with low- or no-code. Power BI is for analyzing data, creating reports and creating dashboards with low or no code, and Flow helps devs automate tasks and workflows with low or no code.
AI Builder is tightly integrated with PowerApps so that users can simply click on visual prompts to add AI-enabled controls to their mobile or web. It connects to data in the Power Platform's Common Data Service, where users store and manage data from business applications. In addition, Microsoft supports more than 230 data connectors to both Microsoft and non-Microsoft systems.
AI Builder enables noncoders to select common models for prediction, detection and functions such as document processing, binary classification and more detailed form processing. Developers can train models to recognize strings of text, images or other data from computer text or scans of paper documents. This could enable users to analyze documents for things such as customer feedback and sentiment about messaging.
Developers, including noncoders, can train models easily by uploading the relevant data with no Python, no TensorFlow or any machine learning framework, said Charles Lamanna, general manager of application platform at Microsoft.
"You can do this all visually, just like you would use PowerPoint or Word," he said.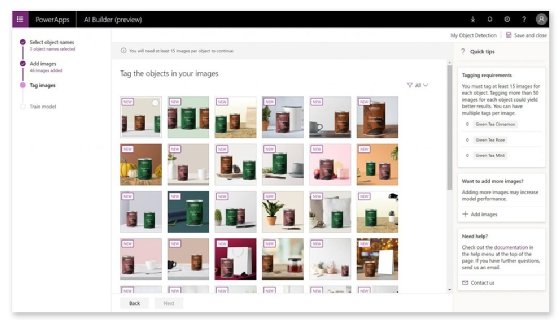 Low-code capabilities make AI, blockchain accessible
Low-code, no-code platform providers want to enlist business analysts and line-of-business professionals to meet the explosive demand for applications, said John Rymer, an analyst at Forrester Research.
The addition of AI to the mix only makes these platforms more attractive to noncoders. And it ups the stakes for cloud vendors as well.
Microsoft is going after cloud rivals targeting low-code development by bundling new technologies into its custom app development platform Power Platform.

Charlotte DunlapAnalyst, GlobalData
"Microsoft is going after cloud rivals targeting low-code development by bundling new technologies into its custom app development platform Power Platform," said Charlotte Dunlap, principal analyst at GlobalData in Santa Cruz, Calif.
There are a couple of things that make Microsoft's AI Builder unique. One is that other low-code platform vendors require users to connect their own cloud back end to Azure Cognitive Services or Google or AWS APIs or services, which often requires professional developers, Microsoft's Lamanna said. Secondly, PowerApps is integrated into the Microsoft app platform, so with AI Builder AI becomes a natural part of the apps that developers build, he said.
In addition to AI Builder, Microsoft has introduced PowerApps Portal, a low-code platform to build websites or create portals using prebuilt templates.
And Azure blockchain integration with PowerApps is now generally available, which allows PowerApps and Flow to work with smart contracts through blockchain, through connectors to Ethereum Blockchain and the Xooa Blockchain Database. Microsoft provides templates that enable citizen developers to execute smart contracts using PowerApps and publish smart contract events to Power BI, Lamanna said.
Dig Deeper on Cloud app development and management