Microsoft Power Platform adds chatbots; Flow now Power Automate
Microsoft changes name of Flow to Power Automate, adds virtual agents to Power Platform among host of robotic process automation tools in latest release.
More bots and automation tools went live on the Microsoft Power Platform, Microsoft announced today. In their formal introductions, Microsoft said the tools will make data sources flow within applications like SharePoint, OneDrive and Dynamics 365, and create more efficiencies with custom apps.
The more than 400 capabilities added to the Microsoft Power Platform focus on expanding its robotic process automation potential for users, as well as new integrations between the platform and Microsoft Teams, according to a blog post by James Phillips, corporate vice president of business applications at Microsoft.
Some of those include robotic process automation (RPA) tools for Microsoft Power Automate, formerly known as Flow, which makes AI tools easier to add into PowerApps. Also newly available are tools for creating user interfaces in Power Automate.
AI Builder adds a point-and-click means to fold common processes such as forms processing, object detection and text classification into apps -- processes commonly used for SharePoint and OneDrive content curation.
Microsoft is adding these tools, as well as new security features to analytics platform Power BI, in part to coax customers who remain on premises into the Azure cloud, said G2 analyst Michael Fauscette.
PowerApps reduce the development needed to create necessary connections between systems in the cloud, such as content in OneDrive and SharePoint with work being done in Dynamics 365 CRM, Teams and ERP applications.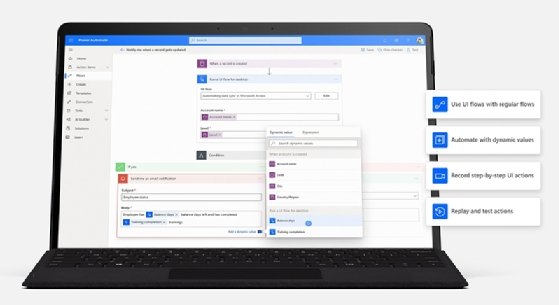 Chatbots go live
Also announced as generally available at Microsoft Ignite are Power Virtual Agents, do-it-yourself chatbots on the Microsoft Power Platform.
They'll likely first be used by customer service teams on Dynamics 365, said Constellation Research analyst R "Ray" Wang, but they could spread to other business areas such as human resources, which could use the bots to answer common questions during employee recruiting or onboarding.
If an agent is costing you $15 an hour and the chatbot 15 cents an hour … it's all about call deflection.

R 'Ray' WangAnalyst, Constellation Research
While some companies may choose outside consultants and developers to build custom chatbots instead of making their own on the Microsoft Power Platform, Wang said some companies may try it to build them internally. Large call centers employing many human agents and running on Microsoft applications would be logical candidates for piloting new bots.
"I think they'll start coming here to build their virtual agents," Wang said. "[Bot] training will be an issue, but it's a matter of scale. If an agent is costing you $15 an hour and the chatbot 15 cents an hour … it's all about call deflection."
Microsoft Power Platform evolves
PowerApps, which launched in late 2015, originally found utility with users of Microsoft Dynamics CRM who needed to automate and standardize processes across data sets inside the Microsoft environment and connect to outside platforms such as Salesforce, said Gartner analyst Ed Anderson.
Use quickly spread to SharePoint, OneDrive and Dynamics ERP users, as they found that Flow -- a low-code app-design tool -- enabled the creation of connectors and apps without developer overhead. Third-party consultants and developers also used PowerApps to speed up deliverables to clients. Power BI, Power Automate and PowerApps together became known as the Microsoft Power Platform a year ago.
"PowerApps are really interesting for OneDrive and SharePoint because it lets you quickly identify data sources and quickly do something meaningful with them -- connect them together, add some logic around them or customized interfaces," Anderson said.