Microsoft Power Platform gets AI and RPA updates
At Microsoft Ignite, the tech giant released new updates to ease RPA and AI building across its Power Platform, as well as new capabilities for Cortana within Microsoft 365.
Microsoft revealed a range of updates across its Power Platform aimed at easing the process of building and deploying robotic process automation systems and AI models.
The tech giant, at its flagship Microsoft Ignite conference this week, also detailed plans to better integrate Cortana, its virtual assistant, into its Office products, and introduced a new connected services knowledge base.
The Microsoft Power Platform, an application platform combining the Power BI analytics system, PowerApps, and Microsoft Flow, will get more capabilities added to its no-code and low-code AI and robotic process automation (RPA) building tools.
Microsoft detailed new capabilities for AI Builder, a no-code application on the Microsoft Power Platform that enables users to train and integrate prebuilt AI models into their applications.
The application received new prebuilt scenarios, including key phrase extraction, language detection, text recognition, and sentiment analysis capabilities -- all in public preview.
Microsoft unveiled most of the new features on Nov. 4, the first day of the conference.
Tools for citizen developers
AI Builder appears to be focused on citizen developers, said Ritu Jyoti, program vice president of artificial intelligence strategies at IDC.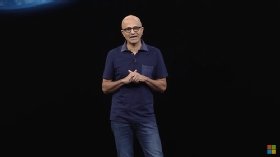 "For business users, having prebuilt AI models means they don't have to gather data, build or train their models. AI Builder introduced a new set of prebuilt models adding intelligence to the power platform and accessible via Power Apps and Power Automate," Jyoti said.
"AI Builder will also be powering AI in Dynamics through Customer Insights to predict missing data in customer segments and SharePoint, through the extraction of metadata and business processes," Jyoti continued.
In addition, Microsoft Flow, a no-code tool that enables business users to automate tasks, has been rebranded as Power Automate to better align with the Power Platform. The rebranding comes with a new RPA capability designed to enable users to record human interactions that can then be executed by the platform. New actions and triggers for Power Automate are also now available in Microsoft Teams.
Low-code, no-code is definitely the way to go forward and Microsoft's vision is certainly compelling.

Ritu JyotiProgram vice president of artificial intelligence strategies, IDC
"Low-code, no-code is definitely the way to go forward and Microsoft's vision is certainly compelling," Jyoti said, adding that Google and AWS are more focused on citizen data scientists than on citizen developers.
Another new product, Microsoft Power Virtual Agents, is now in public preview on the Microsoft Power Platform. Featuring a guided, no-code interface, the tool, along with hundreds of prebuilt connectors, enables business users without programming expertise to create bots. The tool integrates with Microsoft Flow, as well as more complex applications, including Microsoft's Cognitive Services and Bot Framework.
More Cortana
Also, at the conference, Microsoft unveiled new and enhanced Cortana integrations within Microsoft 365 products.
Those include intelligent away planning and delay email features within MyAnalytics, as well as more automated scheduling capabilities for setting up meetings with Scheduler in Cortana, Outlook users will be able to ask Cortana to schedule meetings, and Cortana will be able to automatically find an open meeting room, a time that works for all participants, and send out invites.
While most of the new Cortana features will become available over the next several months, Microsoft also launched Play My Emails for Outlook for iOS at the conference. The new Cortana feature, which comes with a masculine voice option, can read out new emails in a natural voice. The Android version won't become available in 2020.
Cortana "will continue to be integrated into office products -- more and more business focused," Jyoti said.
More product news
In other product developments, Project Cortex, a new service in Microsoft 365, connects to Microsoft applications, as well as external services, to create a collection of information. Using AI-driven technologies, including computer vision and natural language processing, Project Cortex automatically recognizing different types of data, extracts important information from it, and organizes it into different shared topics, enabling business users to easily and collaboratively search for information.
Project Cortex is "a move to deliver artificially generated content insights and guidance within existing business applications," said Alan Pelz-Sharpe, founder of market advisory and research firm Deep Analysis.
"Microsoft's AI business differs significantly from Amazon and Google in that the focus is, as it should be, on maximizing existing sources of revenue, for example Office 365," Pelz-Sharpe said.
The focus on Office 365 makes sense; revenues for Office 365 are close to $10 billion and are growing fast, Pelz-Sharpe said.
Still, Pelz-Sharpe continued, Microsoft also has the ambition and resources to get involved in larger research projects such as working on artificial general intelligence.
Microsoft Ignite is being held in Orlando, Fla., Nov. 4 to 8.