Fotolia
Using Microsoft MyAnalytics to improve workers' time management
Microsoft MyAnalytics has been hailed as the next great thing for analyzing worker productivity. But how can employees be assured that the data won't be used against them?
In today's competitive enterprise landscape, managers are under constant pressure to boost the productivity and...
Continue Reading This Article
Enjoy this article as well as all of our content, including E-Guides, news, tips and more.
efficiency of their teams. With a modern workforce that has access to information anytime and anywhere, it might seem like there is little room for improvement. But some managers are taking a new approach to employee productivity.
The old model of evaluating worker behavior assumed that productivity was based on the promise of logging long hours, but now, the new approach is to work smarter and be more efficient. Managers taking this new approach are getting help from Office 365, which is giving them insight into how employees are spending their workday. Clearly, this offers good, granular insight, but it also raises concern among workers about having a spotlight on their productivity.
One key avenue for analyzing workers' time is through email message trends. Workers spend a good amount of time in their email application, sending and receiving messages, scheduling meetings and so on. Despite the popularity of other methods of communication, such as social media, instant messaging and texting, many still rely on email. Thus, email messages and meetings could hold the key to how people work, and with whom they work and interact.
Earlier this year, Microsoft disclosed that it had reached 22.2 million subscribers to Office 365, indicating that they know a lot about when users access email messages, with whom they're interacting and what type of content is being exchanged. The information Microsoft captured created the building blocks for Delve Analytics, which has recently been renamed MyAnalytics. The appeal of Microsoft MyAnalytics is its ability to analyze employees' work habits from calendar entries, contacts entered and email messages, to deliver personalized insights into how workers spend their time. With artificial intelligence underlying Microsoft MyAnalytics, the goal is to teach the application, over time, workers' habits, and to help workers optimize their time.
A manager's responsibilities include mentoring team members to encourage productivity and efficiency, using methods including introducing tools to enhance productivity. In recent months, more managers have turned to Microsoft MyAnalytics to help educate and empower teams with a tool that allows them to work smarter. While the data is viewable only by an individual user, in the future, personal data will be sharable with others, such as managers, if employees allow it. This is concerning to workers, who may be pressured into sharing data with managers.
The appeal of Microsoft MyAnalytics is its ability to analyze employees' work habits from calendar entries, contacts entered and email messages, to deliver personalized insights into how workers spend their time.
However, managers have highlighted the following MyAnalytics insights that can be gained by sharing this data.
A comprehensive view of all communication habits. Microsoft MyAnalytics offers a single view of all statistics related to meeting times, working hours, time spent on email messages and focus time. This data is listed inside the MyAnalytics page under the Delve section in the Office 365 App Stack. The dashboard also offers details surrounding the different individuals in the end-user's network, including the people with whom a worker is frequently collaborating.
Staying in touch with key contacts. In addition to the time spent on emails and in meetings, managers are finding value in giving team members visibility into with whom they are in touch regularly or sporadically and those who they might have ignored. This Microsoft MyAnalytics insight, as shown in Figure 1, would help trigger follow-up actions with those contacts and could improve the worker's relationship with them.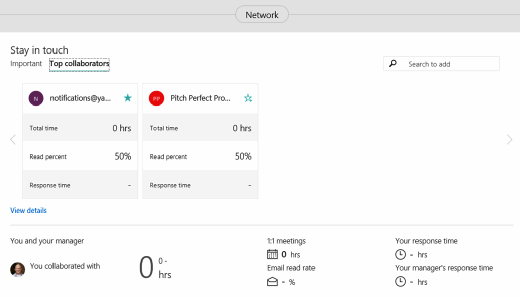 Understanding how a worker's time is spent. Having visibility into how one's time is spent is likely to be one of the most frequently leveraged stats within Microsoft MyAnalytics. The tool can give a user feedback on work behavior, such as responsiveness to email messages from their managers and others. But with the same capability, managers may have a way of knowing, for the first time, how to highlight an employee's lack of responsiveness and productivity by simply looking at their stats.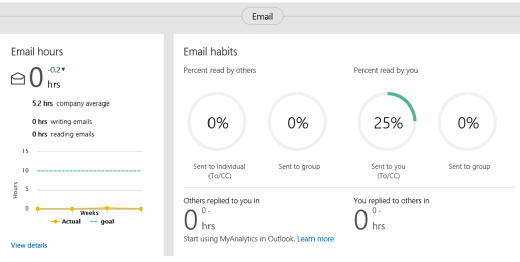 The platform, as shown in Figure 2, highlights how a user spends his or her time in an email application like Exchange. This information, along with specific goals outlined in Figure 3 and set by a user or his or her manager, can help drive new work habits and real-time feedback on progress. This can further help individuals with their time management.

Work/life balance. A recent study by the Kelley School of Business at Indiana University highlighted that individuals without control over their lives can suffer from a higher mortality rate than those with job satisfaction. For years, managers recognized that when employees were burnt out, their productivity diminished, and they were likely to perform poorly. Microsoft MyAnalytics can expose the workload of employees to set boundaries to help teams avoid burnout.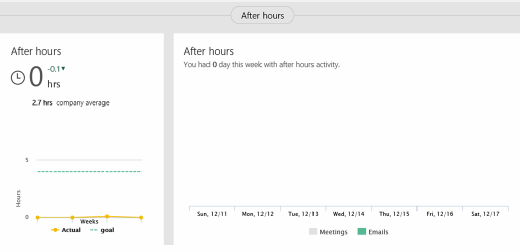 Prioritize time spent on activities. Email messages, texts and instant messages are constant distractions to employees who are in the middle of their tasks. Managers often recognize that employees working on projects should always allocate uninterrupted time to focus on these tasks. Those lacking in self-discipline can suffer from constant disruption, and MyAnalytics can reflect this lost productivity, as displayed in Figure 5. By analyzing users' meetings and email interaction, the platform can conclude the true focus time end users have available and enable them to set goals.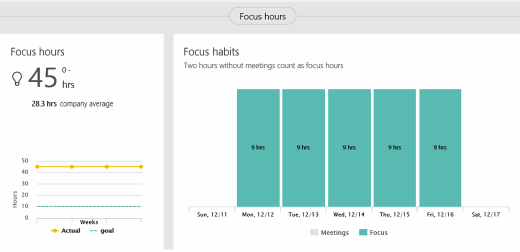 In just a few months, Microsoft has already planned to release new capabilities in MyAnalytics. Introducing an option for employees to opt and share parts of their dashboards and rolling out new stats around the time spent in Office Groups is also part of Office 365.
Some users may be resistant to change, and they may have concerns about their tasks being monitored and assessed in data dashboards by managers. But, in the end, the platform is meant to assist them in building better work habits and a better work and life balance.
Microsoft will need to continue and to reassure end users that their information will stay protected and secure, as privacy will continue to be a major concern.
Next Steps
New Office 365 features bring productivity insight
Microsoft AI extends beyond Office 365
Microsoft Delve may be new, but faces an uphill battle
Dig Deeper on Content management software and services