Definition
Microsoft Office Delve
Microsoft Office Delve is a data visualization and discovery tool that incorporates elements of social networking and machine learning with the search capability of the Microsoft Office 365 suite.
Office Delve overview
Office Delve is a cloud-based service powered by Office Graph, which helps users find and discover pertinent information across integrated Microsoft products by pulling user content from Microsoft Exchange, OneDrive for Business, SharePoint 2016 and Yammer. In addition to traditional search tools, Delve has a discover function, which brings potentially relevant information to the attention of users, based on relationships and the past activity of other users within the same organization. It is important to note that Delve never presents users with content they don't have permission to view.
Delve, which became available to Office 365 subscribers in March 2015, is also a collaboration tool that helps users find colleagues through profiles, and it allows them to create, edit and share documents, PowerPoint presentations and more with other users. It works similarly to Microsoft Sway in that it also allows users to embed documents, videos and images.
Delve was initially released as an Office 365 service in July 2014. Prior to release, it was known as codename Oslo.
Office Delve features
Delve users receive a personalized profile page, which includes displays for recently accessed documents, colleague profiles and a suggested-content feed. The suggested-content feed is powered by Microsoft's Office Graph, which tracks user interactions with people and documents across Office 365 and Microsoft OneDrive for Business. It uses machine learning to determine which topics are likely to be of interest for a given user.
People experiences. Delve users can curate their profiles to present information about themselves -- such as pictures, projects and skills -- to make it easier for colleagues to find or connect with them. Delve users can also use the people search and discovery feature to locate a colleague. Additionally, if authorized, users can review recent co-worker activity and communications, such as email through an Outlook account that's integrated with Delve, or documents that a co-worker recently viewed or is working on for a project. Users can access the praise feature to recognize their co-workers for good work.
Content cards. Documents in Delve are presented on content card displays, each of which includes a title, photo and most recent activity that help users understand why a document is relevant to their needs. The top of the content card shows which user modified the document last, and the bottom of the card records where the document is stored and the total views it has received. The picture on the card is extracted from the content of the document.
The Delve profile page includes several menus for locating previously accessed content. In addition to the standard search function, users can search for documents they previously viewed, shared, liked or modified. There's also a trending function for content that's being frequently accessed by colleagues. With this feature in Office Delve, the user does not need to remember where the relevant documents are stored or what they are titled.
Boards. Users can also create boards to collect relevant or related documents to be accessed at a later time. Users can create a board to organize documents related to a specific project, allowing access to everyone involved in that project. This permits those additional users to see that board and contribute content cards to it.
Office Delve apps
Microsoft has published three mobile apps: Delve for Android, Delve for iOS and Delve for Windows. mobile app users who subscribe to Office 365 can update and curate their profiles from their mobile devices, view documents, and connect to co-workers at any time and from any location. Users also get updates on colleagues' projects, find relevant documents and easily access documents they are actively working on.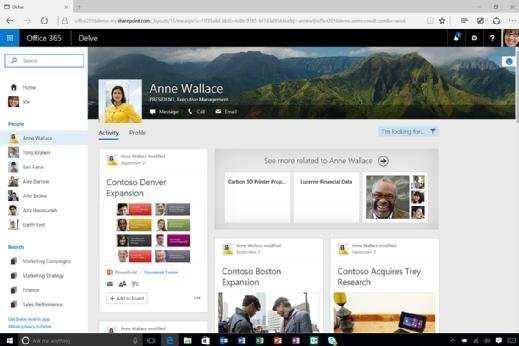 Office Delve security
Delve does not modify existing permissions settings in the Office 365 suite. It only allows users to view documents they have been granted authorization to view. Delve does not allow access to private documents or to any documents that have not been shared with that user. Also, a user's private activities -- such as recently read documents and emails -- aren't visible to other people.
Office Graph, which powers Delve, stores all Office 365 data items in a graph index. The Office Graph data is stored in the customer's partition of the SharePoint Online and Exchange Online environments, and it has the same level of data protection and security as other types of customer data stored in Microsoft cloud services.
Office Delve problems, benefits
Office Delve requires users to maintain their profiles, which can be challenging for organizations that use other collaboration tools and may place less emphasis on Office Delve usage. For Delve to be valuable, organizations have to encourage users to access it regularly.
A key benefit of Delve is it can automatically populate content from integrated Microsoft products, such as documents from Microsoft Office or Yammer conversations. For example, an employee who watched a PowerPoint presentation at a meeting scheduled through Outlook could later review the presentation through Delve by clicking on the Presented to Me tab in the search area.
This was last updated in
March 2017
Continue Reading About Microsoft Office Delve