Box boosts content collaboration with Notes reboot
Cloud document management company Box chases customers with remote and hybrid workforces with its new Canvas offering and revamped Box Notes, which foster online collaboration.
Box Inc. released a refreshed version of Box Notes and plans to beta test its long-in-development Box Canvas digital whiteboard next month. The content collaboration tools cater to the post-pandemic hybrid workforce.
Users of Box Notes -- a long-standing feature of the Box document management cloud -- get an update that includes organizational tools such as table of contents, new highlighting tools and more sophisticated editing tools. Also included are table and image tools that enable text additions and security tools such as granular access controls and password protections.
Box previewed another feature, Content Insights, planned to go live later this month. The tool lets users see who is using content and how they're using it. Among the potential uses for Content Insights are sales teams using it to monitor which customers have looked at marketing materials, quotes or contract proposals and HR teams confirming employees have viewed trainings, onboarding or procedural documents.
Features such as Content Insights provide Box users business intelligence behind the consumption of content, said Box co-founder and CEO Aaron Levie. It is a prelude to coming features that will provide users more granular insights about their content.
Content Insights may also be a boon for Box admins who need to analyze what's going on in their increasingly expanding content repositories, said Alan Pelz-Sharpe, founder of Deep Analysis.
"Box deployments are now pretty big; they used to be just departmental, and who cared, right?" he said. "But now you've got a lot of companies with a lot of stuff [in Box], so they need that sort of more enterprise-grade management capabilities to find out, you know, exactly what's happening, who's using what, and where it is."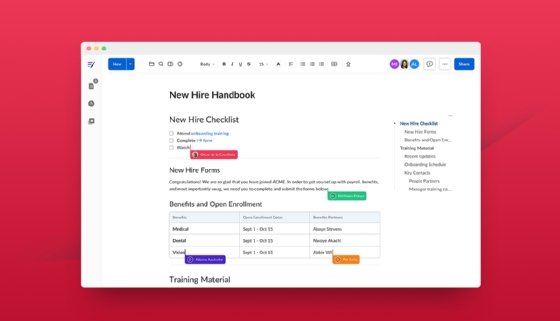 Box Canvas closer to prime time
Box Canvas, previewed earlier this year, is scheduled for beta release next month. Canvas resembles similar "digital whiteboards" released by Zoom and Microsoft Teams. Salesforce plans to release its own data-driven spin on the content collaboration tool for Slack next year.
These had been the purview of online teaching and training but now have become staples of remote and hybrid teams, for whom videoconferencing has replaced the conference room. They need the digital equivalent of the dry-erase board to get work done together, Levie said.
Instead of us working in an analog format and then digitizing that work after the fact, digital is how we're starting work.

Aaron LevieCofounder and CEO, Box Inc.
"Instead of us working in an analog format and then digitizing that work after the fact, digital is how we're starting work," Levie said. "Ideation, or brainstorming, or collaboration, or project planning -- that is all going to become digital content and digital information, as opposed to previously something you went into a conference room and you did on a whiteboard."
The features were announced in conjunction with BoxWorks, the company's virtual user conference. Other announcements at BoxWorks included Box Sign high-volume e-signature deployments and customer branding for Business and Enterprise subscribers; new malware scanning capabilities and zero-trust security features for Box Shield; and deeper integrations with Salesforce, Slack and Teams.
Roadmap-wise, Levie said that Box is working on enhancements to its workflow automation engine, where one person's actions on a file trigger actions with colleagues or customers downstream. Those features -- and integrating workflows to work across other platforms commonly integrated with Box -- will likely be shown at next year's BoxWorks event.
Don Fluckinger covers enterprise content management, CRM, marketing automation, e-commerce, customer service and enabling technologies for TechTarget Editorial.