Definition
Exchange Online
Exchange Online is the hosted version of Microsoft's Exchange Server messaging platform that organizations can obtain as a stand-alone service or via an Office 365 subscription.
Exchange Online gives companies a majority of the same benefits that on-premises Exchange deployments provide. Users connect to Exchange Online via the Microsoft Outlook desktop client, Outlook on the web with a web browser, or with mobile devices using the Outlook mobile app to access email and collaboration functionality, including shared calendars, global address lists and conference rooms.
Exchange Online management options
Administrators can use different tools to manage Exchange Online.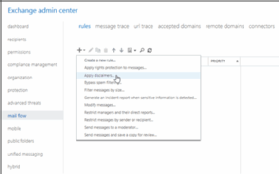 The Exchange admin center is a centralized management console used to adjust Exchange Online features, including permissions, compliance management, protection and mobile to configure mobile device access.
Administrators can also use Windows PowerShell to set up permissions and manage functionality from the PowerShell command line using cmdlets. While the Exchange admin center operates from a web browser, PowerShell requires the administrator to execute several steps to make a remote PowerShell session to Exchange Online.
Exchange Online offerings
With the basic Exchange Online Plan 1 offering, users have 50 GB of mailbox storage at a cost of $4 per user, per month. Microsoft provides Exchange Online Protection as part of this service to scan email for malware and spam.
At $8 a month, the Exchange Online Plan 2 gives unlimited mailbox space and Unified messaging features, including call answering and automated attendant functionality. Administrators get additional features such as data loss prevention policies for regulated industries and organizations that require additional protections for sensitive information.
Organizations that use the Office 365 Business Premium subscription pay $12.50 per user, per month for Exchange Online and access to other features, including web- and desktop-based Office 365 applications, SharePoint intranet features, 1 TB of storage via the OneDrive for Business service, and video conferencing with Microsoft Teams, which is replacing Skype for Business.
Microsoft offers Exchange Online in its other Office 365 offerings, including Office 365 Business Essentials, Office 365 Business, Office 365 Enterprise E1, Office 365 Enterprise E3, Office 365 Enterprise E5, Office 365 Enterprise F1, Office 365 Education and Office 365 Education E5.
Deployment choices
Organizations can use Exchange Online in a hybrid arrangement in which some mailboxes remain in the data center while others are hosted in Microsoft's cloud. A hybrid deployment allows an organization to retain some control and use some of its on-premises functionality, such as secure mail transport, with a cloud-based mailbox.
Organizations can also use cloud-only deployments that put all the mailboxes in a Microsoft data center.
Features and drawbacks of Exchange Online
Microsoft positions Exchange Online as one way to reduce the workload of an IT staff. It takes time and effort to maintain an on-premises version of Exchange to ensure mail, calendars and other messaging features perform as expected.
Administrators must contend with regular patching via Patch Tuesday to maintain the stability and security of the Exchange deployment. The IT staff must also plot out an upgrade if their current Exchange Server version is due to move out of support, which might require purchasing newer equipment and developing a method to perform an upgrade without disrupting end users. With Exchange Online, Microsoft runs the service in its data centers and executes updates without downtime or involving an organization's IT department.
A switch to Exchange Online can alleviate some of the hardware issues and problems with infrastructure components that can affect an on-premises Exchange deployment. Microsoft touts the stability of its service and offers a 99.9% uptime guarantee and a service-level agreement to provide a credit back to the organization if a disruption occurs.
Cost is another factor to consider when deciding whether to stay with Exchange Server or move to Exchange Online. Depending on the number of users and the frequency of server hardware upgrades, it might be cheaper to subscribe to Exchange Online for smaller organizations that buy new server equipment every three years.
Another benefit of Exchange Online is scalability. A cloud-based service can more quickly absorb a merger involving a significant number of users than if it had an on-premises Exchange deployment.
The other advantage of storing data in Microsoft's data centers is not needing to develop and maintain the infrastructure for disaster recovery.
A drawback to Exchange Online is that disruptions will happen, and because Microsoft handles the support, it can be difficult to determine when the service will return.
Another drawback of Exchange Online is that Microsoft updates its cloud services on a frequent basis to add, remove and modify certain features. Users might get frustrated if some functionality changes or disappears when Microsoft pushes out an update. With an on-premises Exchange deployment, the feature set tends to remain fixed.
Some organizations might have to stop using certain third-party tools or applications that work with Exchange Server if they don't integrate with Exchange Online. These organizations might want to maintain the level of flexibility provided by an on-premises messaging deployment.
This was last updated in
November 2018
Continue Reading About Exchange Online
Dig Deeper on IT operations and infrastructure management