Google Drive is a free cloud-based storage service that enables users to store and access files online. The service syncs stored documents, photos and more across all of the user's devices, including mobile devices, tablets and PCs.
Google Drive integrates with the company's other services and systems -- including Google Docs, Gmail, Android, Chrome, YouTube, Google Analytics and Google+. Google Drive competes with Microsoft OneDrive, Apple iCloud, Box, Dropbox and SugarSync.
How Google Drive works
To get started with Google Drive, the end user must create or sign in to a Google account. Then, the user types "drive.google.com" into his or her browser. "My Drive" will automatically appear, which can contain uploaded or synced files and folders, as well as Google Sheets, Slides and Docs. Then, the user can either upload files from his or her computer or create files in Google Drive.
Alternatively, the end user can download a Google Drive application to one or more devices. A Google Drive folder will appear along with other folders in each device's file system. Files that the user adds to one folder are available through a Google Drive web app or the Google Drive folder on each device.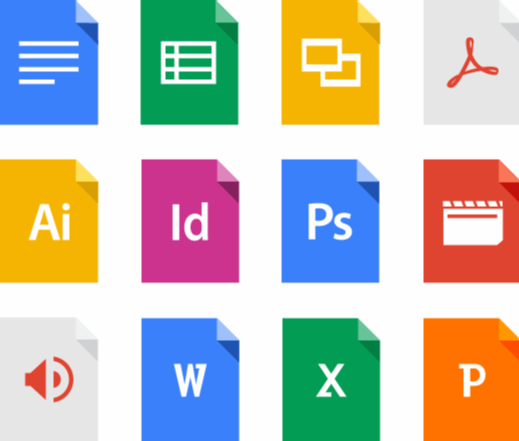 When the end user creates a file or folder, he or she becomes its owner by default. Then, the owner can control the level of visibility (public or privately shared with specific Google accounts) and transfer ownership to another user using Gmail addresses. The owner can also regulate permissions for both folders and files, using access levels such as "can edit," "can comment" and "can view."
What are Docs, Slides and Sheets?
Google Docs, Google Slides and Google Sheets make up Google Drive's office suite. Google Docs is a word processor, Google Slides is a presentation program and Google Sheets is a spreadsheet program. Respectively, they can be compared to Microsoft Word, Microsoft PowerPoint and Microsoft Excel. Although the Google versions lack some capabilities that those Microsoft Office applications have, they are simple, collaborative and free.
Each application in the suite enables users to create and edit documents, presentations and spreadsheets that they can store in Google Drive. Users can access the apps on the web using browsers including Google Chrome, Microsoft Internet Explorer and Edge, Mozilla Firefox and Apple Safari. There are also mobile apps for Google Android and Apple iOS. Each application also enables users to save, edit and share files in Microsoft Office formats.
Google Drive desktop, web and mobile apps
Most users access Google Drive via its web app. Users without Wi-Fi access can still view and edit files via a Chrome extension, Google Docs offline. Another extension for Chrome, "save to Google Drive," enables users to save content from the web to their Google Drive using their browser or through a context menu. Users can save documents and images directly, but they need to save webpages by taking a screenshot.
Previously, Google Drive had desktop apps for Windows and macOS, but support for those ends in May 2018. Now, a desktop app called Backup and Sync allows users to sync copies of locally stored files to the cloud. Business users can also use Drive File Stream for macOS and Windows, which stores files online, preventing end users from storing sensitive corporate data on their hard drives.
Google Drive's mobile apps for iOS and Android allow users to store, share and view files. To create and edit files, however, users must use the separate Google Docs, Sheets and Slides apps.
Major features of Google Drive
Google Drive integrates with several first-party and third-party external web applications that users can add from the Chrome Web Store. End users can sign documents, make flowcharts, store music files and complete other tasks using these apps. To add a third-party app, users can click "My Drive," "more," and "connect more apps." Third-party apps are all free, but they charge users fees to use certain features.
Google Drive's search feature can sort results by item name, file type, date modified, location, ownership and more. As of September 2016, users can make queries in natural language such as "find my sales presentations from last May."
The Quick Access feature for the Android, iOS and web apps uses machine learning to predict files that users need based on their Drive activity and workday patterns.
Pricing and storage tiers
As of this writing, Google offers 15 GB of storage for free and larger amounts at low rates -- 100 GB for $1.99 per month, 1 TB for $9.99 per month, 2 TB for $19.99 per month, 10 TB for $99.99 per month, 20 TB for $199.99 per month and 30 TB for $299.99 per month. Users that pay annually can receive a discount on the 100 GB and 1 TB plans.
Google automatically renews purchases at the end of each month, and it gives a seven-day grace period for users to update their payment information if the auto-renewal fails. If users cancel a subscription or let it expire, they will go back to the free 15 GB storage tier.
Consumer vs. enterprise use
Google Drive for Work, the enterprise version of Google Drive, was released in June 2014 as a part of G Suite. It offers unlimited storage, more management controls for IT administrators, APIs to connect to an organization's existing business applications, and additional technical support from Google.
Google Drive for Work complies with the security standard ISO/IEC 27018:2014. This means that Google does not use the data in enterprise accounts for advertising and prevents the application from sharing data with third-party apps.
Security
Google Drive data is encrypted with the transport layer security (TLS) standard before it leaves a user's device and uploads to Google's cloud. The data is unencrypted and re-encrypted with 128-bit advanced encryption standard (AES) when it reaches Google. Those AES encryption keys are encrypted, adding another layer of security. Google Drive supports two-factor authentication, but it is not Health Insurance Portability and Accountability Act (HIPAA)-compliant.
This was last updated in
March 2018
Continue Reading About Google Drive