osorioartist - Fotolia
Salesforce learning resources include free and paid options
While Salesforce offers a number of free and paid customer success tools to users, nonusers can also benefit through the use of Trailhead and the Trailblazer Community.
Salesforce Success Cloud offers many customer success tools and educational resources to users to further their careers and get the most out of the CRM platform.
"Tech has a reputation of, 'If you're new to it, just read the manual,' but Salesforce has risen above that. Everybody has to start someplace," said Amber Boaz, Salesforce MVP and CRM platform owner at Rapid7.
All customers have access to both free and paid Salesforce learning resources. Free services within Success Cloud include Trailhead, the Trailblazer Community, webinars and the self-service help portal. Paid services include Accelerators, a dedicated customer success manager, admin assist and better service-level agreements. However, Salesforce does not just limit these learning resources to its customers. Some, including Trailhead and the Trailblazer Community, are also available to the public at large.
Trailhead benefits anyone who wants to learn about Salesforce -- noncustomers, new customers and existing customers. Within the system are guided, hands-on learning modules to learn more about the Salesforce ecosystem.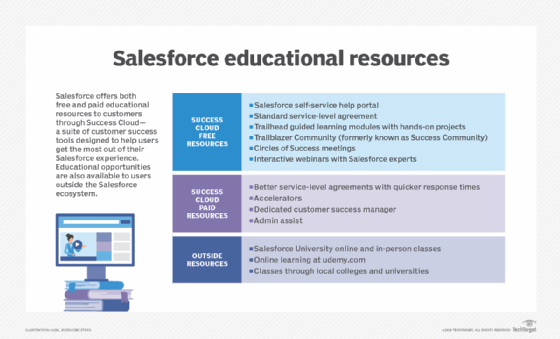 The Trailblazer Community, formerly known as the Success Community, is also a free public resource. It is a bulletin board where people can ask questions of other users to solve problems and learn more about the product. To gain access, non-Salesforce users need to create a developer org at developer.salesforce.com.
Boaz said that, while the customer success tools can be pretty effective, they're not always easy to find -- or find out about.
"I think [Salesforce] is doing a good job of having [customer success tools] available, but they struggle in letting people know they exist. And a lot of people don't know they have a [customer success manager] available," she said. "The marketing and onboarding piece need some work. People just need to know these things exist and how they can best use them."