ashumskiy - Fotolia
Microsoft CDP helps businesses unify customer data
Microsoft Dynamics 365 Customer Insights takes data from disparate sales, service and marketing systems to bring it all into one golden record of the customer.
Businesses need an efficient way to collect and organize all the customer information that flows into their systems, and Microsoft Dynamics 365 Customer Insights can help.
The Microsoft CDP became generally available in April. The platform is one of many customer data platforms on the market, competing with Adobe, Salesforce, Oracle and SAP. Its entry into the CDP market is a move to directly compete with Salesforce, a tech giant in the CRM space, said Daniel Newman, founding partner and principal analyst at Futurum Research.
"Everything these companies are doing right now is to get to parity and beat Salesforce," he said. "I think the whole idea right now is no one wants to lose the deal because they can't offer something."
Many vendors have been trying to create customer data platforms for a long time and have been building them in pieces, Newman said.
"When capable, the biggest companies are trying to build [a CDP] themselves, or acquire it," he said.
The Microsoft CDP aims to drive personalized engagement by gathering customer data via various touchpoints, said Satish Thomas, head of product for Microsoft Dynamics 365. Historically, CDP use cases were marketing-specific, but Customer Insights unifies data from sales, service and marketing tools into one record of the customer, he said. The Microsoft CDP also enables businesses to bring in data from both internal systems and external vendors.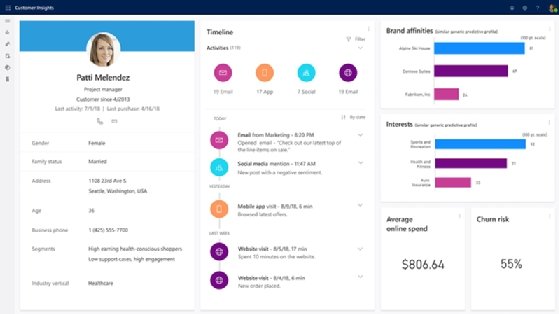 How organizations can benefit from CDPs
Enterprises and mid- to upper-market businesses can benefit from Microsoft's CDP -- for B2B, organizations with more than 1,000 customers, and for B2C, those with more than 100,000 customers -- Thomas said.
One Customer Insights customer is AEP Energy Inc., a subsidiary of American Electric Power Company. The company was initially drawn to the Microsoft CDP as a way to refine customer data during a migration from Dynamics 2013 to Dynamics 365 online. As of now, the CDP ties together information from three AEP systems: a custom ERP, Dynamics 2013 CRM and data from utilities. Eventually, it plans to tie in customer-specific usage information, too.
"We looked at this tool set because it had the ability to refine our data while we were going through a migration," Tim Noce, CRM product owner at AEP energy. "Beyond that, it will continue to help us refine our data as we go."
However, the CDP is by no means a zero-touch solution, Noce said. It still requires some work for businesses to understand who their customers are. Businesses still need to train the CDP and refine information, but once it is up and running, it does make your life easier, he said.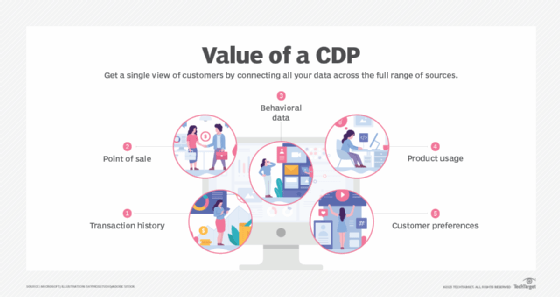 The Miami Heat are not currently using the Microsoft CDP, but have this software in their roadmap, said Edson Crevecoeur, vice president of strategy and data analytics for the NBA team. The Heat built their own CDP processes using Microsoft technology, but the organization is looking to move to Customer Insights to reduce expenditure while increasing efficiency, he said.
"It's all about the data," Crevecoeur said. "For us to become an effective digital organization, we have to understand who's most interested in digital content and digital assets."