Oracle CDP coming in CX Unity, along with video cloud
Oracle goes after Adobe and other CX platform vendors with new CDP-oriented sales, marketing, e-commerce and service hub, and adds a video platform to CX Unity.
Oracle customers running CX programs, teams and technology stacks have plenty to pay attention to at this year's Oracle OpenWorld conference, beginning with updates around the yet-to-go-live CX Unity platform, plus a new video cloud and a partnership with Deloitte Digital to incorporate the Oracle CX and Deloitte Hux personalization platforms.
CX Unity contains the Oracle CDP, or customer data platform, a foundational data-handling tool. Competing CX suites from Adobe and many smaller platform vendors also offer CDPs, while SAP and Salesforce are working on their own. All of them aspire to manage a customer's data and reconcile it across sales, marketing, e-commerce and service clouds into a golden record.
With its flagship database pedigree, Oracle hopes to woo customers on to its CX Unity customer intelligence platform, which previewed last year but is still under wraps.
"Data is, ultimately, the fuel driving customer engagement, and Oracle has put a more-than-average data focus on the marketing products," said Joe Stanhope, an analyst with Forrester Research. "They're bullish on the Oracle Data Cloud; they've invested an enormous amount of effort in that over the last few years."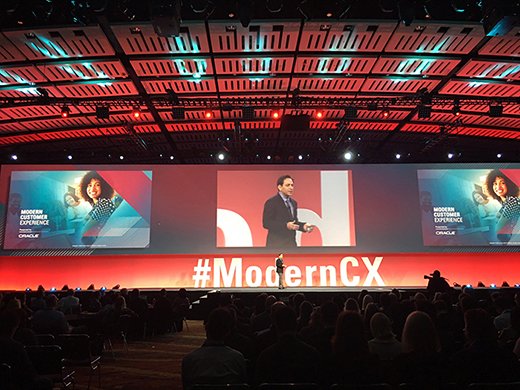 Video platform now included
Last week, in advance of OpenWorld, Oracle said it will embed Kaltura video platform features via APIs across its CX, HR, ERP, financial and supply chain clouds. Oracle CX users will be a big beneficiary, as video has many applications from marketing to sales content as well as call centers and field service. The OEM integration includes video analytics tools paired with Oracle's Eloqua and Responsys marketing automation apps.
Kaltura was an attractive choice for an Oracle video platform because of its easy-to-use, modular features that make it simple to set up "corporate YouTube" sites as well as webcasting and sales-enablement video creation tools, said Nick Barber, a Forrester Research analyst. Some of its competitors, such as Brightcove, aren't as user-friendly, he added, making Kaltura the likeliest choice among the field.
Oracle doesn't want to own and manage a video platform when it could use some of the capabilities of Kaltura without getting into the video business itself.

Nick BarberAnalyst, Forrester Research
The privately held New York-based video platform provider, which claims $100 million annual revenue and whose customer roster includes Vodafone, Novartis and a number of universities, could have been an acquisition target for Oracle. The OEM partnership, Barber said, signifies that Oracle wasn't quite ready to run another cloud.
"My assumption is Oracle doesn't want to own and manage a video platform when it could use some of the capabilities of Kaltura without getting into the video business itself," Barber said.
Emphasis on partnerships
Like Adobe and other CX platform vendors, Oracle leans on professional service firms such as Deloitte, Accenture and Capgemini to help customers mesh their CX programs. In many cases, this means building a branded mobile app to enable e-commerce or online reservations with its cloud technology stacks and the Oracle CDP.
To that end, Oracle is extending its CX-specific partnerships with those firms. Today Deloitte and Oracle announced integration of Deloitte Hux and Oracle CX Unity for marketing personalization; earlier this year Oracle announced partnerships with Capgemini and Accenture to develop best practices for setting up CDPs for customers. Many OpenWorld sessions delve into how to work with those partners to integrate customer-intelligence technologies, said Des Cahill, Oracle VP and CX Evangelist.
While mobile apps might appear simple to the end user, for large organizations, connecting them to back-end systems to integrate data, software and processes can be complex. Since Oracle's applications are highly configurable, integrators help companies build the custom tools that fit their IT stacks.
"[Deloitte, Accenture and Capgemini] are growing their practices around customer intelligence and real-time CX," Cahill said, adding that companies who aren't engaging those integrators for building apps are working on migrating customer data systems from on-premises to the cloud.