Definition
Oracle Customer Experience Cloud (Oracle CX Cloud)
What is Oracle Customer Experience Cloud (Oracle CX Cloud)?
Oracle Customer Experience Cloud (Oracle CX Cloud) is a suite of cloud-based tools for customer relationship management (CRM), sales, marketing, customer service, e-commerce and other tools, such as configure, price, quote (CPQ) tools.
Increasingly, Oracle is building integrations between these tools. This enables capabilities like contact center service agents referring to sales or marketing information in real time as they review customer information to try to resolve an issue. Like Microsoft, Oracle offers on-premises and cloud-based CRM technologies and apps.
Launched in 1998 as Oracle CRM, Oracle's cloud platform has several acquired product lines that make up its CRM portfolio. These include Siebel -- an on-premises CRM -- as well as Oracle CRM On Demand and Oracle Sales Cloud, which are software as a service, or cloud-based, CRM and customer interaction technologies.
Cloud Experience analyzes customer data from CRM systems to improve the overall user experience. The addition of technologies such as artificial intelligence (AI) adds value to customer data by identifying trends, and customer buying preferences and time frames. It also increases personalization and other important experience-focused metrics.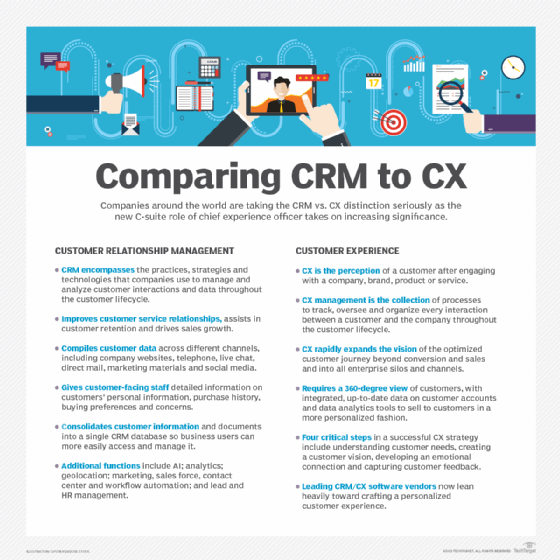 What does the Oracle CX Cloud suite include?
Oracle CX Cloud supports all of an organization's sales, marketing, e-commerce and customer service activities. The platform includes the following applications and modules:
Oracle CX Sales. This tool set optimizes sales performance, such as the following capabilities:
Customer data management.
Sales cataloging.
Sales planning.
Sales performance management.
Customer data management.
Subscription management.
Sales prediction.
Sales forecasting and analytics.
Communication among sales teams.
Communication with customers and prospects.
Oracle CX Sales Force Automation (SFA). This tool works with Oracle CX Sales and other modules to automate repetitive tasks associated with the sales process. SFA lets sales teams spend more time with customers.
Oracle CX CPQ. This feature provides automated tools for product configuration, pricing and quoting. Customers use it to obtain an optimum system configuration, along with accurate price and sales quotations.
Oracle CX Marketing. This capability lets organizations craft digital marketing campaigns to target prospects and existing customers. It uses automation and data analytics to segment audiences, target recipients and send personalized content and messaging to them.
Oracle CX Fusion Service. These customer service management tools let enterprise contact centers interact with customers across multichannel or omnichannel CRM. They provide a 360-degree view of customers, and track and manage incident reports and resolutions. They also support customer self-service, agent-assisted service and field service environments.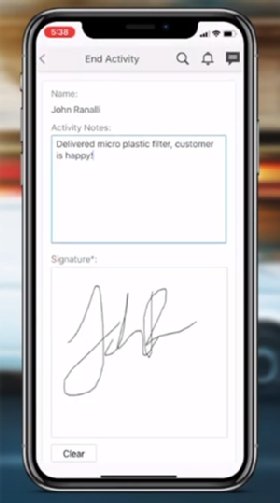 Oracle CX Digital Customer Service. This service facilitates the interaction of customers with service organizations. The Oracle Digital Assistant provides a range of interactive actions and is an important complement to customer self-service activities.
Oracle CX Ecommerce. This tool lets companies build websites and virtual storefronts for business-to-business and business-to-consumer applications. Using templates and other prebuilt components, users design, implement and manage their web storefronts. The system analyzes customer data and provides information about customer buying trends and other metrics.
Oracle CX Unity. This platform as a service lets organizations connect their applications, analytics dashboards for data quality, automated processes and other data on a unified cloud infrastructure. Features include AI, machine learning, identity and compliance, chatbots, process automation, prebuilt integrations, a customer data platform and a prebuilt application programming interface catalog.
Oracle CX for Industries. Industry-specific cloud applications are available through the Oracle CX Cloud suite. These include the following:
CX for Communications and Media.
CX for Financial Services.
CX for High Tech, Manufacturing and Automotive.
CX for Consumer Goods and Retail.
CX for Public Sector and Government.
Oracle CX Cloud competes with Microsoft Dynamics 365, Salesforce, SAP Commerce Cloud and SugarCRM.
Benefits of Oracle CX Cloud
The following are among the reasons customers provide for using Oracle CX Cloud:
For companies heavily invested in Oracle databases, middleware or hardware, CX Cloud can provide easier integration and a familiar user interface (UI).
Oracle has acquired and developed sophisticated business intelligence and AI tools for the suite.
Oracle CRM products are competitively priced.
Drawbacks of Oracle CX Cloud
Among the downsides associated with the use of Oracle CX Cloud are the following:
Some users described Oracle's UI as not user-friendly in all enterprise environments.
Oracle's social CRM capabilities for social engagement and monitoring of audience comments aren't as competitive as other offerings.
Oracle's cloud has a limited selection of integrated third-party plugins.
Mobile CRM features might not meet every organization's requirements.
Certain key functions might be browser-specific.
Who should use Oracle CX Cloud?
Any company that recognizes CX as part of its value proposition could benefit from using Oracle CX Cloud or a similar product. Businesses can potentially improve performance and customer success in sales, marketing, customer service and e-commerce interfaces. Furthermore, CX Cloud's industry-specific applications offer certain organizations a more tailored approach with tools to address business needs that might be unique to a given field.
Learn more about customer experience management and how it differs from CRM.
This was last updated in
April 2023
Continue Reading About Oracle Customer Experience Cloud (Oracle CX Cloud)
Dig Deeper on Customer experience management