Getty Images/iStockphoto
Adobe Journey Optimizer adds mobile marketing capabilities
Adobe adds marketing personalization and messaging orchestration capabilities to Experience Cloud for B2B and B2C users whose customers favor smartphones.
Adobe today added mobile marketing personalization capabilities to Journey Optimizer that enable users to better engage their customers on smartphones.
The seven capabilities include Message Designer, with which users can design personalized email, push notifications and in-app messages from one console for customers on mobile devices; personalized app experiences, which consider app usage and other factors; and unified customer profiles, which drive analytics in workflows.
Also included is personalized one-time messaging (such as delivery notifications) or coordinated campaign messaging; location triggers that trip offers depending on where customers are; and a lightweight digital asset management system that serves mobile-optimized content. Finally, developer tools such as a mobile event inspector and low-level SDK logs track activity to observe the quality of customer experiences.
To veteran marketers who use Adobe tech, it may appear that some features overlap with other Adobe Experience Cloud applications such as Adobe Campaign. But the new releases are for new users who might not yet have used Adobe Campaign, or Adobe Campaign users whose customers most frequently use mobile and app channels and thus require mobile-specific journey orchestration, said J.J. Haglund, Adobe senior product marketing manager.
Mobile's runaway growth
Gartner analyst Mike McGuire said that in releasing these mobile-specific tools, Adobe acknowledges that mobile marketing is no longer "just a channel" or marketing tactic. Smartphones are connectors to experiences online and off for a growing, massive group of customers. In Western Europe and the United States, consumers use laptops and desktops in their mix of devices, but elsewhere in the world -- especially in Asia-Pacific geographies -- they often don't.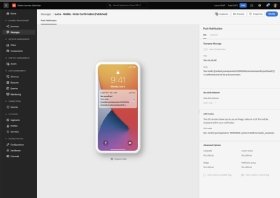 "[There] they don't talk about 'mobile marketing,' they just talk about 'marketing,'" McGuire said. "It's understood that that engagement point, or platform, is almost always a smartphone, and only a smartphone."
The Adobe customer data platform (CDP) enables many of the Adobe Journey Optimizer capabilities for mobile marketing -- especially real-time push notifications, text, email and location-based messaging. Gathering unified, normalized customer data and delivering it to Journey Optimizer through the CDP is foundational for launching messages tailored to the individual holding a smartphone, in the moment.
While it was technically possible to build these actions without a CDP, it wasn't easy -- and the results would likely have been less granular, said Chetan Prasad, principal product manager at Adobe.
"It would have been very manual, slower, less agile and, frankly, probably [would have involved] more generic messages, as opposed to being able to really target refined, smaller groups based on personal status," Prasad said. "What I often say with an omnichannel or multichannel [approach], in general, is: 'You're not doing it right if you're hitting everybody, every day, on all channels, all the time. That's just orchestrated pestering.'"
Don Fluckinger covers enterprise content management, CRM, marketing automation, e-commerce, customer service and enabling technologies for TechTarget.
Dig Deeper on Customer data management