Definition
digital asset management (DAM)
What is digital asset management (DAM)?
Digital asset management (DAM) is a business process for organizing, storing and retrieving rich media and managing digital rights and permissions. Rich media assets include photos, music, videos, animations, podcasts and other multimedia content.
Digital asset management is also an information management technology that helps organizations of all sizes and industries efficiently manage their rich media assets using software. DAM software can be implemented on premises, in the cloud or using a combination of both.
DAM involves the creation of an archive, the development of an infrastructure to preserve and manage digital assets, and functionality that lets users identify, locate and retrieve an asset. At its simplest, a DAM is a set of database records. Each database record contains searchable metadata that provides information about the asset's content and usage. Organizations can use digital asset management software to create and manage the database and help store their rich media cost-effectively.
Digital asset management is generally considered to be a subset of enterprise content management, a business process for organizing text documents, email and spreadsheets.
What is a digital asset?
A digital asset is any content that's stored in a digital file format that an enterprise or individual owns and deems valuable. Digital assets are detailed by their metadata, which can describe the asset's content, the means of encoding, ownership and rights of access.
Examples of digital assets include the following: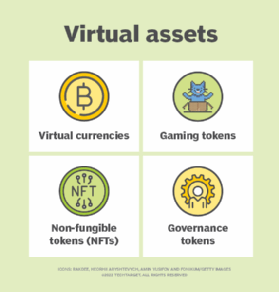 NFTs, cryptocurrency and blockchain let businesses tokenize information, which creates a new system for assigning value to things. The unique set of code within NFTs could be used to tokenize digital assets such as degrees, academic certificates, licenses or medical records, for example.
How does DAM work?
DAM platforms provide a system for storing, managing, retrieving and distributing digital assets. DAM software performs the following steps:
Create. A DAM creates and prepares assets for encoding using standardized templates.
Identify. Additional metadata is added to an asset to help index the asset and identify it based on its attributes. Example metadata attributions include the following:

asset type
media type
version
technology used
expiration date

Store. A DAM platform organizes and stores assets based on their metadata.
Automate. Rule-driven workflows can be created to automate tasks using asset metadata. For example, all assets with the "whitepaper" metadata tag could be automatically set to a certain permission level. Version control can also be automated.
Integrate. As projects are carried out, assets from DAM software can be integrated with and used by other software currently in place or planned. For example, an existing project management system could access project schedules stored in a DAM system.
Monitor. Performance of digital assets should be monitored using periodic audits. Regulatory bodies should also perform a compliance audit on an organization's DAM to ensure compliance with industry standards.

Types of digital asset management systems
There are several broad categories of digital asset management systems.
DAM software benefits and challenges
DAM software offers the following benefits:
Some challenges of DAM include the following:
DAM use cases
Anyone who needs to optimize digital asset workflows needs a digital asset management system. Examples include the following:
Digital media management software tools were once used exclusively by publishing and media companies. Now, DAM can be used in a variety of other industries. Some examples include the following:
The terms asset management and configuration management are sometimes used interchangeably; however, they mean different things. Learn the difference between the terms and how they sometimes overlap.
This was last updated in
February 2023
Continue Reading About digital asset management (DAM)
Dig Deeper on Content management software and services