Definition
digital asset management (DAM)
What is digital asset management (DAM)?
Digital asset management (DAM) is a business process for organizing, storing and retrieving rich media and managing digital rights and permissions. Rich media assets include photos, music, videos, animations, podcasts and other multimedia content.
Digital asset management is also an information management technology that helps organizations of all sizes and industries efficiently manage their rich media assets using software. DAM software can be implemented on premises, in the cloud or using a combination of both.
DAM involves the creation of an archive, the development of an infrastructure to preserve and manage digital assets, and functionality that lets users identify, locate and retrieve an asset. At its simplest, a DAM is a set of database records. Each database record contains searchable metadata that provides information about the asset's content and usage. Organizations can use digital asset management software to create and manage the database and help store their rich media cost-effectively.
Digital asset management is generally considered to be a subset of enterprise content management, a business process for organizing text documents, email and spreadsheets.
What is a digital asset?
A digital asset is any content that's stored in a digital file format that an enterprise or individual owns and deems valuable. Digital assets are detailed by their metadata, which can describe the asset's content, the means of encoding, ownership and rights of access.
Examples of digital assets include the following: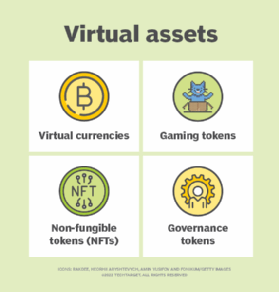 animations
data
documents
e-books
email accounts
emails
images
videos
logos
music
non-fungible tokens (NFTs)
podcasts
presentations
recorded audio
spreadsheets
websites
written content
NFTs, cryptocurrency and blockchain let businesses tokenize information, which creates a new system for assigning value to things. The unique set of code within NFTs could be used to tokenize digital assets such as degrees, academic certificates, licenses or medical records, for example.
How does DAM work?
DAM platforms provide a system for storing, managing, retrieving and distributing digital assets. DAM software performs the following steps:
Create. A DAM creates and prepares assets for encoding using standardized templates.
Identify. Additional metadata is added to an asset to help index the asset and identify it based on its attributes. Example metadata attributions include the following:

asset type
media type
version
technology used
expiration date

Store. A DAM platform organizes and stores assets based on their metadata.
Automate. Rule-driven workflows can be created to automate tasks using asset metadata. For example, all assets with the "whitepaper" metadata tag could be automatically set to a certain permission level. Version control can also be automated.
Integrate. As projects are carried out, assets from DAM software can be integrated with and used by other software currently in place or planned. For example, an existing project management system could access project schedules stored in a DAM system.
Monitor. Performance of digital assets should be monitored using periodic audits. Regulatory bodies should also perform a compliance audit on an organization's DAM to ensure compliance with industry standards.

Types of digital asset management systems
There are several broad categories of digital asset management systems.
Brand asset management systems include content such as logos, product images and other marketing material. These assets define how an organization presents its public-facing products and culture and shape the digital experience. These systems helps marketers keep a company's marketing technologies, messaging and imagery consistent.
Library asset management systems focus on storage and retrieval of infrequently changing media assets, such as photo archiving. They may be used in a marketing context to extend the value of media assets by repurposing older, high-performing content.
Production asset management systems, sometimes referred to as production information management systems, handle the assembly and distribution of content needed for the production processes involved in selling a product. This might include more informational content such as product specs and how-to insight. Production asset management systems also manage assets as they're being created for digital media production, such as video games.
Internal asset management systems are generally used to manage and maintain assets within the company. These might be used to store human resources (HR) documentation such as employee records, benefits documents and payroll receipts. This type of system can also be used for proprietary product design or development plans. There's often some overlap between this type of system and a production asset management system.
DAM software benefits and challenges
DAM software offers the following benefits:
A single source of truth. DAM provides a centralized, authoritative repository for assets across a distributed digital network.
Access. Data is categorized and made easily discoverable through metadata. Authorized users can access digital media anytime, anywhere.
Efficiency. DAM organizes assets so production processes that rely on those assets can be expedited. DAM software categorizes information and helps structure the way employees use digital assets in production.
Security. Access control settings and permissions can be applied to digital assets using DAM software, keeping sensitive assets safe.
Version control. DAM software often includes version control features, which track file version as teams share and edit them.
Integration. In marketing organizations, DAM software is often integrated with other software into a stack. Commonly integrated software includes privileged identity management systems, robotic process automation systems, customer relationship management systems and content management systems.
Monitoring. DAM systems can track how organizations use digital assets. This can be useful for measuring engagement, viewership and for digital rights management.
Collaboration. Employees can collaborate on digital assets in real time.
Some challenges of DAM include the following:
Categorization. DAM software relies on well-defined information architecture, tagging assets by different categories. This can be challenging when an organization deals with many unique data types or collects unstructured data.
Governance. If an organization lacks governance or standards for tagging and storing assets, it might be hard to use software that relies on a specific information architecture.
Manual data control. Data integration with other software -- such as robotic process automation or customer relationship management system software -- can be difficult without an application programming interface.
Outdated. There's a risk that the information architecture used in the asset management system could become obsolete and outdated based on changing business contexts.
Disposal. If digital assets aren't properly disposed of or archived, they can become a security risk.
Scalability. As an organization collects digital assets, it can be difficult to scale infrastructure to accommodate it.
DAM use cases
Anyone who needs to optimize digital asset workflows needs a digital asset management system. Examples include the following:
Marketers can grow their brands and increase brand consistency with a DAM system.
Designers can use a digital asset management platform to quickly search for files and repurpose assets, improving their workflow.
Sales teams can have up-to-date materials and resources anytime and anywhere.
Engineers can use DAMs to store product documentation or patent information.
IT procurement personnel can use DAM to store contact details, invoices and product specifications.
HR personnel can use DAM to manage benefits information, payroll receipts, hiring protocol and vacation requests.
Legal personnel can access compliance documents and tag assets with expiration dates to prevent misuse.
Digital media management software tools were once used exclusively by publishing and media companies. Now, DAM can be used in a variety of other industries. Some examples include the following:
Retail. Retail sales companies with customer-facing websites can use DAM to manage e-commerce operations and brand standards. Retailers can use DAM software to store and use product images and descriptions, for example.
Patent offices. Patent offices typically deal with many documentation types at various lifecycle stages and documentation that requires advanced permissions.
Higher education. A university could use DAM to help with student engagement.
Real estate. DAM systems can store and present property photos and virtual tours.
Hospitality. DAM software could be used to share hotel room and meeting room photos between establishments and manage customer experience on their website.
Hospitals and healthcare clinics could use DAM software to manage images such as X-rays and digital medical records and share them with their patients.
The terms asset management and configuration management are sometimes used interchangeably; however, they mean different things. Learn the difference between the terms and how they sometimes overlap.
This was last updated in
February 2023
Continue Reading About digital asset management (DAM)
Dig Deeper on Content management software and services