thodonal - stock.adobe.com
Google Cloud for Retail debuts, Contact Center AI makes inroads
Google takes on cloud competitors by making an AI-rich home for online and bricks retailers with new suite. Also: Google Call Center AI extends to Genesys, Avaya, Salesforce, more.
With the debut of Google Cloud for Retail, a bundle of new and existing services, the cloud giant made it clear that it wants to be the host for the biggest bricks-and-clicks brands. Google boasts a roster of large retail chains such as Ikea, Kohl's and Target, as well as e-commerce giant Shopify and its 800,000 retailer customers.
The retail-cloud offering positions Google Cloud to compete more aggressively with AWS for blue-chip brands retooling their customer experience technology stacks anchored by e-commerce. Analysts offered several reasons why it could succeed when previous Google vertical-specific plays failed.
"This is one of the most important things Google can do," Constellation Research founder Ray Wang said. "There's anti-Amazon sentiment among the retailers and a lot of the manufacturers."
Wang said he sees the Google Cloud for Retail as a first step: Give retailers basic cloud tools now, more sophisticated integrations next, and possibly an e-commerce acquisition such as Elastic Path later. "[But] it's not clear whether they want to be in the software business more than they want to enable retailers to be successful competing with Amazon," he said.
Amazon offers its own suite of retail-vertical services, and has its own roster of well-recognized brands, including Brooks Brothers, Under Armour and Lululemon.
Wang's Constellation analyst colleague Nicole France said that Google Cloud for Retail has another big advantage: Google Cloud CEO Thomas Kurian, who started last January after more than two decades at Oracle, most recently as president.
"He comes from a large enterprise business application pedigree and knows what it takes to build offerings they'll buy into," France said, adding that Google also can build its retail cloud services business by tapping into its extensive online advertising platform that many retailers already use.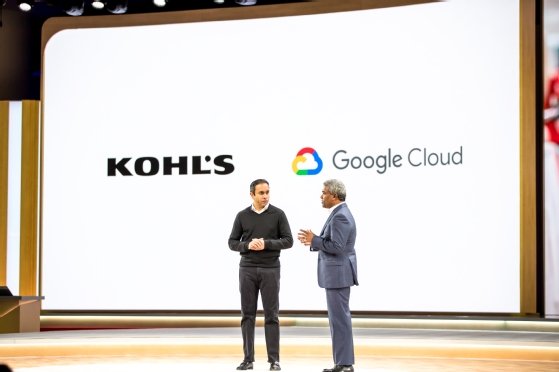 Ikea, Kohl's buy in early
Google Cloud for Retail followed Google's release of Anthos, previously known as Cloud Services Platform, into general availability. Retailer Kohl's said it plans to migrate 70% of its apps to Anthos in a three-year omnichannel CX upgrade plan.
Google Cloud for Retail enables a wide swath of functions for retail, including store operations, marketing and customer retention programs, product lifecycle management, real-time inventory tools, merchandising and fulfillment. It's underpinned by Google AI and machine learning.
This is one of the most important things Google can do.

Ray Wang Founder, Constellation Research
A new tool, Vision Product Search, is an AI-driven product recommendation engine for retailer apps. When customers take pictures or screenshots, the tool, in theory, finds the closest thing in stock. Ikea is building this into its app so consumers can snap pictures of household goods anywhere -- in the store or not -- and it can suggest similar items, said Susan Standiford, CTO at Ikea Group, in a blog about Google Cloud for Retail.
Also, Google promises what it calls "white glove treatment" of its Google Cloud for Retail customers hosting e-commerce on its platform. That will include technical architecture reviews and peak-season operations support to ensure customers are ready for Black Friday and Cyber Monday surges, Google said.
Google Contact Center AI makes more friends
In other customer experience technology news, Google unveiled integrations with some major call center vendors, indicating its Contact Center AI is finding legitimacy among well-established vendors in that space. The vendors and partnerships include:
Avaya, participating in an early access program for Google AI, said it will embed Google Cloud's machine learning technology within Avaya conversation services to give agents more personalized information to use with customers.
Genesys, which unveiled integrations with Google Contact Center AI last year, furthered its relationship by opening up all three of its platforms -- PureEngage, PureConnect and PureCloud -- in the coming quarter. Adding Google AI features will help chatbots better address customer problems, and will more accurately predict the moment when the chatbot can hand off a customer to a human agent, the call center software vendor said.
Salesforce will integrate more Google Contact Center AI voice, intent and other data points such as weather and news in the customer's region into Einstein Bots. The idea is to personalize automated customer interactions for Salesforce customers that use Service Cloud in their contact centers, many deployed with contact-center-as-a-service partners such as Five9.
Meanwhile, streaming video service Hulu is rapidly growing, with up to 25 million subscribers. That growth is bringing customer support challenges, said Karen Van Kirk, Hulu vice president of Viewer Experience, during a Google Next keynote session. Hulu's contact center uses the Salesforce-Five9 tandem, and she said adding Google Contact Center AI will help Hulu's service and support team keep up with its expanding customer base.
"AI is the next logical step to bring it all together," Van Kirk said in the live-streamed keynote. "It improves the customer experience because each call will start with a conversation with a virtual agent, rather than fumbling with a phone tree. It will make our human agents more productive, because knowledge articles and workflows will surface in real time, based on what is going on during the call."
Still in beta, Google Contact Center AI promises to answer calls and interact with customers; solve basic questions with natural language processing; and route more complex questions to agents who can handle them. Google said it also will sift through call history to determine and categorize -- with machine learning -- the most frequently occurring customer problems so companies can train their call center platforms to try to address them with automation.
Other launch partners include cloud center contact vendor 8x8, Cisco, Mitel, Twilio, Accenture and Vonage.