Sergey Nivens - Fotolia
Pega Customer Service adds digital messaging capabilities
Pegasystems users can now offer their customers support through text messaging and will be able to develop apps more easily with a new low-code platform.
LAS VEGAS -- Pegasystems will integrate digital messaging capabilities into its Pega Customer Service platform, in response to users' increasing demand for text customer support channels.
The new digital messaging capabilities come from the acquisition of omnichannel messaging software vendor In The Chat last month. It will be available for most popular messaging apps -- including Facebook Messenger, Twitter's Direct Message and Apple Business Chat -- by the second half of 2019, according to the CRM and business process automation vendor, based in Cambridge, Mass.
The move enables Pegasystems to keep pace with much larger competitors that have already acquired messaging and chatbot capabilities for the burgeoning CX space.
"It's critical. They absolutely have to do that if they're going up against Salesforce, Oracle and SAP. They're all expanding," said Jim Sinur, an independent analyst formerly with Gartner and Aragon Research.
Sinur said Pegasystems will be able to add the In The Chat digital messaging capabilities to Pega Customer Service fairly smoothly.
"It's an easy thing for them to do. Pega is really good at integrating mergers, so they will take a first cut at it, and this is more of a plug and play, but they will add their own spin to it," he said.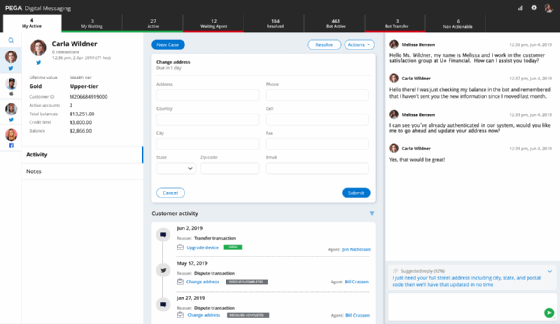 CX trends point to texting
Pegasystems, a 33-year-old company that is in the midst of an all-consuming move to the cloud for its flagship Pega Infinity platform, as well as for Pega Customer Service and other enterprise software products, introduced the omnichannel messaging functions at its annual PegaWorld 2019 user conference here.
Text is rapidly succeeding voice as the means that many consumers prefer for interacting with companies, said Don Schuerman, CTO and vice president of product marketing at Pegasystems, at a media briefing.
"If anyone is following the trends in customer servicing, more and more customer servicing volume, especially looking at a younger demographic ... is moving toward text-based channels as opposed to traditional channels," Schuerman said.
"We can now plug across all these different text-based channels and provide a single unified place for a customer service agent or some of our automated capabilities to interact with customers who choose to come in via a text-based channel," Schuerman continued.
Neil Hodgetts, director of household enrichment at Pegasystems customer EE Ltd. (formerly Everything Everywhere), a leading U.K. mobile network operator and Internet service provider, said EE is interested in digital messaging for customer service, but not exclusively.
While younger consumers are increasingly interested in text messaging for service and support, EE – a division of U.K. telecom giant TT Group -- is committed to building a large network of physical stores to service customers in person, and also to prioritizing conventional phone support, Hodgetts said.
"If the customer is happy to do it through a digital assistant type of activity, then we're more than happy to invest in that," he said. "But we still want to have our retail stores open so customers can come in and at talk to us at a human level, as well."
A few other major text channel apps, notably, WhatApp, are coming soon to Pega Customer Service, Schuerman said.
Low-code development comes to the Pega Platform
Also on June 3 at the PegaWorld conference, Pegasystems launched Enterprise Low-Code Factory, a centralized dashboard that enables nonsoftware developers to create enterprise and business process automation applications.
It's critical. They absolutely have to do that if they're going up against Salesforce, Oracle and SAP. They're all expanding.

Jim SinurIndependent analyst
Enterprise Low-Code Factory is part of the Pega Platform low-code development environment, and will be available by the end of the third quarter of 2019 for customers with current support contracts, Pegasystems said.
Pegasystems executives said the new low-code system is distinguished from other low-code tools by its emphasis on uniform data governance protections as embodied in a feature Pegasystems calls "guardrails."
"We're not particularly interested in selling some small, one-off low code. We want to provide a low-code framework for enterprises to deploy this at scale," Schuerman said.
Schuerman said big Pegasystems customers such as Intel are using the Pegasystems low-code development environment to "build lots of small apps across their enterprise."
But enterprise customers want to do that "in a cohesive manner where there's a strong business-IT collaboration, there's appropriate governance and data security so these applications don't become some rogue IT stuff that has to be replaced three years from now," Schuerman said.
That emphasis on limiting the scope of low-code, non-IT app building is critical as low-code development spreads rapidly across the tech industry, Sinur said.
"The guardrails is a brilliant idea. You have to put constraints to say 'you can do anything you want, but don't do this,'" he said. "And since Pega has some deep rule capability, the idea of adding rules to low code and guardrails is great. The idea is, you can code, we like the idea of citizen development, but we should do this intelligently."