lassedesignen - Fotolia
Pega Academy goes free with Trailhead-like badges
On the eve of his company's user conference, Pegasystems CEO Alan Trefler discussed COVID-19, RPA tech, free Pega skills training and a new appreciation for old rival Salesforce.
Users of Pega Academy, Pegasystems' self-guided user and developer training site, will get to collect badges en route to earning certifications as the company unfurls a major refresh to the program.
The Pega Academy relaunch comes amid a flurry of new product introductions leading up to the company's PegaWorld Inspire virtual user conference next week, including an ethical AI feature and a unified messaging backbone for Pega Customer Service built from the acquisition of In The Chat.
Pega Academy, launched in 2012 and made free in 2018, now features "paths" and "badges." The metaphors are familiar to Salesforce admins and developers who follow "trails" to earn badges on the self-paced Trailhead skills training site.
Pegasystems CEO Alan Trefler appears to be softening his stance toward Salesforce, after several years of taking swipes at his CRM rival. Addressing media and analysts yesterday, Trefler spoke of customers integrating Pega process automation with other systems such as Salesforce, as the company embraces an era of mixed-vendor CX platforms. One example, he said, is when a Salesforce customer sets up a customer service website and then uses Pega process automation to duplicate its workflows on mobile devices.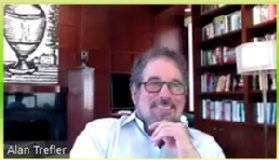 "We live in a world that is enormously diverse from a technology point of view," Trefler said. "We are in the position where we do compete with Salesforce in certain settings. But also, because we're committed to open architecture, we're able to complement them."
The acknowledgement of competitors working together in an enterprise cloud technology landscape shows that Pegasystems has transitioned its core business process management (BPM) platform into a customer experience system, said Brent Leary, owner of CRM Essentials, a consulting and advisory firm. It also proves that the cloud has made it easier for users to mix and match vendors to build their own custom technology stacks.
We are in the position where we do compete with Salesforce in certain settings. But also, because we're committed to open architecture, we're able to complement them.

Alan TreflerCEO, Pegasystems
"Most large enterprises don't have one vendor to handle all the different enterprise applications that they're using, such as ERP, CRM, customer service and BPM," Leary said. "All these vendors know that they're never going to get 100% of an enterprise's business, so they have to figure out how to live in a multivendor universe."
Trefler did take a shot at another rival, Microsoft, which recently shored up its robotic process automation offering with the acquisition of Softomotive. Pega has offered RPA after acquiring OpenSpan in 2016; Trefler said that robots without process automation and decision logic workflows behind them quickly break and become non-functional.
"I was a little surprised that [Microsoft bought Softomotive to add RPA], because Microsoft had taken the position that they did it already," Trefler said, referring to the cloud-based UI Flows RPA. "It's always interesting when a company that has that position goes out and proves there must be some things they didn't have."
PegaWorld Inspire begins Tuesday at 9 a.m. Eastern time.