phonlamaiphoto - stock.adobe.com
Pegasystems Customer Empathy Advisor AI tool gauges ethics
Pegasystems' new empathy AI tool aims to help users make more ethical business decisions by gauging the empathy level of human and digital customer service agents.
LAS VEGAS -- With the new Pegasystems Customer Empathy Advisor, the CRM and business process automation vendor takes aim at what it sees as a need for ethical AI in marketing.
Pegasystems Customer Empathy Advisor is a new AI tool embedded in the Pega Customer Decision Hub, which analyzes customer data to guide customer-facing agents and digital assistants to take the next best action with each customer.
Fine-tuning empathy
With the empathy tool, launched at the PegaWorld 2019 user conference here, business and nonprofit users can measure and calibrate the degree of empathy in customer interactions, ratchet up empathy levels of next best actions and improve customer experience, or what Pegasystems calls customer engagement.
The AI empathy tool will be available for all Customer Decision Hub customers near the end of the year at no extra cost.
Corporate uptake uncertain
While the Pegasystems Customer Empathy Advisor appears to be a useful and beneficial means to improve customer relationships, it might be a difficult sell to profit-minded businesses, said Brent Leary, analyst and co-founder of CRM Essentials, an Atlanta-based consulting and advisory firm.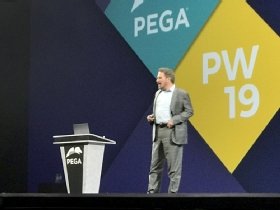 "Trying to institutionalize empathy with a technology platform is really a cool idea. I just don't know how many companies are ready to buy into it," Leary said. "I think it's an important thing, and I think it's one that will work if companies actually dedicate themselves to using it."
For Pegasystems' CEO and co-founder, Alan Trefler, the empathy tool is a way to move AI beyond inflated marketing jargon into a realm in which ethical and humane considerations are a more integral part of business, and consumers will trust AI more.
"What this is about is a different way to think about your business," Trefler told conference attendees in a keynote speech. "Businesses can regain control over their technology and really change the equation in fundamental ways. We need empathy."
Survey: Consumers suspicious of AI
With the unveiling of Customer Empathy Advisor, Pegasystems also revealed the results of an international survey of 5,000 consumers it commissioned recently, which showed widespread distrust of AI among consumers and an ingrained conviction that AI is biased.
Some 68% of the survey respondents said organizations have an obligation to do what is morally right, beyond what is legally required. Only 40% said AI can improve customer service. More than half said AI is unable to make unbiased decisions, and 70% said they still prefer to speak to a human, rather than an AI system or chatbot.
Trying to institutionalize empathy with a technology platform is really a cool idea. I just don't know how many companies are ready to buy into it.

Brent LearyAnalyst, CRM Essentials
One Pega Customer Decision Hub user, United Methodist Communications, the communications arm of the international United Methodist Church, took on Pegasystems for marketing, sales and CRM after a 2017 request-for-proposal process that also included Pegasystems' competitors Salesforce and Microsoft Dynamics.
The church communications office is enthusiastic about injecting more empathy into its interactions with constituents and potential church members, said Myca Alford, director of customer experience at the communications agency, based in Nashville, Tenn.
A tool such as Pegasystems Customer Empathy Advisor would fit with the communication office's strategy of trying to reach younger people with messages tailored to them on the channels they use, including text and chat, Alford said.
"It's more suggestive, recommendations; it's trying to see the nuance behind their request. So, they may be asking for one specific thing, and you can intuit from that what they're really trying to accomplish," she said. "Going for the long-term relationship, rather than the short-term sell, that's where the empathy comes into the selling process."

Empathy ROI
The creators of Pegasystems Customer Empathy Advisor developed the system on the basic concepts of analyzing empathy in any engagement and predicting a "return on empathy" similar to an ROI -- termed ROE.
The empathy tool dashboard breaks down elements of empathy involved in an organization's marketing, sales and service operations to consider:
Relevance: Is the action of interest to the customer?
Suitability: Will the action cause harm to the customer?
Value: Will the customer benefit?
Context: Is it consistent with the customer's recent activity?
Intent: Does it account for the customer's likely goals?
Mood: Does the action align with the customer's frame of mind?
Pegasystems' executives frequently turned to a financial services use case to illustrate how the empathy system works. For example, a company would use it to ensure it would not try to sell a mortgage to a customer who would not be able to afford it in the long term.
"We already have this next best action strategy running that typically contains thousands of propensity models and algorithms," Rob Walker, vice president of decision management at Pegasystems and principal architect of the Pegasystems Customer Empathy Advisor, said during a media briefing.
"Now, we want the AI to start favoring things that are working under more empathetic conditions," he said.
Dig Deeper on Customer experience management