peshkov - stock.adobe.com
Pegasystems releases Ethical Bias Check to cut down on AI bias
Pegasystems has embedded a new tool to combat AI bias in its Pega Customer Decision Hub. The tool can alert users to potential biases before they deploy system changes.
Pegasystems, the customer engagement software vendor, released a new tool on Tuesday to help eliminate AI bias within its AI-powered CX management system, Pega Customer Decision Hub.
Ethical Bias Check flags discriminatory offers and messages (most presumably unintentional), such as a loan offer that disproportionately gives a higher rate to the elderly, or people of a particular ethnicity or gender, for example.
The tool is now automatically embedded within the Pegasystems CX platform, which uses AI and analytics to scan customer data and predict what customers will need next.
Leading the segment
Pegasystems, based in Cambridge, Mass., is the first customer engagement vendor to address AI bias comprehensively, according to Paul Greenberg, founder and managing principal of consulting firm The 56 Group.
Pegasystems, he said, has been "visionary in multiple areas and have transitioned from a BPM-focused [business process management] solution to a customer engagement platform without a single glitch in the evolution."
Greenberg said Pegasystems was the first customer engagement vendor to go to market with an empathy-based AI system, which enables users to measure and fine-tune the amount of empathy in customer interactions.
Ethical Bias Check complements Customer Empathy Adviser, as well as the previously released T-Switch, which enables Pegasystems users to set the transparency of AI based on the models they deploy.
Matt Nolan, senior director of product marketing for decision sciences at Pegasystems, explained that Pegasystems uses a paradigm for responsible AI that involves three legs: empathy, transparency and removing bias.
Between Customer Empathy Adviser, T-Switch and now Ethical Bias Check, Pegasystems users can create more responsible AI models, Nolan maintained.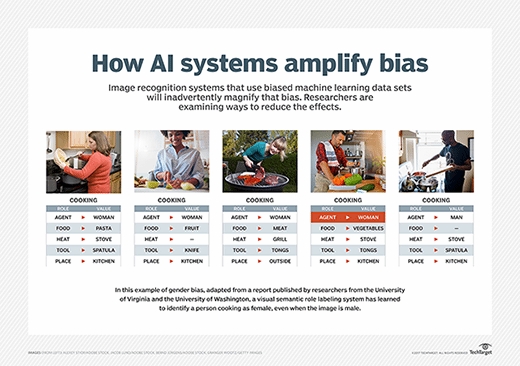 "If you're developing with those three things in mind and you're holding yourself accountable... that's ultimately responsible AI at the end of the day," he said.
Now, Pegasystems is the first CX company to go to market with an integrated AI bias tool, Greenberg said, although other vendors may target AI bias in some ways.
Pega is the first to address it at all independently.

Paul GreenbergManaging principal, The 56 Group
"But Pega is the first to address it at all independently," He said.
Bias in AI systems is a widespread concern and a problem that is difficult to solve. Bias often creeps into an algorithm unwittingly through skewed training data as a result of data collected incorrectly or changing outside conditions.
Adjusting to new data
Take COVID-19, for example.
"With COVID-19, the data that you were using before all that stuff happened might have been relatively bias-free," Nolan said.
But then the pandemic drastically cut the workforce, and people who had never defaulted on a loan are now defaulting.
That change introduced a flood of new data about which types of people default on loans, a development could drastically skew financial institutions' algorithms for approving loan applications.
If the data showed that millions of middle-aged men, for example, are defaulting on loans, it could teach the algorithm to make it harder for middle-aged men to be approved for a loan, even though this new infusion of data is not representative of a "normal" situation.
Ethical Bias Check enables users to pick variables they want monitored, and then flags potential biases in those variables when they test out changes to the system.
"It's allowing customers to avoid unintentional bias when changes in the market happen," Nolan said.
For enterprises, this can help maintain smooth operations and help prevent potential PR disasters.
"We do know that the need to address bias and solve for it is a huge concern for companies around the globe," Greenberg said. "So, the need for something that can help in the process is pretty apparent."
Yet, whether customers will flock to this new feature is an open question.
"They have to have the inclination to want to spend a portion of their hard-fought budgets on this," Greenberg said, adding that Pegasystems must convince customers that it works.
"It's not a must-buy at this point, I don't think, though a company that was being wise should be aware of the value of something like this," he said.