peshkov - stock.adobe.com
Pega Value Finder marketing tool uses AI to find segments
The Pega Customer Decision Hub adds an AI tool for marketers to uncover new customer segments and test campaigns for audiences that humans may have written off as not viable.
Pegasystems has added Value Finder, a new tool for its Pega Customer Decision Hub application suite, which enables users to reconnect with customers they'd ignored by setting rules too tight on previous marketing campaigns.
Value Finder employs AI to test upcoming campaigns for different customer segments. Customer Decision Hub users can use the Pega marketing tool to test campaigns on their own customer data before going live with the campaign. Used in conjunction with other Pega AI tools, marketers can get a sense of who in their customer base should be targeted beyond their usual approaches and predict how the new segments would respond.
Marketers typically find success engaging a certain segment of their customer base. Examples might include women or men, customers in a certain region or of a certain age, combined with past purchasing data. Once marketers understand who they're most successful in reaching, each successive campaign might further narrow that segment based on new attributes such as what they've bought before. Success informs the next campaign, and before you know it, a company is ignoring customers outside a narrow marketing segment that might be receptive to an upcoming campaign.
The genesis of the Value Finder came to Pega when it realized its users had constrained their campaigns with too many rules, said Matt Nolan, senior director of product marketing, AI and decision sciences at Pegasystems. He said that marketers tend to focus on the 20% of their most active, regular customers and write off the other 80%. Value Finder, he said, not only looks at the whole of that "other 80%," but also works as a personalization tool to tailor custom offers.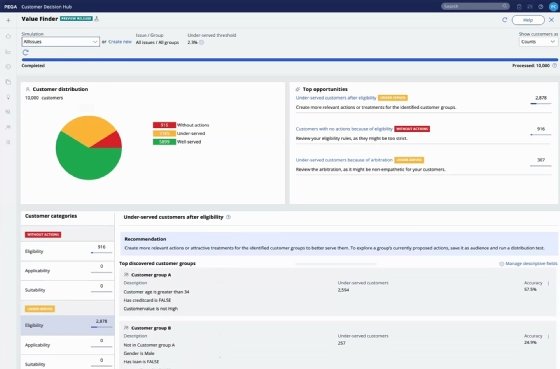 Part of a greater martech trend
The Pega marketing tool is another technology addition in an arms race among SAP, Oracle, SAS, Adobe and Salesforce to enable customers to learn more about their customers with AI, said Predrag Jakovljevic, principal industry analyst at Technology Evaluation Centers, an enterprise computing analysis firm in Montreal.
He noted that last month, SugarCRM also acquired Node AI for the same purpose: to find more revenue potential in customer data with the marriage of AI to predictive analytics.
It is hard to debate trying to get more business from existing, neglected customers instead of leaving them to the competitors.

Predrag JakovljevicPrincipal industry analyst, Technology Evaluation Centers
"The innovation here is that the AI software is 'minding your store' and is gleaning the pertinent insights and recommendations for you, such as how better to engage with dormant customers," Jakovljevic said. "It is hard to debate trying to get more business from existing, neglected customers instead of leaving them to the competitors."
According to Nolan, Value Finder can suggest ways to build offers, messages and actions that can reach underserved customers. That group can be tricky to address, because typically a Pega Customer Decision Hub user has less data to work with than more active customers that leave a trail of signals such as responses to sales and marketing messages and transactions -- as well as service interactions with a company.
The tool works by predicting performance of test ideas on a user's customer data pool. While marketers have go-to segments and polished approaches to deliver maximum customer lifetime value to their regulars, what if they loosened some of their campaign rules to open it up to a broader customer group?
"In the system, we let them go in and set up these 'what-if' scenarios to simulate what would happen if they modified the rules," Nolan said. "Then they can decide if they want to change those or leave them in place."
Value Finder became available today, as part of Pegasystems' 8.5 platform release. It is included with the Pega Customer Decision Hub subscription at no extra cost.