What is a robo-advisor?
A robo-advisor is an artificial intelligence (AI) driven virtual financial advisor. Robo-advisors are a type of expert system optimized for financial services, specifically for investing and portfolio management advice.
A robo-advisor is one example of a software robot, not a physical robot. However, the software supporting robo-advisors does function similarly to the AI that might drive a robot. Investors communicate with their robo-advisors through smartphone apps or over the web.
Robo-advisors can make customers money
The software can choose stocks for portfolios according to the balance desired by clients and provide limited financial advice. Like other expert systems, robo-advisors use AI technologies in conjunction with a knowledge base to simulate the judgment and behavior of an experienced human with specialist-level knowledge in a particular field.
Financial institutions can save money by employing virtual assistants to deal with relatively simple requests and pass on more complex requests to human advisors. Human agents themselves often use robo-advisors to respond more quickly to customer requests.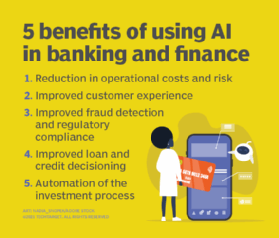 Given that financial advisors are typically well-paid, the software is relatively inexpensive to acquire and maintain. Many in the financial sector also see robo-advisors as a means of getting investing advice to the masses, with associated cost savings.
It's also thought that robo-advisors could promote financial literacy because investors might take more time to explore options without feeling the pressure to decide that they might feel dealing with a human.
This was last updated in
October 2021
Continue Reading About robo-advisor