Getty Images/iStockphoto
Banks aim to improve customer experience for users online
Tactics to increase digital interactions include improving contact center tools, prioritizing UX design and merging digital capabilities with real-time human service.
Converting consumers to a digital-first mindset is the main objective for customer experience experts at banks and other financial organizations.
The motivation for this is multifold.
First, the proliferation of online apps and the opportunities to capitalize on them can't be ignored. Smartphones are ubiquitous, and many find that online banking is quick and straightforward. For example, customers can use a banking app to deposit checks within minutes, rather than driving to a local branch. Many also use mobile wallet services such as Apple Pay, which is both cashless and cardless.
Also, digital interactions with businesses are more traceable than non-digital ones. They produce better data and insights into customer behavior, which is the basis for strong personalization.
"Their behavior tells the story of who they are," Finalytics.ai CEO Craig McLaughlin said during a presentation at the CXFS conference in Boston Monday.
Younger-generation bank customers keep their smartphones and computers close. They prefer to interact with a business electronically, according to Evan Siegel, vice president of financial services and business development at eGain and another presenter at the event.
"The last thing they want to do is talk to a human," Siegel said..
But older generations tend to prefer human interactions over using the phone or going to physical banks. Bank CX professionals recognize that they must work with customers to lead them to online services.
"We don't want to give them a drastic shift as to how they're working because that's what they're comfortable with," said Kriti Anand, vice president of commercial digital product management at Commerce Bank. "So we have a relationship where we hold their hands and make them proceed forward."
With the goal of funneling customers to online offerings, experts propose multiple attack routes. These include improving contact center tools, focusing on user experience design and finding practical ways to let customers know about digital services.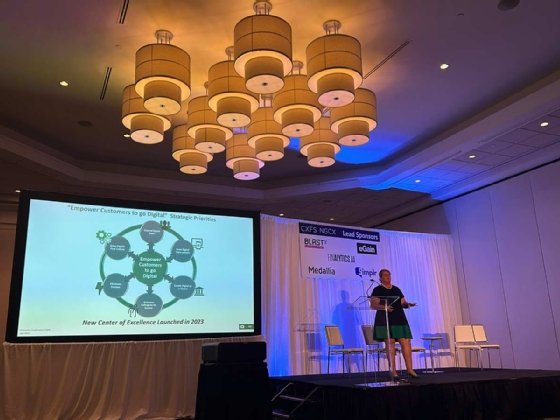 Trying to find the right answer
But financial institutions often are failing to meet users' needs for digital customer service, according to Siegel, who cited this information from Gartner.
He said the problem stems from inconsistent knowledge management policies. For example, an online search might offer different information than a call to the contact center, a disjuncture that arises due to diverging policies and practices in these two areas.
"Contact centers maintain their own policies and procedures, and they get out of whack," Siegel said.
In addition, the modern contact center aspires to mechanize humans. Human agents must modify their behaviors, from click-through rate to word choice, to answer queries as quickly as possible while in compliance with company practices. And metrics for all these behaviors are tracked.
"This is the toughest job in almost every organization," Siegel said.
In addition, knowledge sprawl and app overload can prevent agents from locating specific information quickly, as they must navigate between multiple windows.
"We give them crappy tools," Siegel said.
Companies should be investing in effective knowledge management tools that can sift through siloed information and serve the most relevant pieces to the agent, according to Siegel.
The silver bullet here is knowledge management.

Evan SiegelVice president of financial services and business development, eGain
"The silver bullet here is knowledge management," he said.
Knowledge management is also an ideal place for intelligent search, which would allow customers to ask questions using natural language, as they would with Google or Chat GPT. Customers have come to expect such a tool.
"That's an advanced capability," he said.
Committing to design
More financial institutions are recognizing the value of effective UX design to attract customers to digital offerings.
"UX was always kind of subservient to the business before, but now UX actually is having a seat at the table," McLaughlin said.
In the past, banks might have sought UX designers to design one add-on feature that eventually became clumps of feature updates and new features, in what one designer called "feature bloat."
"It's good to do that, but I've been trying to help my partners take a step back and look at, 'what is that vision first?'" Said Alex Misiaszek, senior vice president, experience design director of NLU and emerging experiences at Truist, a financial services company.
"Once we set that ideal vision, then we know the tangible incremental steps we can take toward that vision," Misiaszek said.
As businesses rely more on designers, the new challenge is managing time between accumulating projects, Misiaszek said. She said she finds that many infrastructure designs sit around and wait to be built because the core team gets sidetracked having to work on API connectivity enablement features.
"Everything gets kicked back because they're doing enablement tasks," Misaszek said. "We're constantly having to prioritize between infrastructure and enablement tasks."
Now, she and her partners are discussing creating a dedicated team to work on API connectivity enablement features to free up the core team's time to build infrastructure designs.
"So by the time the core team gets to a feature, they can actually execute on that feature and not be bogged down," Misaszek said.
Bridging the gap to digital
Banks can use some practical methods to inform customers about digital services. It's important to start notifying them through the channels they already use, according to Natalie Higgins, director of self-service strategy at Citizens Bank.
These initiatives take many forms. For customers on the phone waiting to speak with an employee, instead of hold music they hear messages about the benefits of mobile banking. For customers walking into a branch, employees are encouraged to show their badges, which display QR codes that link to the Citizens Bank app.
"They're right there with them, and they can walk out ready to go," Higgins said.
Another tactic also blends real-time human contact with digital tools. Citizens Bank has a catalogue of 30 customer-centric demo videos showing how to use different banking tools. While on the phone, the agent can send the relevant demo video to the customer and stay on to discuss any other questions.
"They can talk about it, view it together, and have that dialogue," Higgins said.
However, the bank hopes to reduce assisted transactions by 50% and promote self-service tools in their place, according to Higgins.
"We ultimately want to empower our customers to be digital -- utilize these pages to drive the convenience factor," she said.
Mary Reines is a news writer covering customer experience and unified communications for TechTarget Editorial. Before TechTarget, Reines was arts editor at the Marblehead Reporter.