Getty Images/iStockphoto
Amazon Connect users get Contact Lens AI chat analytics
Contact Lens expands into chat channels. Also on tap in Amazon Connect: Agent performance monitoring and expanded, machine learning-driven workforce management tools.
In a new feature release, Amazon Connect users get Contact Lens chat analytics integrated with the contact center AI services AWS has offered since 2019 for voice conversations.
The release broadens Amazon Connect's analytics to text-based channels and combines coverage of an agent's voice and chat conversations with customers into one view within its contact center as a service (CCaaS) platform.
Along with Contact Lens' conversational analytics for chat, AWS also previewed during its re:Invent conference this week Contact Lens evaluation forms, which put the new integrated contact center AI tools to work. The evaluation forms aggregate individual agents' performance on chat and voice channels -- for script adherence, customer sentiment analysis, time to answer and other common contact center metrics -- in a single dashboard view.
The tech giant made the Contact Lens forms generally available on April 26 at its AWS Contact Center Day, the vendor's virtual one-day conference.
The Contact Lens evaluation forms save time for agents and quality assurance workers at Ameriflex, an employee benefit provider, according to Anjanette DeCoudreaux, Ameriflex VP of project management. Before Contact Lens evaluation forms, each agent would need to fill out a 10-tab Excel form.
"The process that we've used to date has been a bit cumbersome and labor intensive," DeCoudreaux said during the conference. "Our team was very excited about having the opportunity to preview the evaluation form, because it would represent a significant step in automating what we do today."
These are capabilities that show up on contact center RFPs, said Dan Miller, founder of Opus Research, an IT advisory firm based in St. Paul, Minn.
"It is an effort to win over the contact center administrators," Miller said. "These are very real competitive advantages against specific CCaaS competitors."
Annie Weinberger, head of AWS business applications product marketing, estimated that 90% of the features that show up in Connect come via customer requests. Conversational analytics, she said, can speed agents' learning cycles and cut down on time required for coaching new employees. One state government user in particular halved its agent training time and customer wait times using the chat and voice analytics.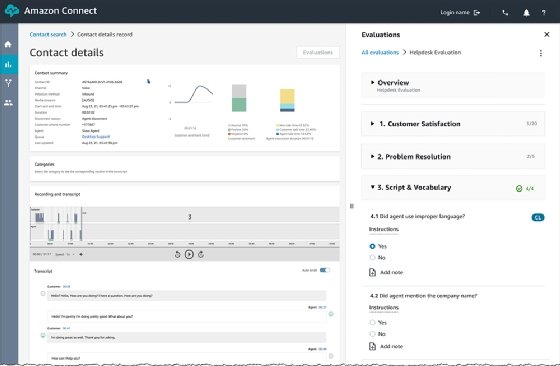 AWS adds workforce management tools to Amazon Connect
AWS also added to its Amazon Connect workforce management tools. Based on business forecasts commingled with a user's own historical data, Connect machine learning predicts call volume and recommends agent capacity for upcoming shifts.
Connect then takes into account groups, HR and business rules, and sets up automated agent scheduling. It also can help manage same-day schedule adjustments such as agent overtime or requested time off.
Another feature in preview is Amazon Connect agent workspace step-by-step guides, which lead agents through potential resolutions for common customer problems during calls or chats. Users can configure workflows that suggest a path to solve a particular customer problem and set parameters for when it's suggested.
The guides help cut down on toggling between applications, a common problem for contact center agents regardless of whether they use cloud or on-premises technologies.
"The average agent uses over eight different applications to help a customer," Weinberger said. "So we really wanted to streamline that and provide them a single user interface that guides them through that interaction."
CCaaS competitive landscape evolves
Miller sees a tighter convergence of CCaaS vendor product offerings with each successive feature drop. Cloud giants Microsoft, AWS and Google are pushing contact center software incumbents such as Genesys, Nice and Five9 with their AI services. Even though the tech behemoths are still in the process of building complete contact center platforms and might lag behind smaller, more established players, the competition is heating up.
The AI-infused conversational cloud might eventually replace the contact center as we know it, Miller wrote in a recent blog post. It could be a logical progression as AI becomes more effective and pervasive, and users develop business cases to support the technology.
The war is on.

Dan MillerFounder, Opus Research
For now, this convergence benefits contact center technology buyers, who have more choices than ever. Weinberger said Amazon Connect customers aren't necessarily existing AWS customers who flip the switch in their consoles -- new businesses choose Connect for their customer service operations because of its convenience and capacity billing model that doesn't have upfront costs to get started.
"The war is on," Miller said. "Amazon apparently has decided they want to differentiate on machine learning -- applying machine learning to every channel that's out there, scheduling and other very real problems for contact center administrators."
Don Fluckinger covers enterprise content management, CRM, marketing automation, e-commerce, customer service and enabling technologies for TechTarget Editorial.