9 customer journey mapping tools that can improve your CX
Customer journey mapping tools provide valuable insights into the customer experience. Learn more about some of the top tools and how to choose the right one.
Customer journey mapping tools can help companies improve CX by analyzing customers' paths across web, mobile and physical channels.
These tools support various capabilities, from simple collaborative diagramming to more automated tools baked into full-fledged customer experience platforms.
Organizations looking to start with customer journey mapping may want to experiment with simple collaboration tools that support diagramming or project management capabilities. More sophisticated platforms can help anticipate and track customer behaviors for various buyer personas.
Start simple and expand when ready
Initially, it is important to consider how customer journey mapping tools can plug into your existing processes. This means starting simple and considering more sophisticated tools once different teams understand their needs.
Mike Wittenstein, managing partner at Storyminers, an experience design consultancy, said, "Unless you've used customer journey mapping tools before, knowing all the features you'll need at the start is hard."
Most tools will provide a way to map various buyer personas, timelines and activity information to provide insights. But Wittenstein finds that organizations don't always use the software to change how they work on new projects. It is much better to pick tools that mirror implementation processes already in use. "You'll encounter less resistance and achieve more measurable CX success," he said.
The map is just the starting point for better conversations with stakeholders. Tools with solid real-time collaboration features are ideal for remote organizations. On the other hand, if you only work with key players for a few hours, prioritize tools that let you structure incoming information on-the-fly.
It's also important to find tools that support the metrics you want to prioritize. The tool should help everyone understand how you want people to feel on both sides of the cash register, nurse's station or other industry equivalents. One good practice is to craft dashboards for customer journey mapping sessions that reflect and incentivize the behaviors you want to foster.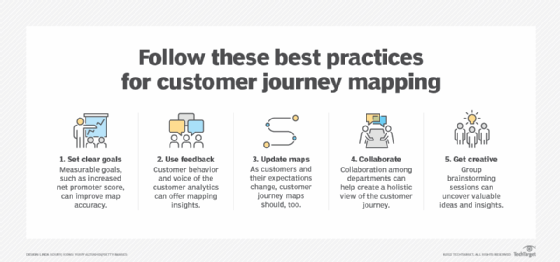 Key features of a customer journey mapping tool
Sharang Sharma, vice president of business process services at Everest Group, said enterprises looking to scale customer journey mapping practices should also consider how new tools can align with a single integrated platform as an authoritative source of customer data. This requires establishing clear procedures to ensure regular updates of customer journey maps based on additional data and insights.
In addition, they should consider how tools can prioritize insights based on cost-benefit analysis to take appropriate actions.
"Educating and building awareness among employees about the importance of customer journey mapping is vital, as well as identifying high-value cases can generate momentum and secure buy-in for future customer journey mapping investments," Sharma said.
Sharma observed that some of the top considerations in choosing customer journey mapping tools include the following:
Ease of use and functionality. Basic drag-and-drop functionality makes it easier to create journey maps, while touchpoint mapping and persona creation streamline workflows.
Flexibility and iteration. Consider how the tool can help develop additional steps in a customer journey and make real-time changes. This will help enable an iterative process to improve journey maps over time.
Detailed and high-level views. A good customer journey mapping tool should provide detailed and high-level views of the customer journey with filtering options to analyze journeys from different perspectives, such as pain points, business owners, touchpoints and personas.
Collaboration and feedback. Look for how a tool can facilitate collaboration directly within the applications with feedback and comments.
Linking and hierarchies. Consider how a tool connects different journey maps for connecting projects, illustrating hierarchies, reusing findings and maintaining an overview of multiple journeys. This helps identify relationships and dependencies across different customer journeys.
Pre-built templates. Customer journey map templates can reduce effort and provide a starting point for organizations. They can also help users start from scratch to create custom journey maps tailored to specific business needs.
Multiple views. Different views can help analyze and present journeys from different angles. Tools should support various views, such as heatmaps, difficulty impact matrices, storyboards and emotional journey visualization.
Integration. Look at how well a tool can integrate with existing platforms for web analytics, marketing automation, CRM and other data sources. This allows the customer journey mapping tool to pull consumer data from multiple sources and incorporate customer journey data into user workflows.
9 customer journey mapping tools
Organizations must consider their current needs when choosing a customer journey mapping tool. Smaller organizations just starting may find it helpful to experiment with simple diagramming tools like Microsoft Visio included in existing subscriptions. Similarly, customer journey templates for existing applications like Figma's web design tools could extend existing workflows to support a new customer journey mapping process.
Once an organization has a better idea of what it needs, it's worth considering more full-fledged customer journey mapping tools from vendors like Milkymap, UXPressia and Smaply. Companies looking to consider ways to integrate customer journey mapping into more comprehensive customer experience platforms may consider customer journey mapping capabilities available on top of Adobe Experience Cloud or Microsoft Dynamics 365.
The following are some of the top tools highlighted by analysts to consider:
1. Adobe Experience Cloud
Adobe has extended its lead in media design tools to support multiple facets of customer experience. The Adobe Experience Cloud provides a comprehensive set of digital experience tools. The Adobe Journey Optimizer can help teams automate customer journey mapping processes that span online, mobile and physical channels and is a top pick if your organization already uses other Adobe tools.
2. Figma
Figma quickly became one of the top web development tools since it allows teams to quickly model new website designs and automatically transform them into working HTML and CSS code. Teams can experiment with new styles and layouts and automatically propagate these across an entire web estate. The service also supports customer journey mapping templates, which can help teams already familiar with Figma.
3. Gliffy by Perforce
Gliffy is a diagramming tool built on top of the Confluence platform. It includes diagramming tools that help streamline design and project management across multiple business, software development and engineering areas. Perforce Software, which makes the tool, specializes in version control software for various digital assets. It also provides several customer journey mapping templates that help teams get started. Gliffy is a good option for firms already using other Perforce tools or which use Confluence and Jira for collaboration and project management.
4. Lucidchart
Lucidchart is an intelligent diagramming application provided by the company of the same name. Its tools help visualize processes, systems and organizational structures and link elements across these views. It comes with various templates to map out different customer journeys. It also supports integrations into tools like Google Workspace, Microsoft Teams, Atlassian Confluence, Salesforce and Slack, making collaborating on customer journey maps from within these tools more streamlined.
5. Microsoft Visio
Microsoft Visio is a tool for creating diagrams and flowcharts and aims to simplify the process of creating diagrams. It's been around since 1992, and Microsoft has enhanced it over the years with improved collaboration and integration into other Microsoft tools. It comes with thousands of templates, including many for customer journey mapping, and supports the same Office interface that workers are already familiar with. It's worth investigating for customer journey mapping, particularly if your organization already uses it for other use cases.
6. Microsoft Dynamics 365
Microsoft Dynamics 365 is a full-featured platform connecting sales, marketing, service, finance and customer insights processes across large enterprises. It's sold as modules that automatically share data and workflows across teams. The Dynamics 365 Marketing module includes tools to help teams collaborate on better customer journeys. It can also help orchestrate customer journeys across marketing, sales, commerce and service teams to create holistic customer experience maps. Each team can see the relevant view of customer journeys to fine-tune their processes.
7. Milkymap
Milkymap applies a human-centered and service design thinking methodology to customer journey mapping. It's an example of a dedicated customer journey mapping tool that can help correlate customer experience metrics with a journey map. The vendor offers a consulting service to implement new workflows required to get the most out of a customer journey mapping program. It's a good fit for organizations looking to develop a curated process rather than adopt a new tool.
8. Smaply
Smaply is an example of a dedicated customer journey mapping platform. It includes tools to help link insights and responsibilities across various aspects of the customer experience. A journey mapping tool helps visualize a customer's experience across services. Persona mapping tools help understand characteristics that are relevant for different customer segments. Stakeholder mapping helps visualize the formal and informal relationships between employees, clients and suppliers, and the friction between them.
9. UXPressia
UXPressia is another dedicated customer experience mapping platform. It can help bring all customer journey mapping initiatives into a common tool and share insights across different teams. Enterprises can create standardized templates to enforce consistent design standards across teams to improve understanding. In addition, it offers a new AI persona generator to automate the process of distilling relevant personas from existing data.
Dig Deeper on Customer experience management