andranik123 - stock.adobe.com
Magento e-commerce content tools get Adobe AI boost
Adobe connects its Product Recommendations engine to Magento Page Builder to give users a no-code AI tool that offers different products to different customer segments.
Magento e-commerce users get a drag-and-drop method to embed Adobe Sensei AI Product Recommendations into their site pages with a new integration.
The integration between Magento Commerce Product Recommendations and Adobe Sensei AI enables non-coders to use AI with drag-and-drop content blocks on website pages that offer buyers similar or complementary goods to what they're looking at, much like Amazon does. On the back end, Adobe AI tools take inventory availability into account for the recommendations, as well as user-set market segments such as site newcomers vs. loyalty-program regulars.
The feature is the latest in a slew of new Sensei AI tools Adobe is unveiling this year for Experience Cloud and Magento.
Integrating AI in a no-code fashion will help Magento customers -- historically midmarket bricks-and-clicks retailers and online-only sellers -- see incremental sales increases, said Jordan Jewell, an IDC analyst. Magento users, many of whom also sell on Amazon, need to present an Amazon-like buying experience on their Magento e-commerce sites because their customers expect it.
E-commerce platform vendors have talked a lot about integrating AI into their clouds for the last two years, Jewell said, but they haven't delivered much so far. In surveying customers of leading e-commerce vendors, Jewell said that across the board they ask for AI product recommendation tools for their online sales sites. But few are getting them.
Connecting Adobe's product-recommendation engine to Magento is a good first step in making e-commerce content more ubiquitous on retail sites, which increases upsell opportunities.

"Everybody's chasing Amazon right now," Jewell said. "The fact that they're trying to bring [AI product recommendations] to customers, I think, is really important."
Playing to Magento's midmarket strengths
While Adobe traditionally caters to large enterprises with its Experience Cloud, last year CEO Shantanu Narayen expanded Adobe's sales operations to cater to Magento's midmarket base.
Adobe has seen some large enterprise Adobe customers such as Hewlett Packard Enterprise buy into Magento for e-commerce, said Ryan Rozich, Adobe director of product management. But Adobe tailored its new integrations for the traditional business user of Magento, the e-commerce platform it acquired for $1.7 billion in 2018.
"Magento has traditionally been strong in the midmarket merchant space -- anything from manufacturers who sell through retail but have their own branded sites to mid-sized merchants," Rozich said. "But that's evolving, with the Adobe acquisition and its customer base."
E-commerce sales still white-hot
The Magento e-commerce AI recommendations integration comes at a time when e-commerce sales are booming due to the COVID-19 pandemic that forced many shoppers and workers to stay at home. Digital retail sales are still at "Black Friday levels," Rozich said.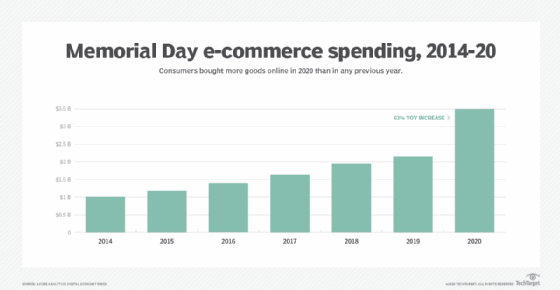 The Adobe Analytics Digital Economy Index, which tracks 80 of the top 100 U.S. online retailers, released May numbers last Friday that show continued strong e-commerce performance. From March 1 to May 31, shoppers bought $82.5 billion online, up 77.8% from the same period in 2019. Memorial Day sales hit $3.5 billion, an increase from the previous record $2 billion in 2019.
As long as people are going to be more comfortable shopping online than going to stores in person, we're going to continue to see the same levels of traffic. How long that lasts is anybody's guess.

Ryan RozichDirector of product management, Adobe
Other trends of note: Consumers are buying more goods from their smartphones than in January. Buy online, pick up in store (BOPIS) sales grew 195% in May, but Adobe said its data shows that trend may slow as stores slowly reopen. Among 1,000 consumers Adobe surveyed June 1-3, 23% indicated they prefer BOPIS to delivery.
How long the e-commerce surge will last is hard to predict, Rozich said, but it's not slowing down yet overall.
"As long as people are going to be more comfortable shopping online than going to stores in person, we're going to continue to see the same levels of traffic," he said. "How long that lasts is anybody's guess."