Fotolia
Adobe Magento Commerce Cloud adds progressive web apps
Adobe is upgrading its e-commerce product by adding AI-fueled image-search capabilities and progressive web application building tools to Magento Commerce Cloud.
Adobe added features to Magento Commerce Cloud to enable its users to provide better online shopping experiences for their customers.
With the new features -- introduced Jan. 14 at the National Retail Federation conference and commercially available now -- Adobe said it is able is to provide more personalized and better mobile experiences for customers, using AI, machine learning and progressive web applications to build more intuitive mobile sites.
The multimedia and marketing software vendor also is adding a Progressive Web Applications Studio to its Magento Commerce Cloud, which is part of the larger Adobe Experience Cloud, as well as image-search technology using Adobe Sensei, its AI system.
Adobe acquired Magento Commerce Cloud in 2018 for nearly $1.7 billion, adding e-commerce capabilities to its suite of business applications and targeting CRM and e-commerce leader Salesforce.
Adobe said it also will add AI-based image search to Magento Commerce Cloud in the second half of 2019. So, if a consumer sees a product in person or online, they can upload a photo to a retailer's site that is using Adobe's image capability. Once the photo is uploaded, the retail site will show either the exact product -- if it's from their brand -- or similar items.
For example, if a consumer likes a winter coat, they can take a photo, upload it to a retailer's site and quickly see that retailer's collection of winter coats. Moving beyond solely text search, image search is one way AI can help organizations differentiate themselves when interacting with customers.
"Image search and natural language processing are the kind of AI-driven experiences that offer improvement to the customer experience," said Bruce Eppinger, senior analyst at Forrester Research.
The move toward mobile
There's been an industrywide movement toward improving the mobile shopping experience and more user-friendly mobile websites.
For most online retailers, the mobile experience is still subpar to the desktop.

Peter Sheldonsenior director of Commerce, Adobe
Users have application fatigue and don't want to download apps for every brand. But many retailer websites were built for desktop and don't provide a good smartphone or tablet experience. Adding progressive web apps to e-commerce tools may be the way to build more mobile-friendly sites that have the user feel of apps.
"For most online retailers, the mobile experience is still subpar to the desktop," said Peter Sheldon, senior director of commerce at Adobe. "Most mobile sites are slow, and it's reflected on conversion rates. Consumers want to buy on mobile devices."
Adobe recently unveiled its holiday shopping analytics from the 2018 shopping season, which saw an increase in mobile shopping. For the first time, smartphones accounted for at least half of the shopping traffic (51%) and nearly a third of the revenue (32%).
But while those traffic and revenue numbers were both high marks for mobile-based shopping, smartphone cart-to-order conversion dropped 9% during the holiday season, compared with the first eight months of 2018.
That's driving the industry's move toward progressive web applications and away from individual Mobile apps.
"[Progressive web apps] are important, because they give you the app experience without the overhead of installing an app," Eppinger said.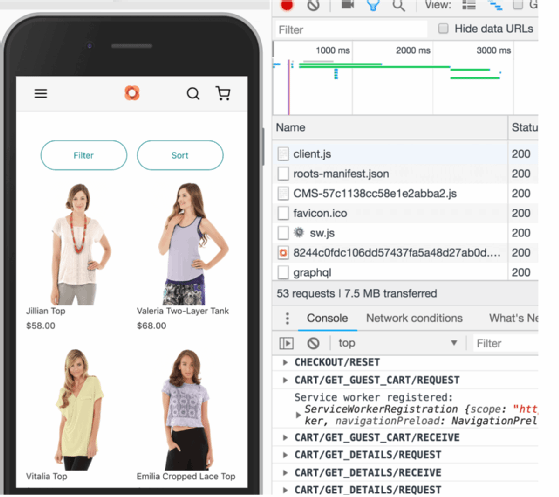 Convenience of progressive web apps
Progressive web applications bring a user interface that's more convenient for users, without the need for continual updating that apps require.
"We see a transition period where merchants and retailers will migrate to progressive web apps," Sheldon said. "We want to make the mobile shopping experience a better experience for users."
Adobe said it is trying to improve developers' experience, as well. To that end, Adobe will provide a new a progressive web application development toolkit for Magento users, so developers using Magento Commerce Cloud can more easily transition into building progressive web apps.
"Nothing kills good technology like a bad rollout," Eppinger said. "Every browser is a little different, and the web platform itself isn't as standard-friendly as Apple or Android app stores. Magento has done a good job of getting developer kits out."