Adobe Experience Cloud to aid company digital transformation
Products are no longer the focus, according to Adobe. The customer experience is where it's at -- and Coca-Cola agrees, as the company executes its digital transformation process.
LAS VEGAS -- For Adobe, it's all about the experience.
Continue Reading This Article
Enjoy this article as well as all of our content, including E-Guides, news, tips and more.
Whether you market a product, sell a product or sell a service, it's the experience around that process that the customer remembers and ultimately cares about, according to Adobe executives and customers at the Adobe Summit opening keynote yesterday.
It's no surprise, then, that Adobe CEO Shantanu Narayen focused on the revamped Adobe Experience Cloud and the importance of a company digital transformation strategy while addressing the estimated 13,000 attendees at the keynote. Adobe Experience Cloud bundles together the company's Creative Cloud, Analytics Cloud, Advertising Cloud, Marketing Cloud and Document Cloud for enterprises.
"The truth and challenge that businesses face is that people buy experiences, not products," Narayen said.
Beyond touting the Adobe Experience Cloud, the San Jose, Calif., company also unveiled its Experience League, an interactive, guided learning online platform meant to help customers get more out of Adobe products.
Bridging the digital and physical world
The Coca-Cola Co., one of Adobe's largest customers, agreed with the shift to focusing on customer experiences, rather than products.
"It's a world where we need to learn more about our consumers, and we need to personalize to scale," said David Godsman, chief digital officer at Coca-Cola. "Ultimately, it's a world where we need to bridge the digital and physical world together."
Godsman outlined the digital transformation process that Coca-Cola is currently going through, along with the challenges it raises. The Coca-Cola brand is focusing on four areas, Godsman said: experiences, operational transformation, business transformation and cultural transformation.
"It's one of the hardest things we'll do as a company," Godsman said. "We're asking our brand marketers to become experience makers and think about the world differently."
To help brands execute a company digital transformation strategy, the Adobe Experience Cloud brings together a plethora of Adobe products. Brad Rencher, executive vice president for Experience Cloud, called it an "experience system of record."
Experience transformation [is] about how we create a more relevant and personalized experience for customers.

David Godsmanchief digital officer, The Coca-Cola Co.
"Legacy infrastructure is inadequate for the task at hand," Rencher said, adding that CRM and ERP systems are a good place to start, but won't fulfill the totality that a digital transformation process requires. "Those systems are fundamentally incapable of handling the volume, variety and velocity of data and content required to deliver a unified customer experience. They weren't built for today's needs and expectations."
Godsman said Coca-Cola has been tackling this digital transformation process for about a year, working to figure out how to better interact with its roughly 1.3 billion customers across the world.
"When we think about experience transformation, it's about how we create a more relevant and personalized experience for customers," Godsman said. "Here's the challenge: Our consumers are different and unique and have different preferences."
Rencher said the way to combat those challenges is -- wait for it -- with data.
"The goal is to have more informed action and doing something meaningful with the data," he said, adding that's what Adobe hopes to accomplish with its Experience Cloud. "Making experience your business is good for business."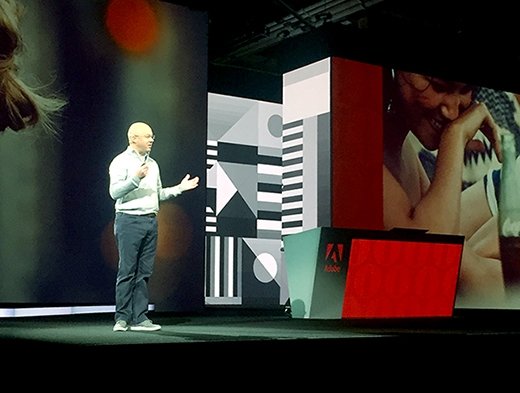 Adobe introduces its Experience League
While the Adobe Experience Cloud bundles together many of Adobe's popular B2B products, it can still be daunting for an Adobe customer to be sure they're getting the most out of the products. That's where the Adobe Experience League comes into play.
"It helps answer the question of how do I do more," said Eric Matisoff, a data scientist and analytics evangelist for Adobe.
Perhaps taking a page out of competitor Salesforce's playbook, Adobe's Experience League helps connect customers with guides and other professionals to help them get the most out of Adobe products. Salesforce's gamified guided learning platform, Trailhead, is seen as a difference-maker among analysts, and it seems as though Adobe is hoping the same outcome can be achieved with Experience League. "It's an opportunity for our customers to do more," Rencher said.
Dig Deeper on Customer experience management