kentoh - Fotolia
Adobe Experience Platform CDP adds marketer-friendly features
Adobe adds features for non-IT marketing users to more easily deploy the Adobe Experience Platform CDP. Photoshop-like layering tools for data sets, previewed earlier this year, go live.
Adobe made real-time CDP functions to the Adobe Experience Platform generally available today, along with data views and AI tools to make analysis more straightforward to marketing staff.
Adobe real-time CDP collects data from a user's disparate sources, such as adware, marketing campaigns, social media and customer service, into a single record, said Nina Caruso, Adobe product marketing manager. Collecting all the data in one place and dashboarding it in the real-time CDP enables immediate, more detailed personalization of marketing campaigns and content pushes to individual customers.
Some of the features were already present in Adobe Experience Platform. New tools, however, make using the data collected in the Adobe customer data platform (CDP) easier by enabling marketing staff to view it in different possible marketing-specific scenarios, without the assistance of IT or developers.
"With Adobe Experience Platform, it's likely the users are more technical," Caruso said. "This is putting a marketer's layer on top of that."
Also included are data governance tools that manage protected customer data. Users can control where data flows according to company policies or as privacy regulations dictate.
Implementation will require data housecleaning
CDPs like the Adobe's can potentially achieve the results and functions the vendors promise, said IDC analyst Alan Webber. What Adobe customers and those using competing CDPs need to understand before buying into the data tools is how much back-end data-wrangling it requires to use effectively.
It's a good technology, but not a panacea. There's a lot of work that needs to be done in organizations to align their data.

Alan WebberAnalyst, IDC
Just finding the customer data within a company needed to set up a CDP can require some sleuthing. Sometimes, whomever owns a critical customer data set in an organization has to be convinced to give it up, Webber has found among his clients. Most organizations never do find and format all the data needed to create complete golden records, but they can get "80% or 90%" there, he said.
"It's a good technology, but not a panacea," Webber said. "There's a lot of work that needs to be done in organizations to align their data."
Customer Journey Analytics gets Photoshop facelift
Customer Journey Analytics, an Adobe Experience Platform feature previewed earlier this year, is now generally available, Adobe said. The customer data analysis tool borrows interface cues from Photoshop, which builds effects on digital images with a layers metaphor.
Layering data can show different possibilities of market segments and project how customer experiences could be affected with campaign ideas, said Ronell Hugh, head of strategy and product marketing for Adobe Experience Platform.
Few marketers or data analytics experts will be familiar with the Photoshop interface, IDC's Webber said. Nevertheless, it will probably help citizen data scientists who work in marketing more easily make sense of their customer data and apply different ideas on their models -- much like image editors can test effects in Photoshop before applying them.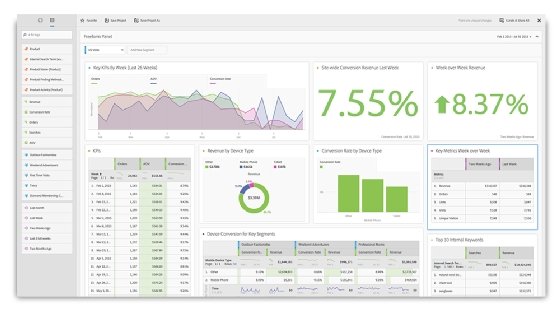 After all, Photoshop was a difficult tool to learn in the 1990s before Adobe began using the layer interface. Once Adobe added layers, many more people could use the application successfully. Webber said he sees potential for the same thing happening with layering customer data.
"It makes sense," he said. "From an interface point of view, Adobe probably has one of the best user experiences out there. It's a lot better than Salesforce, Oracle or SAP, so I really see this as making Customer Journey Analytics more useful."
Also available is Customer Journey Orchestration, which adds AI guidance to the customer journey mapping and analysis tool. Caruso said the company will add AI features to the CDP in future releases.
Dig Deeper on Customer data management