Sergey Nivens - Fotolia
Adobe brings graph database to customer journey touchpoints
With a graph database to track touchpoints from different devices -- and a Photoshop-esque interface -- Adobe Customer Journey Analytics avails data science tools to marketers.
Identity resolution is a difficult technology issue for marketers to solve, because current customer experience platforms have a hard time understanding when the same person contacts a company from multiple devices. Adobe's Customer Journey Analytics, announced today, tackles the problem with a graph database.
Customer Journey Analytics is a feature subset of Adobe Analytics, itself a part of the Adobe Experience Platform. It features an interface that closely resembles Photoshop's layers, the UX model familiar to marketers and designers who typically use that application somewhere along the way creating marketing and sales content.
Combining a graph database -- which makes more connections between data points than traditional relational databases -- with analytics is a new way to solve the problem of identity resolution in the case of multiple customer journey touchpoints, said Nate Smith, Adobe Analytics product marketing manager.
Instead of creating new records when a customer who typically uses a smartphone app switches over to a desktop computer, for example, the graph database can connect the dots.
"It will tie those devices together to a unique ID," Smith said.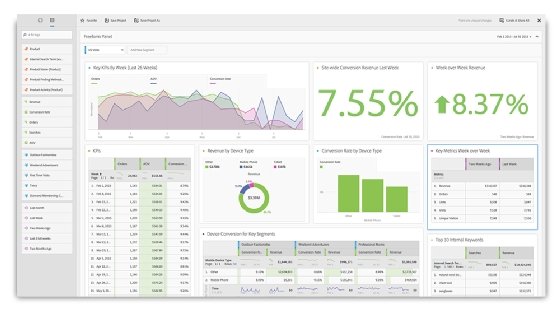 Data science for marketers
It's the latest chapter in a technology trend where customer experience platform vendors bring more data science capabilities to marketers, who aren't typically data scientists. Using the metaphor of the customer journey, the features track the various stages of customer interaction with a company, from discovery to shopping to completing a purchase.
It's the latest chapter in a technology trend where customer experience platform vendors bring more data science capabilities to marketers.
The idea is to subdivide the transaction process in order to find more opportunities for additional sales, upsells or retargeting. This becomes a more complex proposition as new customer journey touchpoints, such as social media mobile apps or even smart speakers such as Amazon's Alexa, become popular among a company's customers.
Smith said the "layers" approach enables customer experience teams to look for new potential revenue opportunities by mixing and matching different data sets, such as brick-and-mortar and website sales. Teams can also analyze trends to determine what's behind issues such as customer attrition problems.
For customer experience teams employing data scientists, Adobe Analytics includes an advanced data analysis tool, Adobe Experience Platform Query Service.
The graph database component of Customer Journey Analytics pairs well with Adobe Sensei AI, according to Forrester analyst James McCormick. Together they can automate deduplication of records, a time-intensive manual task, closer to real time. The Photoshop-esque interface will help customers dive into the analytics tools more quickly, he added.
"These are iterative moves towards Adobe vision of creating a uniformed user experience across a fully integrated Adobe Experience Cloud," McCormick said. "This common approach will really help Adobe customers work with, and across, multiple products."
Dig Deeper on Customer experience management