thodonal - stock.adobe.com
Salesforce e-commerce capabilities to expand with Mobify
Salesforce beefs up its headless e-commerce platform capabilities for enterprise retail customers with the acquisition of Mobify, a Canadian headless commerce hosting vendor.
Salesforce has entered into an agreement to acquire Mobify, a Canadian headless commerce hosting platform that integrates with Salesforce Commerce Cloud as well as other vendors that provide APIs to back-end services such as Commercetools and Skava.
Mobify provides the infrastructure to host, secure, scale and monitor retail Salesforce e-commerce storefronts, enabling a range of customer devices and apps to connect to a Salesforce user's back-end systems for content management, inventory, payment and fulfillment. In theory, this can help Salesforce users set up more agile e-commerce architecture, handle traffic spikes better, improve customer experience and update a site's promotions -- all while outsourcing site management.
"Mobify will provide Salesforce Commerce Cloud with a modern storefront solution that will allow brands to customize their commerce experiences faster and more frequently, deliver an enhanced shopping experience across any channel, and further increase conversion and revenue to drive success in the digital-first economy," said Mobify CEO Igor Faletski in a blog post about the Salesforce acquisition.
Salesforce e-commerce activity spiked during the pandemic. The company focused its resources on enabling users to quickly marshal technology resources to spin up new e-commerce sites, releasing e-commerce services integration accelerators and an upgraded order management system so far this year.
Salesforce also said at the National Retail Foundation's Big Show last January that headless commerce was becoming a priority, as it released APIs and other tools to enable users to more efficiently pipe content to customers.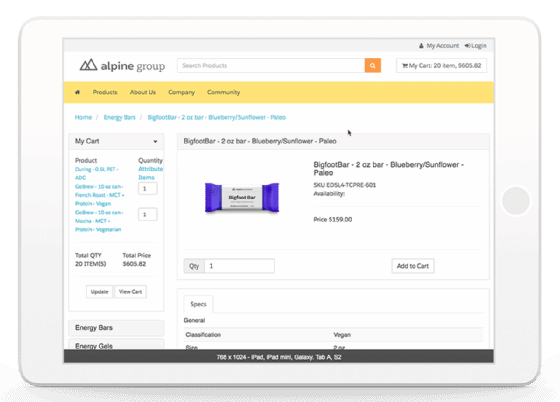 Headless commerce's big day delayed because of pandemic
Decoupling back-end systems from the presentation layer can make web commerce move faster, make supporting AI tools easier to deploy through microservices and also accommodate emerging sales channels such as smart speakers more nimbly than through traditional software development. It also lends itself to more customized experience design and experimentation. That's the theory, at least, behind headless commerce. Other e-commerce vendors such as Elastic Path, which acquired Moltin earlier this year, are also betting on the future popularity of the emerging e-commerce model.
Right now, headless commerce is not the hottest trend, but it's going to get to the point where everyone's talking about it.

Jordan JewellAnalyst, IDC
For users, development wins come after a headless site is built, because the sites are easier to update. Headless sites typically take longer to build than a site plugging into traditional e-commerce technology platforms such as Shopify or BigCommerce, whose revenues through the pandemic have been "nuts," said IDC analyst Jordan Jewell. Companies that had little or no e-commerce activity went after quick wins with standardized Shopify and BigCommerce sites to stay in business when COVID-19 closed their doors.
"Commerce functionality has been commoditized, and Shopify's a big reason for that -- you go to a Shopify site, they look good, they perform really well," Jewell said. "That leaves other frontiers on which [merchants] can differentiate, and one of them is experience, along with technology agility. A headless approach can lead both of those."
With the Mobify acquisition, Jewell said, it's clear that Salesforce is chasing business from bigger users that plan to transition from traditional e-commerce sites to headless. That will come when they look beyond stabilizing their businesses in the short run during the pandemic and lay more long-term technology plans.
"Right now, headless commerce is not the hottest trend, but it's going to get to the point where everyone's talking about it," Jewell said. "Salesforce has sort of pushed their way into the market. Now they've bought a company that will help them do it."
Terms of the Salesforce Mobify acquisition were not disclosed. Mobify is currently sold through the Salesforce AppExchange, starting at $150,000 per customer, per year.