kreizihorse - Fotolia
Microsoft, Salesforce, Oracle launch retail customer experience tools
Retailers get new tools from leading customer experience platform vendors to better compete with online-only rivals.
NEW YORK -- The largest CX platform vendors unveiled new features and capabilities to help bricks-and-clicks stores update their digital retail customer experience and keep up with competitors.
Microsoft, SAP, Oracle and Salesforce all delivered new retail customer experience platform features at NRF 2020 Vision: Retail's Big Show here this week. Calling the data generated by retail customer activity the world's "demand signal," Microsoft CEO Satya Nadella outlined new retail technology initiatives, including availability of PromoteIQ, which allows large chains to turn their own e-commerce sites into de facto ad platforms to auction space to partner brands.
He challenged retailers to determine what their digital advantages and capabilities are and build to that, rather than buy technology in the hope that it will drive new revenue streams.
"You cannot be cool by association with a tech vendor," Nadella said during his keynote. "You have to be cool on your own."
Microsoft also said Dynamics 365 Commerce, announced last September, will be generally available Feb. 3. Bing for Commerce, a search engine utility to aid AI and personalization systems, also went live. In addition, Microsoft revealed public previews of Dynamics 365 Connected Store and a fraud-prevention bundle to aid in-store loss prevention, detect fake online e-commerce accounts and thwart customer account takeover by fraudsters.
Salesforce goes headless
Salesforce at NRF focused on e-commerce tools to enable headless commerce, releasing new APIs and developer tools for Salesforce Commerce Cloud users. Headless splits content delivery from the e-commerce back end to more efficiently pipe content to new channels.
More than 60% of Salesforce customers use Einstein in their workflows, said Lidiane Jones, senior VP of product and commerce cloud at Salesforce. AI product recommendations typically drive between 9% and 10% additional revenue for customers, she said.
Salesforce also unveiled Einstein AI Recommendations Dashboard, which shows information and activity across e-commerce sites and date ranges to help retailers optimize AI-driven product recommendations. That was rolled out in part because it was difficult to quantify how recommendations accounted for new Commerce Cloud sales, and this gives e-commerce leaders an easy method of doing it, according to Jones.
Retail in 2020 looks nothing like it did in 2010, or even 2015. It's to the point where it's no longer trendy or even buzzworthy to talk about things like 'buy online, pick up at store,' or distributor logistics.

Ian MarquisE-commerce manager, Stonewall Kitchen
Food retailer Stonewall Kitchen, based in Maine, welcomes refinements that bring more precision to Einstein AI Recommendations, because those recommendations are a key component of Stonewall Kitchen's e-commerce site revenue, said Ian Marquis, Stonewall Kitchen's e-commerce manager.
The company is experimenting with Einstein AI Recommendations features in development that recommend ingredients based on recipes and vice versa to website visitors.
Stonewall Kitchen's main challenge is unifying customer data to persuade retail customers to become repeat online customers. The first step is knowing who the customer is when they don't buy online directly from the company, which isn't always obvious. The company operates 11 stores, but its jellies, sauces and applesauce also make their way into specialty chains both directly through the company and via distributors.
Further complicating matters is the fact that it's often difficult to know just who the customer is, because many customers gift their jars of Stonewall Kitchen foods to friends and family.
Figuring out what to recommend also involves an AI tool knowing what's in stock and available for offer. Pairing Microsoft ERP and Salesforce e-commerce platforms, the company is sharpening recommendations for website visitors, not only offering traditional favorites but moving discounted items more quickly and offering appealing alternates to discontinued items.
It makes sense that the largest CX vendors are making NRF 2020 a showcase, Marquis said, as physical retailers shift to act more like their online counterparts.
"People want to consolidate technologies and go with proven partners," Marquis said. "Retail in 2020 looks nothing like it did in 2010, or even 2015. It's to the point where it's no longer trendy or even buzzworthy to talk about things like 'buy online, pick up at store,' or distributor logistics. Now it's 'get the customer what they want, however they happened to land on it."
Google Cloud makes retail splash
At NRF, Google Cloud released several new retailer-specific tools, including Google Cloud Search for Retail, which, like Microsoft Bing for Commerce, tailors search results to surface products customers are looking for; Google Cloud 1:1 Engagement for Retail, which maps AI and personalization tools for retailers building those IT stacks; Google Cloud API Management for Retail, which unifies digital sales channels; and Google Cloud Anthos for Retail, a cloud offering tailored to retail stores.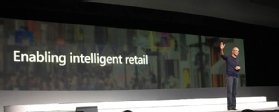 "Digital transformation is more than just a requirement. It's a race," Google Cloud CEO Thomas Kurian wrote in a blog post outlining the new retail tools. "Retailers that transform the fastest are the most successful."
New SAP customer Billy Price, the founder of zipper-topped Billy Footwear, sold about $2 million worth of shoes last year. Billy Footwear is available on Amazon and Zappos online and is in retail stores such as Nordstrom. Billy Footwear has its own e-commerce site running on Shopify to sell directly to consumers, too. Customers typically first come to his e-commerce site because Amazon or a physical retailer doesn't carry a particular style or size, and the relationship starts by filling that gap.
Price's main retail customer experience challenge that needed a tech fix didn't involve e-commerce; he needed help getting his shoes more widely distributed. While Billy Footwear sells in many countries around the world, the company hadn't made headway into a handful of European countries, Canada and Australia.
The company inked deals with local and regional retailers to get its shoes in those markets. Late last year, Price signed up for Business One, SAP's ERP system for medium-sized businesses, to connect to his new partners' back-end inventory tracking systems and help solidify those relationships.
"The relationships with these retail partners in other countries are very difficult to manage, logistically," Price said. "We've already seen significant value in the business."
Also, at the NRF show, Oracle released Retail Consumer Insights, a tool that takes a company's own customer data and intermingles it with anonymized third-party consumers in the Oracle Data Cloud. Used with analytics tools that, Retail Consumer Insights will predict new customer segments for marketers that could potentially drive new sales.