Kurhan - stock.adobe.com
6 key benefits of headless commerce
Traditional e-commerce changed how businesses could sell products, but with headless commerce, organizations can better personalize the customer experience.
A few decades back, traditional e-commerce platforms changed the way businesses sold goods and services -- and companies can expect headless commerce to continue that tradition by equipping businesses with new and creative front-end sales methods.
Before learning about the benefits of headless commerce, it's important to know how it differs from e-commerce.
Difference between e-commerce and headless commerce
When e-commerce first started, businesses wanted an all-in-one platform that could help drive online sales from start to finish. This not only included the digitization of back-end processes such as customer login and registration record keeping, product and order management, payment processing and shipping charges -- but also front-end tasks including pre-built website plugins, phone and chat integrations.
As e-commerce progressed, many web developers found that there weren't many pre-packaged front-end options. And because the front-end processes were tied to the back end, there wasn't a way to add new, unique and fully customizable methods to attract and maintain customers. So developers began requesting a way to fully decouple the front end from the back end of an e-commerce platform.
This decoupling of e-commerce back-end processes from predefined front-end processes is known as headless commerce. Headless implies that businesses will be responsible for building their own front-end -- the head -- processes, then tap into pre-packaged back-end tasks to complete the end-to-end e-commerce process flow. Organizations can connect custom-built front-end processes to the back end by using an API that's built into a headless commerce platform.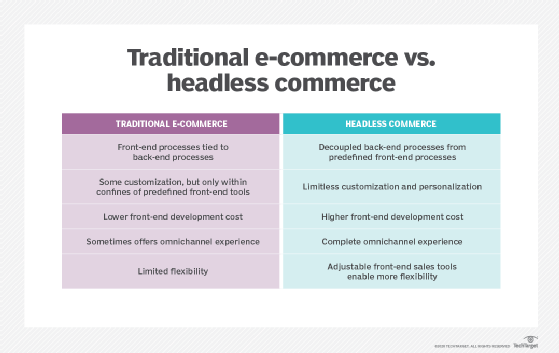 Benefits of headless commerce
Businesses should consider headless commerce as an evolutionary shift in traditional e-commerce. While original e-commerce platforms offered front-end tools that enabled fast deployments for companies that had little internet selling experience, many businesses now employ highly trained software developers that want to remove the front-end training wheels. This is precisely what headless commerce achieves.
Businesses should consider headless commerce as an evolutionary shift in traditional e-commerce.
Here are six key benefits that headless commerce holds over legacy e-commerce platforms:
True omnichannel experience. Omnichannel sales are possible regardless of whether a customer is shopping on a PC, mobile device, chatbot or any other digital medium. While many traditional e-commerce platforms claim to offer an omnichannel experience, that's not necessarily true. If a business wants to add a new digital sales channel, yet the legacy e-commerce platform does not yet offer it, it's out of luck. Headless commerce enables a business's own developers to build a front end for a new digital sales channel whenever they choose and without having to wait. Considering the advancements in smart kiosks, interactive digital signage and other forms of commerce-centric IoT, the ability to add new digital channels to the overall e-commerce experience can be very powerful.
Complete front-end customization. Traditional e-commerce platforms offer some customization within the confines of the front-end tools that businesses developed. Headless products, on the other hand, provide limitless potential on the front end. This includes IoT-enabled tools that can be immediately integrated into the headless CX platform. Some examples include proximity marketing, intelligent cross-selling and IoT-based loyalty programs.
Personalized customer experience. Customers want personalized customer experiences that fit their needs and purchasing desires. With a headless commerce platform, organizations can tune front-end sales to match customer tastes and preferences. Businesses that are looking for ways to differentiate themselves from competition should personalize the initial online sales presentation experience. This includes adding features such as custom shopping preferences, personalized recommendations and promotions directed toward the customer based on previous purchase history. Personalization creates a stronger bond between the customer and company selling the product or service and is also known to create stronger customer retention rates in the long term.
Flexibility. Customer buying habits and behaviors can change at a moment's notice -- such as during the COVID-19 pandemic. Front-end sales tools must be flexible enough to meet new problems or demands. This includes modifying advertisements to what shoppers are most interested in, delivery and pickup options and which digital channels the customer uses to purchase products or services. When a company's customer base preferences change overnight, only a headless commerce platform is flexible enough to change with them.
Increased conversion rates. An e-commerce platform can reduce the number of website bounces or shopping cart abandonment rates by instilling a sense of excitement with the products or services it is selling. The entire purpose of headless commerce is being able to hand the personalization, flexibility and creativity to in-house developers so they can help create that excitement in unique ways, such as providing individualized promotions, creating interactive experiences for customers that result in discounts -- such as completing a quiz or game on the website to receive discounts -- and outside-the-box recommendations. This excitement often translates into increased conversion rates across all channels.
Long-term cost savings. While it may seem that operating a headless commerce platform might be more expensive compared to traditional e-commerce, businesses need to look a bit further out on the timeline. While it's true that front-end development costs will likely increase to create new and unique digital sales channels, one must consider the power that these unique tools have regarding both customer acquisition and customer retention. If developers build more opportunities and customization into the front end of e-commerce platforms, they will spend less money on sales and marketing campaigns.